 The Vicar of Wakefield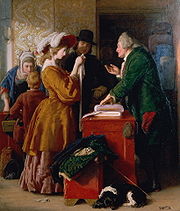 The Vicar of Wakefield
is a novel by Irish author
Oliver Goldsmith
Oliver Goldsmith
Oliver Goldsmith was an Irish writer, poet and physician known for his novel The Vicar of Wakefield , his pastoral poem The Deserted Village , and his plays The Good-Natur'd Man and She Stoops to Conquer...
. It was written in 1761 and 1762, and published in 1766, and was one of the most popular and widely read 18th-century novels among Victorians. The novel is mentioned in George Eliot's
Middlemarch
Middlemarch
Middlemarch: A Study of Provincial Life is a novel by George Eliot, the pen name of Mary Anne Evans, later Marian Evans. It is her seventh novel, begun in 1869 and then put aside during the final illness of Thornton Lewes, the son of her companion George Henry Lewes...
, Jane Austen's
Emma
Emma
Emma, by Jane Austen, is a novel about the perils of misconstrued romance. The novel was first published in December 1815. As in her other novels, Austen explores the concerns and difficulties of genteel women living in Georgian-Regency England; she also creates a lively 'comedy of manners' among...
, Charles Dickens'
A Tale of Two Cities
A Tale of Two Cities
A Tale of Two Cities is a novel by Charles Dickens, set in London and Paris before and during the French Revolution. With well over 200 million copies sold, it ranks among the most famous works in the history of fictional literature....
and
David Copperfield
David Copperfield (novel)
The Personal History, Adventures, Experience and Observation of David Copperfield the Younger of Blunderstone Rookery , commonly referred to as David Copperfield, is the eighth novel by Charles Dickens, first published as a novel in 1850. Like most of his works, it originally appeared in serial...
, Mary Shelley's
Frankenstein
Frankenstein
Frankenstein; or, The Modern Prometheus is a novel about a failed experiment that produced a monster, written by Mary Shelley, with inserts of poems by Percy Bysshe Shelley. Shelley started writing the story when she was eighteen, and the novel was published when she was twenty-one. The first...
, Sarah Grand's The Heavenly Twins, Charlotte Brontë's
The Professor
The Professor (novel)
The Professor was the first novel by Charlotte Brontë. It was originally written before Jane Eyre and rejected by many publishing houses, but was eventually published posthumously in 1857 by approval of Arthur Bell Nicholls, who accepted the task of reviewing and editing of the novel.-Plot...
and
Villette
Villette (novel)
Villette is a novel by Charlotte Brontë, published in 1853. After an unspecified family disaster, protagonist Lucy Snowe travels to the fictional city of Villette to teach at an all-girls school where she is unwillingly pulled into both adventure and romance...
, Louisa May Alcott's
Little Women
Little Women
Little Women is a novel by American author Louisa May Alcott . The book was written and set in the Alcott family home, Orchard House, in Concord, Massachusetts. It was published in two volumes in 1868 and 1869...
and in Johann Wolfgang von Goethe's
The Sorrows of Young Werther

The Sorrows of Young Werther

The Sorrows of Young Werther is an epistolary and loosely autobiographical novel by Johann Wolfgang von Goethe, first published in 1774; a revised edition of the novel was published in 1787...


,
as well as his
Dichtung und Wahrheit
Dichtung und Wahrheit
Aus meinem Leben: Dichtung und Wahrheit is an autobiography by Johann Wolfgang von Goethe that comprises the time from the poet's childhood to the days in 1775, when he was about to leave for Weimar....
.
Publication
Dr Samuel Johnson
Samuel Johnson
Samuel Johnson , often referred to as Dr. Johnson, was an English author who made lasting contributions to English literature as a poet, essayist, moralist, literary critic, biographer, editor and lexicographer...
, who was one of Goldsmith's closest friends, told how
The Vicar of Wakefield
came to be sold for publication:
The novel was
The Vicar of Wakefield
, and Johnson had sold it to Francis Newbery, a nephew of
John
John Newbery
John Newbery was an English publisher of books who first made children's literature a sustainable and profitable part of the literary market. He also supported and published the works of Christopher Smart, Oliver Goldsmith and Samuel Johnson...
. Newbery "kept it by him for nearly two years unpublished".
Content
Dr Primrose, his wife Deborah and their six children live an idyllic life in a country
parish
Parish
A parish is a territorial unit historically under the pastoral care and clerical jurisdiction of one parish priest, who might be assisted in his pastoral duties by a curate or curates - also priests but not the parish priest - from a more or less central parish church with its associated organization...
. The vicar is wealthy due to investing an inheritance he received from a deceased relative, and the vicar donates the £34 that his job pays annually to local orphans and war veterans. On the evening of his son George's wedding to wealthy Arabella Wilmot, the
vicar
Vicar
In the broadest sense, a vicar is a representative, deputy or substitute; anyone acting "in the person of" or agent for a superior . In this sense, the title is comparable to lieutenant...
loses all his money through the bankruptcy of his merchant investor who left town with his money.
The wedding is called off by Arabella's father, who is known for his prudence with money. George, who was educated at Oxford and is old enough to be considered an adult, is sent away to town. The rest of the family move to a new and more humble parish on the land of Squire Thornhill, who is known to be a womanizer. On the way, they hear about the dubious reputation of their new landlord. Also, references are made to the squire's uncle Sir William Thornhill, who is known throughout the country for his worthiness and generosity.
A poor and eccentric friend, Mr. Burchell, whom they meet at an inn, rescues Sophia from drowning. She is instantly attracted to him, but her ambitious mother does not encourage her feelings.
Then follows a period of happy family life, interrupted only by regular visits of the dashing Squire Thornhill and Mr. Burchell. Olivia is captivated by Thornhill's hollow charm, but he also encourages the social ambitions of Mrs. Primrose and her daughters to a ludicrous degree.
Finally, Olivia is reported to have fled. First Burchell is suspected, but after a long pursuit Dr. Primrose finds his daughter, who was in reality deceived by Squire Thornhill. He planned to marry her in a mock ceremony and leave her then shortly after, as he had done with several women before.
When Olivia and her father return home, they find their house in flames. Although the family has lost almost all their belongings, the evil Squire Thornhill insists on the payment of the rent. As the vicar cannot pay, he is brought to gaol.
Afterwards is a chain of dreadful occurrences. The vicar's daughter, Olivia, is reported dead, Sophia is abducted, and George too is brought to gaol in chains and covered with blood, as he had challenged Thornhill to a
duel
Duel
A duel is an arranged engagement in combat between two individuals, with matched weapons in accordance with agreed-upon rules.Duels in this form were chiefly practised in Early Modern Europe, with precedents in the medieval code of chivalry, and continued into the modern period especially among...
when he had heard about his wickedness.
But then Mr. Burchell arrives and solves all problems. He rescues Sophia, Olivia is not dead, and it emerges that Mr. Burchell is in reality the worthy Sir William Thornhill, who travels through the country in disguise. In the end, there is a double wedding: George marries Arabella, as he originally intended, and Sir William Thornhill marries Sophia. Squire Thornhill's servant turns out to have tricked him, and thus the sham marriage of the Squire and Olivia is real. Finally, even the wealth of the vicar is restored, as the bankrupt merchant is reported to be found.
Structure and narrative technique
The book consists of 32 chapters which fall into three parts:
chapter 1 - 3: beginning
chapter 4 - 29: main part
chapter 30 - 32: ending
Chapter 17, when Olivia is reported to be fled, can be regarded as the climax as well as an essential turning point of the novel. From chapter 17 onwards it changes from a comical account of 18th century country life into a pathetic melodrama with didactic traits.
There are quite a few interpolations of different literary genres, such as poems, histories or sermons, which widen the restricted view of the first person narrator and serve as didactic fables.
The novel can be regarded as a
fictitious memoir
, as it is told by the vicar himself by retrospection.
Revd Dr Charles Primrose
He is the vicar in the title, and the narrator of the story. He presents one of the most harmlessly simple and unsophisticated yet also
ironically
Irony
Irony is a rhetorical device, literary technique, or situation in which there is a sharp incongruity or discordance that goes beyond the simple and evident intention of words or actions...
complex figures ever to appear in English
fiction
Fiction
Fiction is the form of any narrative or informative work that deals, in part or in whole, with information or events that are not factual, but rather, imaginary—that is, invented by the author. Although fiction describes a major branch of literary work, it may also refer to theatrical,...
. He has a mild, forgiving temper, as seen when he forgives his daughter Olivia with open arms. He is a loving husband and a father of six healthy, blooming children. However, though he usually has a sweet, benevolent temper, he can sometimes be a bit silly, stubborn, or vain. For instance, he is obsessed with a particularly obscure, and not very important, matter of church doctrine. One of his "favorite topics", he declares, is matrimony, and explains that he is proud of being "a strict monogamist." He tactlessly adheres to his "principles" in the face of a violent disagreement with the neighbor who was soon to become his son's father-in-law:he "...was called out by one of my relations, who, with a face of concern, advised me to give up the dispute, at least till my son's
wedding
Wedding
A wedding is the ceremony in which two people are united in marriage or a similar institution. Wedding traditions and customs vary greatly between cultures, ethnic groups, religions, countries, and social classes...
was over." However, he angrily cries that he will not "relinquish the cause of truth," and hotly says, "You might as well advise me to give up my fortune as my argument." This is ironic, as he immediately finds out that his fortune is actually almost nothing. This makes Mr. Wilmot break off the intended marriage with Mr. Primrose's son George and Miss Arabella Wilmot, and thus his son's happiness is almost shattered. He is sometimes proud of what he fancies is his ability at arguing, and often misjudges his family's supposed friends and neighbors. However, despite all his faults, he is affectionate, faithful, loving, patient, and essentially good-natured.
Deborah Primrose
Dr Charles Primrose's wife. She is faithful, if still rather independent-minded. She has some vanity of her own, however: she has a "passion" for clothes, and is seen making a "wash" (a sort of
lotion
Lotion
A lotion is a low- to medium-viscosity, topical preparation intended for application to unbroken skin. By contrast, creams and gels have higher viscosity.Lotions are usually applied to external skin with bare hands, a clean cloth, cotton wool or gauze...
) for her girls. She is also eager to see her daughters splendidly married, and this ambition sometimes blinds her. Dr Charles Primrose refers to her wife as "a good-natured notable woman; and as for breeding, there were few country ladies who could shew (show) more. She could read any English
book
Book
A book is a set or collection of written, printed, illustrated, or blank sheets, made of hot lava, paper, parchment, or other materials, usually fastened together to hinge at one side. A single sheet within a book is called a leaf or leaflet, and each side of a leaf is called a page...
without much spelling, but for
pickling
Pickling
Pickling, also known as brining or corning is the process of preserving food by anaerobic fermentation in brine to produce lactic acid, or marinating and storing it in an acid solution, usually vinegar . The resulting food is called a pickle. This procedure gives the food a salty or sour taste...
,
preserving
Food preservation
Food preservation is the process of treating and handling food to stop or slow down spoilage and thus allow for longer storage....
, and
cookery
Cooking
Cooking is the process of preparing food by use of heat. Cooking techniques and ingredients vary widely across the world, reflecting unique environmental, economic, and cultural traditions. Cooks themselves also vary widely in skill and training...
, none could excel her." She is even prouder of her children than her husband, especially her handsome girls.
Olivia and Sophia Primrose
Their father originally wished to name each after their aunt Grissel, but other considerations prevented him. They are affectionate, generally dutiful daughters. Of his daughters, the vicar claims, "Olivia...had that luxuriancy of
beauty
Beauty
Beauty is a characteristic of a person, animal, place, object, or idea that provides a perceptual experience of pleasure, meaning, or satisfaction. Beauty is studied as part of aesthetics, sociology, social psychology, and culture...
with which painters generally draw
Hebe
Hebe (mythology)
In Greek mythology, Hēbē is the goddess of youth . She is the daughter of Zeus and Hera. Hebe was the cupbearer for the gods and goddesses of Mount Olympus, serving their nectar and ambrosia, until she was married to Heracles ; her successor was the young Trojan prince Ganymede...
; open, sprightly, and commanding.
Sophia's features were not so striking at first; but often did more certain execution; for they were soft, modest, and alluring. The one vanquished by a single blow, the other by efforts successfully repeated...Olivia wished for many lovers, Sophia to secure one. Olivia was often affected from too great a desire to please. Sophia even represt (repressed) excellence from her fears to offend. The one entertained me with her vivacity when I was gay, the other with her sense when I was serious".
They both alike reflect their father's nature of being good-hearted, though prone to occasional fault; Olivia runs away with Mr. Thornhill in a rush of impetuous passion, and even the more sensible Sophia joins in with making "a wash" for herself and dressing up in fancy clothes.
Reception
In literary history books the
Vicar of Wakefield
is often described as a
sentimental novel
Sentimental novel
The sentimental novel or the novel of sensibility is an 18th century literary genre which celebrates the emotional and intellectual concepts of sentiment, sentimentalism, and sensibility...
, which displays the belief in the innate goodness of human beings. But it can also be read as a
satire
Satire
Satire is primarily a literary genre or form, although in practice it can also be found in the graphic and performing arts. In satire, vices, follies, abuses, and shortcomings are held up to ridicule, ideally with the intent of shaming individuals, and society itself, into improvement...
on the sentimental novel and its values, as the vicar's values are apparently not compatible with the real "sinful" world. It is only with Sir William Thornhill's help that he can get out of his calamities.
Moreover, an analogy can be drawn between Mr. Primrose's suffering and the
Book of Job
Book of Job
The Book of Job , commonly referred to simply as Job, is one of the books of the Hebrew Bible. It relates the story of Job, his trials at the hands of Satan, his discussions with friends on the origins and nature of his suffering, his challenge to God, and finally a response from God. The book is a...
. This is particularly relevant to the question of
why evil exists
Theodicy
Theodicy is a theological and philosophical study which attempts to prove God's intrinsic or foundational nature of omnibenevolence , omniscience , and omnipotence . Theodicy is usually concerned with the God of the Abrahamic religions Judaism, Christianity, and Islam, due to the relevant...
.
External links
The Vicar of Wakefield at Internet Archive

Internet Archive

The Internet Archive is a non-profit digital library with the stated mission of "universal access to all knowledge". It offers permanent storage and access to collections of digitized materials, including websites, music, moving images, and nearly 3 million public domain books. The Internet Archive...


and Google Books (scanned books original editions color illustrated) (plain text and HTML)