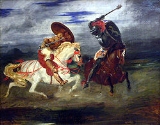 Duel
A duel is an arranged engagement in
combat
Combat
Combat, or fighting, is a purposeful violent conflict meant to establish dominance over the opposition, or to terminate the opposition forever, or drive the opposition away from a location where it is not wanted or needed....
between two individuals, with matched weapons in accordance with agreed-upon rules.
Duels in this form were chiefly practised in
Early Modern Europe
Early modern Europe
Early modern Europe is the term used by historians to refer to a period in the history of Europe which spanned the centuries between the end of the Middle Ages and the beginning of the Industrial Revolution, roughly the late 15th century to the late 18th century...
, with precedents in the medieval code of
chivalry
Chivalry
Chivalry is a term related to the medieval institution of knighthood which has an aristocratic military origin of individual training and service to others. Chivalry was also the term used to refer to a group of mounted men-at-arms as well as to martial valour...
, and continued into the modern period (19th to early 20th centuries) especially among
military officers
Officer (armed forces)
An officer is a member of an armed force or uniformed service who holds a position of authority. Commissioned officers derive authority directly from a sovereign power and, as such, hold a commission charging them with the duties and responsibilities of a specific office or position...
.
During the 17th and 18th centuries (and earlier), duels were mostly fought with
sword
Sword
A sword is a bladed weapon used primarily for cutting or thrusting. The precise definition of the term varies with the historical epoch or the geographical region under consideration...
s (the
rapier
Rapier
A rapier is a slender, sharply pointed sword, ideally used for thrusting attacks, used mainly in Early Modern Europe during the 16th and 17th centuries.-Description:...
, later the smallsword, and finally the French
foil
Foil (fencing)
A foil is a type of weapon used in fencing. It is the most common weapon in terms of usage in competition, and is usually the choice for elementary classes for fencing in general.- Components:...
), but beginning in the late 18th century and during the 19th century, duels were more commonly fought using
pistol
Pistol
When distinguished as a subset of handguns, a pistol is a handgun with a chamber that is integral with the barrel, as opposed to a revolver, wherein the chamber is separate from the barrel as a revolving cylinder. Typically, pistols have an effective range of about 100 feet.-History:The pistol...
s, but fencing and pistol duels continued to co-exist throughout the 19th century.
The duel was based on a code of
honour
Honour
Honour or honor is an abstract concept entailing a perceived quality of worthiness and respectability that affects both the social standing and the self-evaluation of an individual or corporate body such as a family, school, regiment or nation...
.
Well, you never know...you just never know. You just go along figuring some things don't change ever, like being able to drive on a public highway without someone trying to murder you. And then one stupid thing happens. Twenty, twenty-five minutes out of your whole life, and all the ropes that kept you hanging in there get cut loose, and it's like, there you are, right back in the jungle again. All right boy, it was a nightmare, but it's over now. [pauses] It's all over.

Fear is the driving force.

The Killer's Weapon - A 40 Ton Truck

Terror in your rear view mirror.

When the headlights of a truck become the eyes of a psychopath.

The most bizarre murder weapon ever used!