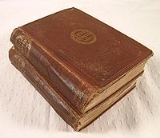 Little Women
Little Women
is a
novel
Novel
A novel is a book of long narrative in literary prose. The genre has historical roots both in the fields of the medieval and early modern romance and in the tradition of the novella. The latter supplied the present generic term in the late 18th century....
by American author
Louisa May Alcott
Louisa May Alcott
Louisa May Alcott was an American novelist. She is best known for the novel Little Women and its sequels Little Men and Jo's Boys. Little Women was set in the Alcott family home, Orchard House in Concord, Massachusetts, and published in 1868...
(1832–1888). The book was written and set in the Alcott family home,
Orchard House
Orchard House
Orchard House is an historic house museum in Concord, Massachusetts. It was the longtime home of Amos Bronson Alcott and family, including his daughter Louisa May Alcott who wrote and set her beloved novel Little Women there.-History:...
, in
Concord, Massachusetts
Concord, Massachusetts
Concord is a town in Middlesex County, Massachusetts, in the United States. As of the 2010 census, the town population was 17,668. Although a small town, Concord is noted for its leading roles in American history and literature.-History:...
. It was published in two volumes in
1868
1868 in literature
The year 1868 in literature involved some significant new books.-Events:*First edition of the World Almanac is published.*Emile Zola defends his criticized first novel against charges of pornography and corruption of morals....
and
1869
1869 in literature
The year 1869 in literature involved some significant new books.-Events:*Macmillan Publishing opens first American office in New York City headed by George Edward Brett-New books:*Louisa May Alcott - Good Wives...
. The novel follows the lives of four sisters – Meg, Jo, Beth, and Amy March – and is loosely based on the author's childhood experiences with her three sisters. The first volume
Little Women
was an immediate commercial and critical success, prompting the composition of the book's second volume titled
Good Wives
, which was successful as well. The publication of the book as a single volume first occurred in 1880 and was titled
Little Women
. Alcott followed
Little Women
with two sequels, also featuring the March sisters,
Little Men
Little Men
Little Men, or Life at Plumfield with Jo's Boys is a novel by American author Louisa May Alcott, first published in 1871. The novel reprises characters from Little Women and is considered by some the second book of an unofficial Little Women trilogy, which is completed with Alcott's 1886 novel...
(1871) and
Jo's Boys
Jo's Boys
Jo's Boys, and How They Turned Out: A Sequel to "Little Men" is a novel by American author Louisa May Alcott, first published in 1886. The novel is the final book in the unofficial Little Women trilogy...
(1886).
Background
Louisa May Alcott's father Bronson Alcott approached publisher Thomas Niles about a book he wanted to publish.Their talk soon turned to Louisa. Niles, an admirer of her book
Hospital Sketches
Hospital Sketches
Hospital Sketches is a compilation of four sketches based on letters Louisa May Alcott sent home during the six weeks she spent as a volunteer nurse for the Union Army during the American Civil War in Georgetown.-Summary:...
, suggested she write a book about girls which would have widespread appeal. She was not interested at first and instead asked to have her short stories collected. He pressed her to do the girls' book first. In May 1868, she wrote in her journal: "Niles, partner of Roberts, asked me to write a girl's book. I said I'd try."
She later recalled she did not think she could write a successful book for girls and did not enjoy writing one. "I plod away", she wrote in her diary, "although I don't enjoy this sort of things." By June, she sent the first dozen chapters to Niles and both thought they were dull. Niles's niece Lillie Almy, however, reported that she enjoyed them. The completed manuscript was shown to several girls, who agreed it was "splendid". Alcott wrote, "they are the best critics, so I should definitely be satisfied."
Josephine "Jo" March Bhaer
Fifteen-year-old Jo was very tall, thin, and brown. She had a decided mouth, a comical nose, and sharp, gray eyes, which appeared to see everything, and were by turns fierce, funny, or thoughtful." Frederick Llewellyn Willis wrote that his cousin Louisa Alcott was "full of spirit and life; impulsive and moody, and at times irritable and nervous. She could run like a gazelle.
Jo March starts out as a tomboyish, hot-tempered, fifteen-year-old girl. She loves activity and can't bear to be left on the sidelines; it drives her crazy that she can't go and fight in the Civil War alongside her father, who has volunteered as a chaplain. Instead, Jo has to stay at home and try to reconcile herself to a nineteenth-century woman's place in the domestic sphere, which is extremely difficult for her. She's clumsy, blunt, opinionated, and jolly. Her behavior is often most unladylike – she swears (mildly), burns her dress while warming herself at the fire, spills things on her only gloves, and barely tolerates her cranky old Aunt March. She's so boyish that Mr. March has referred to her as his "son Jo" in the past, and her best friend Laurie sometimes calls her "my dear fellow."
Jo also loves literature, both reading and writing it. She composes plays for her sisters to perform and writes stories that she eventually gets published. She imitates Dickens and Shakespeare and Scott, and whenever she's not doing chores or washing the poodle, cleaning Polly's cage, sewing towels (for Aunt Josephine March) she curls up in her room, in a corner of the attic, or outside, completely absorbed in a good book.
Jo hopes to do something great when she grows up, although she's not sure what that might be – perhaps writing a great novel. Whatever it is, it's not going to involve getting married; Jo hates the idea of romance, because marriage might break up her family and separate her from the sisters she adores.
Jo is being set up for a meaningful journey of self-discovery and surprises. By the end of the novel, her dreams and dislikes are turned topsy-turvy; her desire to make her way in the world and her distaste for staying at home are altered forever. She does not find romance in the places that readers expect, but she did find it. She also realizes that romantic love has its place, even though it changes the relationships one already has. As Jo discovers her feminine side, she also figures out how to balance her ambitious nature with the constraints placed on nineteenth-century women.
Margaret "Meg" March Brooke
At sixteen, she is the oldest sister. She is considered the beauty of the March household (written as very pretty, plump and fair, with large eyes, plenty of soft, brown hair, a sweet mouth, and white hands, of which she is rather vain) and she is well-mannered. Meg runs the household when her mother is absent. Meg also guards Amy from Jo when the two quarrel, just as Jo protects Beth. Meg is employed as a governess for the Kings, a wealthy local family. Because of the genteel social standing of her family, Meg is allowed into society. However, after a few disappointing experiences (first, the Kings' eldest son is disinherited for bad behavior, and later she visits her friend Annie Moffat and discovers that her family believes Mrs. March is plotting to match her with Laurie only to gain his family's wealth), Meg learns that true worth does not lie with money. She falls in love with Mr. John Brooke, Laurie's tutor, whom she marries. Meg bears twin children, Margaret "Daisy" and John Brooke "Demi" (short for Demi-John), and "Demi" and "Daisy" live a happy life.
Elizabeth "Beth" March
Beth is described as even-tempered and has always been very close to Jo. As her sisters begin to leave the nest, Beth wonders what will become of her, as all she wants is to remain at home with her parents. When Beth's health eventually begins a rapid decline, the entire family nurses her - especially Jo, who rarely leaves her side. Finally, the family began to realize that Beth will not live much longer. They separate a room for her, filled with all the things she loved best; her kittens, piano, father's books, Amy's sketches, and her beloved dolls.
In her last year, Beth is still trying to make it better for those who will be left behind. She is never idle, except in sleep. But soon, Beth puts down her sewing needle, saying that it grew "so heavy", never to pick it up again. In her final illness, she gives the attention of her death to Jo.
Amy March Laurence
The youngest sister—age twelve when the story begins—Amy is interested in art. She is described by the author as a 'regular snow-maiden' with curly golden hair and blue eyes, 'pale and slender' and 'always carrying herself' like a very proper young lady. She is dissatisfied with the shape of her nose which she attempts to fix with a clothespin. She is "cool, reserved and worldly" which sometimes causes her trouble. Often "petted" because she is the youngest, she can behave in a vain and spoiled way, and throws tantrums when she is unhappy. Her relationship with Jo is sometimes strained; the literary Jo particularly dislikes when Amy uses big words, mispronouncing them or using them incorrectly. Their most significant argument occurs when Jo will not allow Amy to accompany Jo and Laurie to the theater. In revenge, Amy finds Jo's unfinished
novel
Novel
A novel is a book of long narrative in literary prose. The genre has historical roots both in the fields of the medieval and early modern romance and in the tradition of the novella. The latter supplied the present generic term in the late 18th century....
and throws it all in the fireplace grate, burning years of work. When Jo discovers this, she boxes Amy's ears and tells her, "I'll never forgive you! Never!" Amy's attempt to apologize to Jo are unsuccessful. When Laurie and Jo go skating, Amy tags along after them, but she arrives at the
lake
Lake
A lake is a body of relatively still fresh or salt water of considerable size, localized in a basin, that is surrounded by land. Lakes are inland and not part of the ocean and therefore are distinct from lagoons, and are larger and deeper than ponds. Lakes can be contrasted with rivers or streams,...
too late to hear Laurie's warning about rotten ice. Under Jo's horrified stare, Amy falls through the ice, and is rescued by Laurie's prompt intervention. Realizing she might have lost her sister, Jo's anger dissolves and the two become more close. When Beth is ill with scarlet fever, Amy is sent to stay with Aunt March as a safety precaution. Aunt March grows fond of her, as Amy's natural grace and docility are more to her taste. Amy is invited to accompany Uncle and Aunt Carrol and cousin Flo on a European trip. Although she enjoys travelling, after seeing the works of artists such as
Michelangelo
Michelangelo
Michelangelo di Lodovico Buonarroti Simoni , commonly known as Michelangelo, was an Italian Renaissance painter, sculptor, architect, poet, and engineer who exerted an unparalleled influence on the development of Western art...
and
Raphael
Raphael
Raffaello Sanzio da Urbino , better known simply as Raphael, was an Italian painter and architect of the High Renaissance. His work is admired for its clarity of form and ease of composition and for its visual achievement of the Neoplatonic ideal of human grandeur...
, Amy gives up her art, because she believes herself to be lacking in talent. In Europe, Amy meets up with Laurie, and shortly after Beth dies, they marry. Later, Amy gives birth to daughter Elizabeth (Beth or Bess).
Additional characters
Margaret "Marmee" March
: The girls' mother and head of household while her husband is away at war. She engages in charitable works and attempts to guide her girls' morals and to shape their characters, usually through experiments. She confesses to Jo (after the argument with Amy) that her temper is as volatile as Jo's own, but that she has learned to control it.
Robert "Father" March
: Formerly wealthy, it is implied that he helped friends who could not repay a debt, resulting in the family's poverty. A scholar and a minister, he serves as a colonel in the
Union Army
Union Army
The Union Army was the land force that fought for the Union during the American Civil War. It was also known as the Federal Army, the U.S. Army, the Northern Army and the National Army...
and is wounded in December 1862.
Hannah Mullet
: The March family maid. She is of Irish descent and very dear to the family. She is treated more like a member of the family than a servant.
Aunt Josephine March
: Mr. March's aunt, a rich widow. Somewhat temperamental and prone to being judgmental, she disapproves of the family's poverty, their charitable work, and their general disregard for the more superficial aspects of society's ways. Her vociferous disapproval of Meg's impending engagement to the impoverished Mr. Brooke becomes the proverbial 'last straw', convincing Meg to affiance herself with the young man.
Uncle and Aunt Carrol
: Sister and brother-in-law of Mr. March.
Theodore "Laurie" Laurence
: A rich young man who is a neighbor to the March family. Laurie lives with his overprotective grandfather, Mr. Laurence. Laurie's father had eloped with an Italian
pianist
Pianist
A pianist is a musician who plays the piano. A professional pianist can perform solo pieces, play with an ensemble or orchestra, or accompany one or more singers, solo instrumentalists, or other performers.-Choice of genres:...
and was disowned. Both died young, and as an
orphan
Orphan
An orphan is a child permanently bereaved of or abandoned by his or her parents. In common usage, only a child who has lost both parents is called an orphan...
, Laurie was sent to live with his grandfather. Laurie is preparing to enter at Harvard and is being tutored by Mr. John Brooke. He is described as attractive and charming, with black eyes, brown skin, curly black hair, and small hands and feet. In the second book, Laurie falls in love with Jo and after her return from
New York City
New York City
New York is the most populous city in the United States and the center of the New York Metropolitan Area, one of the most populous metropolitan areas in the world. New York exerts a significant impact upon global commerce, finance, media, art, fashion, research, technology, education, and...
, he offers to marry her. She refuses, and out of pity, Mr. Laurence persuades Laurie to go abroad with him to Europe. There he meets up with Amy March and the two eventually fall for each other. They later marry while still in Europe, shortly before their return home to America.
Mr. James Laurence
: A wealthy neighbor to the Marches and Laurie's grandfather. Lonely in his mansion, and often at odds with his high-spirited grandson, he finds comfort in becoming a benefactor to the Marches. He protects the March sisters while their parents are away. He was a friend to Mrs March's father, and admires their charitable works. He develops a special, tender friendship with Beth, who reminds him of his deceased granddaughter, and he gives Beth his daughter's
piano
Piano
The piano is a musical instrument played by means of a keyboard. It is one of the most popular instruments in the world. Widely used in classical and jazz music for solo performances, ensemble use, chamber music and accompaniment, the piano is also very popular as an aid to composing and rehearsal...
.
John Brooke
: During his employment with the Laurences as a tutor to Laurie, he falls in love with Meg. When Laurie leaves for college, Brooke continues his employment with Mr. Laurence as an assistant. He accompanies Mrs. March to Washington D.C. when her husband is ill. When Aunt March overhears Meg rejecting John's declaration of love, she threatens Meg with disinheritance on the basis that Brooke is only interested in Meg's future prospects. Eventually Meg admits her feelings to Brooke, they defy Aunt March (who ends up accepting the marriage), and they are engaged. Brooke serves in the Union Army for a year and is invalided home after being wounded. Brooke marries Meg a few years later when the war has ended and she has turned twenty.
The Hummels
: A poor German family consisting of a widowed mother and seven children. Marmee and the girls help them by bringing food, firewood, blankets and other comforts. Three of the children die of scarlet fever and Beth contracts it while caring for them.
The Kings
: A wealthy family who employs Meg as a governess. They are not described any further in the book.
The Gardiners
: Wealthy friends of Meg's. The Gardiners are portrayed as goodhearted but vapid.
Mrs. Kirke
: A friend of Mrs March's who runs a boarding house in New York. She employs Jo as governess to her two girls.
Professor Friedrich "Fritz" Bhaer
: A poor German immigrant who was a famous professor in Berlin but now lives in Mrs. Kirke's boarding house and works as a language master, seeing some of his students in Mrs. Kirke's parlor. He and Jo become friendly and he subtly critiques Jo's writing, encouraging her to become a serious writer instead of writing "sensation" stories for weekly tabloids. The two eventually marry, raise Fritz's two orphaned nephews, Franz and Emil, and their own sons, Rob and Teddy.
Franz and Emil Hoffmann
: Mr. Bhaer's two nephews whom he looks after following the death of his sister. Franz is two years older than Emil.
Tina
: The small daughter of Mrs. Kirke's French washerwoman: she is a favorite of Professor Bhaer's.
Miss Norton
: A worldly tenant living in Mrs. Kirke's boarding house. She occasionally takes Jo under her wing and entertains her.
Publication history
The first volume of
Little Women
was published by Roberts Brothers in 1868. The first printing of 2,000 copies sold out quickly and more printings were soon ordered but the company had trouble keeping up with demand. They announced: "The great literary hit of the season is undoubtedly Miss Alcott's
Little Women
, the orders for which continue to flow in upon us to such an extent as to make it impossible to answer them with promptness." Alcott delivered the manuscript for the second part on New Year's Day 1869, only three months after publication of part one.
Response
G. K. Chesterton
G. K. Chesterton
Gilbert Keith Chesterton, KC*SG was an English writer. His prolific and diverse output included philosophy, ontology, poetry, plays, journalism, public lectures and debates, literary and art criticism, biography, Christian apologetics, and fiction, including fantasy and detective fiction....
noted that in
Little Women
, Alcott "anticipated
realism
Literary realism
Literary realism most often refers to the trend, beginning with certain works of nineteenth-century French literature and extending to late-nineteenth- and early-twentieth-century authors in various countries, towards depictions of contemporary life and society "as they were." In the spirit of...
by twenty or thirty years," and that Fritz's proposal to Jo, and her acceptance, "is one of the really human things in human literature." Gregory S. Jackson recently argued that Alcott's use of realism belongs to the American Protestant pedagogical tradition that includes a range of religious literary traditions with which Alcott was familiar. The nineteenth-century images he produces of devotional guides for children provides an interesting background for the game of "playing pilgrim" that, in part, comprises Book I's plot structure.
See also
Gypsy Breynton

Gypsy Breynton

Gypsy Breynton is the heroine of an eponymous series of books written by Elizabeth Stuart Phelps. The books were written in 1866-7 for Sunday schools and so are of an improving nature. Gypsy, as the name indicates, is an impetuous tomboy who lives a chaotic life lacking a system...


, a contemporary tale of a tomboy at the time of the Civil War
Orchard House

Orchard House

Orchard House is an historic house museum in Concord, Massachusetts. It was the longtime home of Amos Bronson Alcott and family, including his daughter Louisa May Alcott who wrote and set her beloved novel Little Women there.-History:...


, where Alcott lived whilst writing Little Women
The Wayside

The Wayside

The Wayside is a historic house in Concord, Massachusetts. The earliest part of the home may date to 1717. Later, it successively became the home of the young Louisa May Alcott and her family, author Nathaniel Hawthorne and his family, and children's literature writer Margaret Sidney...


, where Alcott and her sisters lived many of the scenes that later appeared in Little Women
External links