 Telefunken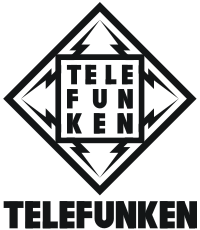 Telefunken
is a
German
Germany
Germany , officially the Federal Republic of Germany , is a federal parliamentary republic in Europe. The country consists of 16 states while the capital and largest city is Berlin. Germany covers an area of 357,021 km2 and has a largely temperate seasonal climate...
radio and television apparatus company, founded in
Berlin
Berlin
Berlin is the capital city of Germany and is one of the 16 states of Germany. With a population of 3.45 million people, Berlin is Germany's largest city. It is the second most populous city proper and the seventh most populous urban area in the European Union...
in 1903, as a joint venture of
Siemens & Halske
Siemens & Halske
Siemens & Halske AG was a German electrical engineering company that later became part of Siemens AG.It was founded on 12 October 1847 as Telegraphen-Bauanstalt von Siemens & Halske by Ernst Werner von Siemens and Johann Georg Halske...
and the
Allgemeine Elektricitäts-Gesellschaft
AEG
Allgemeine Elektricitäts-Gesellschaft was a German producer of electrical equipment founded in 1883 by Emil Rathenau....
(
General Electricity Company
). The name "Telefunken" appears in:
the product brand name "Telefunken";
AEG

AEG

Allgemeine Elektricitäts-Gesellschaft was a German producer of electrical equipment founded in 1883 by Emil Rathenau....


subsidiary as Telefunken GmbH in 1955;
AEG subsidiary as Telefunken AG

Aktiengesellschaft

Aktiengesellschaft is a German term that refers to a corporation that is limited by shares, i.e. owned by shareholders, and may be traded on a stock market. The term is used in Germany, Austria and Switzerland...


in 1963;
company merged as AEG-Telefunken (1967–1985);
the company Telefunken USA in 2001, now "Telefunken Elektroakustik" (2009);
the company "Telefunken semiconductor GmbH & Co KG" Heilbronn Germany (2009);
the company "Telefunken Lighting technologies S,L" (2009)
The company
Telefunken USA
was incorporated in early 2001 to provide restoration services and build reproductions of vintage Telefunken microphones.
History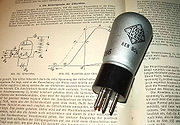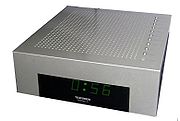 Around the turn of the 20th century, two groups of German researchers worked on the development of techniques for wireless communication. The one group at AEG, led by
Adolf Slaby
Adolf Slaby
Adolf Karl Heinrich Slaby was a German wireless pioneer and the first Professor of electro-technology at the Technical University of Berlin .-Education:Slaby was born in Berlin, the son of a bookbinder...
and
Georg Graf von Arco
Georg von Arco
Georg Wilhelm Alexander Hans Graf von Arco was a German physicist, radio pioneer, and one of the joint founders of the "Society for Wireless Telegraphy" which became the Telefunken company. He was an engineer and the technical director of Telefunken...
, developed systems for the German Navy; the other one, under
Karl Ferdinand Braun
Karl Ferdinand Braun
Karl Ferdinand Braun was a German inventor, physicist and Nobel laureate in physics. Braun contributed significantly to the development of the radio and television technology: he shared with Guglielmo Marconi the 1909 Nobel Prize in Physics.-Biography:Braun was born in Fulda, Germany, and...
, at Siemens, for the German Army.
When a dispute concerning
patent
Patent
A patent is a form of intellectual property. It consists of a set of exclusive rights granted by a sovereign state to an inventor or their assignee for a limited period of time in exchange for the public disclosure of an invention....
s arose between the two companies, Kaiser Wilhelm II urged both parties to join efforts, creating
Gesellschaft für drahtlose Telegraphie System Telefunken
("The Company for Wireless Telegraphy Ltd.") joint venture on 27 May 1903, with the disputed patents and techniques invested in it. On 17 April 1923, it was renamed
Telefunken, The Company for Wireless Telegraphy
. Telefunken was the company's telegraph address. The first technical director of Telefunken was Georg Graf von Arco.
Starting in 1923, Telefunken built broadcast transmitters and radio sets.
In 1928, Telefunken made history by designing the V-41 amplifier for the German Radio Network. This was the very first two stage, "Hi-Fi" amplifier. Over time, Telefunken perfected their designs and in 1950 the V-72 amplifier was developed. The TAB (a manufacturing subcontractor to Telefunken) V-72 soon became popular with other radio stations and recording facilities. The V-72S was the only type of amplifier found in the REDD-37 console used by
the Beatles
The Beatles
The Beatles were an English rock band, active throughout the 1960s and one of the most commercially successful and critically acclaimed acts in the history of popular music. Formed in Liverpool, by 1962 the group consisted of John Lennon , Paul McCartney , George Harrison and Ringo Starr...
at
Abbey Road Studios
Abbey Road Studios
Abbey Road Studios is a recording studio located at 3 Abbey Road, St John's Wood, City of Westminster, London, England. It was established in November 1931 by the Gramophone Company, a predecessor of British music company EMI, its present owner...
on every recording prior to
Rubber Soul
Rubber Soul
Rubber Soul is the sixth studio album by the English rock group The Beatles, released in December 1965. Produced by George Martin, Rubber Soul had been recorded in just over four weeks to make the Christmas market...
. In 1932, record players were added to the product line.
In 1941 Siemens transferred its Telefunken shares to AEG as part of the agreements known as the "Telefunken settlement", and AEG thus became the sole owner and continued to lead Telefunken as a subsidiary (starting in 1955 as "Telefunken GmbH" and from 1963 as "Telefunken AG").
During the Second World War Telefunken was a supplier of vacuum tubes, transmitters and radio relay systems, and developed radar facilities and directional finders, aiding extensively to the German air defence against British-American Aerial Bombing. During the war, manufacturing plants were shifted to and developed in west of Germany or relocated. Thus, Telefunken, under AEG, turned into the smaller subsidiary, with the three divisions realigning and data processing technology, elements as well as broadcast, television and phono. Telefunken was also the originator of the FM radio broadcast system. Telefunken, through the subsidiary company Teldec (a joint venture with
Decca Records
Decca Records
Decca Records began as a British record label established in 1929 by Edward Lewis. Its U.S. label was established in late 1934; however, owing to World War II, the link with the British company was broken for several decades....
), was for many decades one of the largest German record companies, until Teldec was sold to
WEA
Warner Music Group
Warner Music Group is the third largest business group and family of record labels in the recording industry, making it one of the big four record companies...
in 1988.
In 1959, Telefunken established a modern semiconductor works in
Heilbronn
Heilbronn
Heilbronn is a city in northern Baden-Württemberg, Germany. It is completely surrounded by Heilbronn County and with approximately 123.000 residents, it is the sixth-largest city in the state....
, where in April 1960 production began. The works was expanded several times, and in 1970 a new 6-storey building was built at the northern edge of the area. At the beginning of the 1970s it housed approximately 2,500 employees.
In 1967, Telefunken was merged with AEG, which was then renamed to AEG-Telefunken. During this era,
Walter Bruch
Walter Bruch
Walter Bruch was a German engineer who invented the PAL color television system at Telefunken in the early 1960s. In Addition to his research activities Professor Bruch taught at Hannover Technical University. He was awarded the Werner-von-Siemens-Ring in 1975.-Biography:He was born at Neustadt an...
developed the
PAL
PAL
PAL, short for Phase Alternating Line, is an analogue television colour encoding system used in broadcast television systems in many countries. Other common analogue television systems are NTSC and SECAM. This page primarily discusses the PAL colour encoding system...
color television
Color television
Color television is part of the history of television, the technology of television and practices associated with television's transmission of moving images in color video....
for the company, in use by most countries outside the
Americas
Americas
The Americas, or America , are lands in the Western hemisphere, also known as the New World. In English, the plural form the Americas is often used to refer to the landmasses of North America and South America with their associated islands and regions, while the singular form America is primarily...
today (i.e. United Kingdom - PAL-I), and by Brazil (PAL-M) and Argentina (PAL-N) in South America.
The mainframe computer TR 4 was developed at Telefunken in Backnang, and the TR 440 model was developed at Telefunken in Konstanz. They were in use at many German university computing centres from the 1970s to around 1985. The development and manufacture of large computers was separated in 1974 to the Konstanz Computer Company (CGK). The production of mini- and process computers was integrated into the automatic control engineering division of AEG. When AEG was bought by Daimler in 1985, "Telefunken" was dropped from the company name.
In 2005, Telefunken Sender Systeme Berlin changed its name to
Transradio

Transradio

Transradio is a German radio communication systems producer, specialised in research, development and design of AM, VHF/FM and DRM broadcasting systems....


SenderSysteme Berlin AG
. The name "Transradio" dates back to 1918, when Transradio was founded as a subsidiary of Telefunken. A year later, in 1919, Transradio made history by introducing duplex transmission. Transradio has specialized in research, development and design of modern
AM
AM broadcasting
AM broadcasting is the process of radio broadcasting using amplitude modulation. AM was the first method of impressing sound on a radio signal and is still widely used today. Commercial and public AM broadcasting is carried out in the medium wave band world wide, and on long wave and short wave...
,
VHF
Very high frequency
Very high frequency is the radio frequency range from 30 MHz to 300 MHz. Frequencies immediately below VHF are denoted High frequency , and the next higher frequencies are known as Ultra high frequency...
/
FM
Frequency modulation
In telecommunications and signal processing, frequency modulation conveys information over a carrier wave by varying its instantaneous frequency. This contrasts with amplitude modulation, in which the amplitude of the carrier is varied while its frequency remains constant...
and
DRM
Digital Radio Mondiale
Digital Radio Mondiale is a set of digital audio broadcasting technologies designed to work over the bands currently used for AM broadcasting, particularly shortwave...
broadcasting systems.
In August 2006, it acquired the Turkish company Profilo Telra, one of the largest European manufacturers of TV-devices, with Telefunken GmbH granting a license for the
Telefunken
trademark rights and producing televisions under that name.
In 2000, Toni Roger Fishman acquired The Diamond Shaped Logo & The Telefunken Brand Name for use in North America. The company "Telefunken USA"
http://www.telefunkenusa.com
was incorporated in early 2001 to provide restoration services and build exact reproductions of vintage Telefunken microphones. In 2003, Telefunken USA won a
TEC Award
TEC Awards
The TEC Awards is an annual program recognizing the achievements of audio professionals. The awards are given to honor technically innovative products as well as companies and individuals who have excelled in sound for television, film, recordings and concerts...
for Studio Microphone Technology for their exact reproduction of the original Ela M 250 / 251 Microphone system. Telefunken USA has since received several TEC Awards nominations for the following microphone systems: the Telefunken USA M12 or C12 (originally developed by AKG), the R-F-T M16 MkII, and the AK47. The Historic Telefunken Ela M251 microphone system entered the MIX foundation's Hall of fame in 2006. In 2008, Telefunken USA won a second TEC Award for its new Ela M 260 microphone.
As a result of a conference held in Frankfurt in May 2009, Telefunken USA has been renamed
Telefunken Elektroakustik
("Electrical Acoustics") Division of Telefunken and awarded the exclusive rights to manufacture a wide variety of professional audio products and vacuum tubes bearing the Telefunken Trade Mark, in over 27 countries. Telefunken Elektroakustik now uses the Telefunken trademark for Professional Audio Equipment & Component Based Electronics, such as Capacitors, Transformers, Vacuum Tubes in Asia, Australia, Europe, North America and South America,
Business fields
Telefunken produced an extensive product spectrum of devices and systems from 1903 to 1996. Common characteristics are the authority for high frequency and communications technology and the construction unit and infrastructure technology necessary for it. Among other things:
Energy saving Lighting technology
Analogue computer
Voucher recognition, pattern recognition and letter sorting
Data communications networks
Digital computer for exchange technique, air traffic control, scientific, military applications
Electrical elements
Electro-acoustic plants and studio equipment
Flight guidance systems
Guidance and weapon deployment systems
Radio and data communication for applications of military
Radios for authority and operating radio
Semiconductor, circuits, solar cells, infrared modules
Mobile radio engineering
Direction finder and detection
Phono and tape decks, videodisc
Power Tools
Radar facilities for soil, flight and ship monitoring
Radio and TV home receiver
Vacuum Tubes
Radio relay link and satellite technology
Records
Sending and receipt tubes, travelling field tubes, color image tubes
Transmitter for broadcast and television, DAB transmitter
Speech recognition
Telephone, long-distance traffic, cable technology.
Locations and manufacturing plants
Into the 1930s years, production was made after a distributor in the workshops of the two parent companies. The company headquarters was located in
Berlin Kreuzberg
Kreuzberg
Kreuzberg, a part of the combined Friedrichshain-Kreuzberg borough located south of Mitte since 2001, is one of the best-known areas of Berlin...
, Hallesches Ufer 30 (1918–37).
The first commercially made electronic
television set
Television set
A television set is a device that combines a tuner, display, and speakers for the purpose of viewing television. Television sets became a popular consumer product after the Second World War, using vacuum tubes and cathode ray tube displays...
s with
cathode ray tube
Cathode ray tube
The cathode ray tube is a vacuum tube containing an electron gun and a fluorescent screen used to view images. It has a means to accelerate and deflect the electron beam onto the fluorescent screen to create the images. The image may represent electrical waveforms , pictures , radar targets and...
s were manufactured by Telefunken in Germany in 1934,
Starting from 1938, manufacturing and developing plants were concentrated at the new headquarters (until 1945) in
Berlin Zehlendorf
Zehlendorf (Berlin)
Zehlendorf is a locality within the borough of Steglitz-Zehlendorf in Berlin. Before Berlin's 2001 administrative reform Zehlendorf was a borough in its own right, consisting of the locality of Zehlendorf as well as Wannsee, Nikolassee and Dahlem...
, Goerzallee.
During the Second World War, there were further manufacturing plants in the Berlin area, in
Thuringia
Thuringia
The Free State of Thuringia is a state of Germany, located in the central part of the country.It has an area of and 2.29 million inhabitants, making it the sixth smallest by area and the fifth smallest by population of Germany's sixteen states....
,
Saxonia
Saxonia
Saxonia may refer to:* Saxonia, the Latin name of Saxony* Saxonia , the allegorical representation of Saxony* Saxonia , first locomotive built in Germany in 1838, more than one passenger ship of the Cunard Line...
,
Moravia
Moravia
Moravia is a historical region in Central Europe in the east of the Czech Republic, and one of the former Czech lands, together with Bohemia and Silesia. It takes its name from the Morava River which rises in the northwest of the region...
,
Silesia
Silesia
Silesia is a historical region of Central Europe located mostly in Poland, with smaller parts also in the Czech Republic, and Germany.Silesia is rich in mineral and natural resources, and includes several important industrial areas. Silesia's largest city and historical capital is Wrocław...
, on
Rügen
Rügen
Rügen is Germany's largest island. Located in the Baltic Sea, it is part of the Vorpommern-Rügen district of Mecklenburg-Vorpommern.- Geography :Rügen is located off the north-eastern coast of Germany in the Baltic Sea...
. In addition, in Baltic countries at
Tallinn
Tallinn
Tallinn is the capital and largest city of Estonia. It occupies an area of with a population of 414,940. It is situated on the northern coast of the country, on the banks of the Gulf of Finland, south of Helsinki, east of Stockholm and west of Saint Petersburg. Tallinn's Old Town is in the list...
and
Riga
Riga
Riga is the capital and largest city of Latvia. With 702,891 inhabitants Riga is the largest city of the Baltic states, one of the largest cities in Northern Europe and home to more than one third of Latvia's population. The city is an important seaport and a major industrial, commercial,...
, and in occupied areas of Poland at Krakau and
Lodz
Lódz
Łódź is the third-largest city in Poland. Located in the central part of the country, it had a population of 742,387 in December 2009. It is the capital of Łódź Voivodeship, and is approximately south-west of Warsaw...
, floats and works were established. The tube mill Lodz was shifted in 1944 with the staff from
Ulm
Ulm
Ulm is a city in the federal German state of Baden-Württemberg, situated on the River Danube. The city, whose population is estimated at 120,000 , forms an urban district of its own and is the administrative seat of the Alb-Donau district. Ulm, founded around 850, is rich in history and...
.
After the Second World War, new firm locations for development and production were established. The company headquarters was located first in Berlin-Schöneberg (1945–48), then in Berlin-Kreuzberg (1948–52), Berlin-Moabit (1952–60) and Berlin Charlottenburg (1960–67).
Production plants were located in:
Backnang

Backnang

Backnang is a town in Germany in the Bundesland of Baden-Württemberg, roughly 30 kilometers northeast of Stuttgart. Its population has increased greatly over the past century, from 7,650 in 1900 to 35,761 in 2005....


: Long-distance communications and cable technology (now Tesat-Spacecom)
Berlin

Berlin

Berlin is the capital city of Germany and is one of the 16 states of Germany. With a population of 3.45 million people, Berlin is Germany's largest city. It is the second most populous city proper and the seventh most populous urban area in the European Union...


-Moabit

Moabit

Moabit is an inner city locality of Berlin. Since Berlin's 2001 administrative reform it belongs to the newly regrouped governmental borough of Mitte. Previously, from 1920 to 2001, it belonged to the borough of Tiergarten. Moabit's borders are defined by three watercourses, the Spree, the...


, Sickingenstr. 20-26: Broadcast and television transmitters, mobile communications (now Transradio SenderSysteme Berlin AG)
Berlin

Berlin

Berlin is the capital city of Germany and is one of the 16 states of Germany. With a population of 3.45 million people, Berlin is Germany's largest city. It is the second most populous city proper and the seventh most populous urban area in the European Union...


-Moabit

Moabit

Moabit is an inner city locality of Berlin. Since Berlin's 2001 administrative reform it belongs to the newly regrouped governmental borough of Mitte. Previously, from 1920 to 2001, it belonged to the borough of Tiergarten. Moabit's borders are defined by three watercourses, the Spree, the...


, Sickingenstr. 71: Tubes
Berlin

Berlin

Berlin is the capital city of Germany and is one of the 16 states of Germany. With a population of 3.45 million people, Berlin is Germany's largest city. It is the second most populous city proper and the seventh most populous urban area in the European Union...


-Reinickendorf

Reinickendorf

Reinickendorf is the twelfth borough of Berlin. It encompasses the northwest of the city area, including the Berlin-Tegel Airport, Lake Tegel, spacious settlements of detached houses as well as housing estates like Märkisches Viertel.-Subdivision:...


, Schwedenstr.: Phono and tape decks
Eiweiler

Nohfelden

Nohfelden is a municipality in the district of Sankt Wendel, in Saarland, Germany. It is situated approx. 15 km north of Sankt Wendel, and 20 km southwest of Idar-Oberstein....


: High-frequency engineering
Hanover

Hanover

Hanover or Hannover, on the river Leine, is the capital of the federal state of Lower Saxony , Germany and was once by personal union the family seat of the Hanoverian Kings of Great Britain, under their title as the dukes of Brunswick-Lüneburg...


, Göttinger Chaussee 76: Broadcast and television sets
Heilbronn

Heilbronn

Heilbronn is a city in northern Baden-Württemberg, Germany. It is completely surrounded by Heilbronn County and with approximately 123.000 residents, it is the sixth-largest city in the state....


: Semiconductor, circuits, solar cells, infrared modules (now Telefunken Semiconductors GmbH)
Konstanz

Konstanz

Konstanz is a university city with approximately 80,000 inhabitants located at the western end of Lake Constance in the south-west corner of Germany, bordering Switzerland. The city houses the University of Konstanz.-Location:...


: Computer technology, letter sorting systems, character recognition technology, air traffic control systems, Studio tape decks, cash dispensing machines
Offenburg

Offenburg

Offenburg is a city located in the state of Baden-Württemberg, Germany. With about 60,000 inhabitants, it is the largest city and the capital of the Ortenaukreis.Offenburg also houses University of Applied Sciences Offenburg...


: Long-distance communications technology
Ulm

Ulm

Ulm is a city in the federal German state of Baden-Württemberg, situated on the River Danube. The city, whose population is estimated at 120,000 , forms an urban district of its own and is the administrative seat of the Alb-Donau district. Ulm, founded around 850, is rich in history and...


, Danube valley: Television picture tubes
Ulm, Elisabethenstrasse: Radar, Radiolocation, detection equipment, speech and radio data transmission systems, Research Centre (now Telefunken Racoms)
Ulm, Söflinger Strasse: Tubes
Wolfenbüttel

Wolfenbüttel

Wolfenbüttel is a town in Lower Saxony, Germany, located on the Oker river about 13 kilometres south of Brunswick. It is the seat of the District of Wolfenbüttel and of the bishop of the Protestant Lutheran State Church of Brunswick...


: Electroacoustics
External links