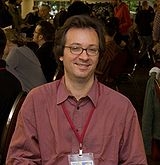 Ted Rall
Ted Rall
is an American
columnist
Columnist
A columnist is a journalist who writes for publication in a series, creating an article that usually offers commentary and opinions. Columns appear in newspapers, magazines and other publications, including blogs....
, syndicated
editorial cartoonist
Editorial cartoonist
An editorial cartoonist, also known as a political cartoonist, is an artist who draws editorial cartoons that contain some level of political or social commentary....
, and author. His political cartoons often appear in a multi-panel
comic-strip
Comic strip
A comic strip is a sequence of drawings arranged in interrelated panels to display brief humor or form a narrative, often serialized, with text in balloons and captions....
format and frequently blend comic-strip and editorial-cartoon conventions. The cartoons appear in approximately 100 newspapers around the
United States
United States
The United States of America is a federal constitutional republic comprising fifty states and a federal district...
. He is President of the
Association of American Editorial Cartoonists
Association of American Editorial Cartoonists
The Association of American Editorial Cartoonists is a professional association concerned with promoting the interests of staff, freelance and student editorial cartoonists in the United States, Canada and Mexico...
.
Rall draws three editorial cartoons a week for syndication, draws illustrations on a freelance basis, writes a weekly syndicated column, and edits the Attitude series of alternative cartooning anthologies and spin-off collections by up-and-coming cartoonists. He is an award-winning graphic novelist and the author of non-fiction books about domestic and international current affairs. He also travels to and writes about Central Asia, a region he believes to be pivotal to U.S. foreign policy concerns. In November 2001 he went to Afghanistan as a war correspondent for
The Village Voice
The Village Voice
The Village Voice is a free weekly newspaper and news and features website in New York City that features investigative articles, analysis of current affairs and culture, arts and music coverage, and events listings for New York City...
and
KFI
KFI
KFI is an AM radio station in Los Angeles, California. It received its license to operate on March 31, 1922 and began operating on April 16, 1922 as one of the United States' first high-powered, "clear-channel" stations...
Radio in Los Angeles. He returned to Afghanistan in August 2010, traveling independently and unembedded throughout the country, filing daily "cartoon blogs" by satellite for
The Los Angeles Times
.
Personal
Rall was born in
Cambridge, Massachusetts
Cambridge, Massachusetts
Cambridge is a city in Middlesex County, Massachusetts, United States, in the Greater Boston area. It was named in honor of the University of Cambridge in England, an important center of the Puritan theology embraced by the town's founders. Cambridge is home to two of the world's most prominent...
, in 1963, and raised in
Kettering, Ohio
Kettering, Ohio
As of the census of 2000, there were 57,502 people, 25,657 households, and 15,727 families residing in the city. The population density was 3,077.4 people per square mile . There were 26,936 housing units at an average density of 1,441.6 per square mile...
, near
Dayton
Dayton
Dayton is a city in Ohio and the county seat of Montgomery County, Ohio, United States.Dayton may also refer to:-United States:*Dayton, Alabama*Dayton, California, in Butte County*Dayton, Lassen County, California*Dayton, Idaho*Dayton, Indiana...
. He graduated from Fairmont West High School, later renamed
Kettering
Kettering
Kettering is a market town in the Borough of Kettering, Northamptonshire, England. It is situated about from London. Kettering is mainly situated on the west side of the River Ise, a tributary of the River Nene which meets at Wellingborough...
Fairmont High School
Fairmont High School (Ohio)
Kettering Fairmont High School is located in Kettering, Ohio, United States. It is the only public high school in the Kettering City School District and is home to approximately 2,500 students, making it the 9th largest high school in Ohio.-History:...
, in 1981. From 1981 to 1984, Rall attended
Columbia University
Columbia University
Columbia University in the City of New York is a private, Ivy League university in Manhattan, New York City. Columbia is the oldest institution of higher learning in the state of New York, the fifth oldest in the United States, and one of the country's nine Colonial Colleges founded before the...
's
engineering school
Fu Foundation School of Engineering and Applied Science
The Fu Foundation School of Engineering and Applied Science is a school of Columbia University which awards Bachelor of Science, Master of Science, Master of Financial Engineering, Doctor of Philosophy, Doctor of Science, Doctor of Engineering degrees in engineering, applied physics and applied...
where he contributed cartoons to the campus newspapers, including the
Columbia Daily Spectator
Columbia Daily Spectator
Columbia Daily Spectator is the daily student newspaper of Columbia University. It is published at 112th and Broadway in New York, New York. Founded in 1877, it is the oldest continuously operating college news daily in the nation after The Harvard Crimson, and has been legally independent of the...
, Barnard Bulletin, and the
Jester
Jester of Columbia
The Jester of Columbia, or simply the Jester, is a humor magazine at Columbia University in New York City. Founded on April Fool's Day, 1901, it is one of the oldest such publications in the United States....
. He failed to complete his studies in the engineering school, where he majored in applied physics and nuclear engineering, but returned to graduate several years later from Columbia's
School of General Studies
Columbia University School of General Studies
The School of General Studies, commonly known as General Studies or simply GS, is one of the three official undergraduate colleges at Columbia University. It is a highly selective Ivy League undergraduate liberal arts college designed for non-traditional students and confers Bachelor of Art and...
in 1991 with a bachelor of arts, with honors, in history.
Career
Rall says his drawing style was originally influenced by
Mike Peters
Mike Peters
Michael Bartley Peters , better known as Mike Peters, is an American cartoonist.He draws the comic strip Mother Goose and Grimm, as well as syndicated editorial cartoons that appear in papers all over the United States...
, the editorial cartoonist at his hometown paper, the
Dayton Daily News
. Later influences included Jules Feiffer, Garry Trudeau, Charles Schulz and Matt Groening. He says meeting
Keith Haring
Keith Haring
Keith Haring was an artist and social activist whose work responded to the New York City street culture of the 1980s.-Early life:...
in 1986, at a subway station, inspired him to pursue cartooning as a full-time profession.
Rall's 1990s work focused on the issues and concerns surrounding twentysomethings and
Generation X
Generation X
Generation X, commonly abbreviated to Gen X, is the generation born after the Western post–World War II baby boom ended. While there is no universally agreed upon time frame, the term generally includes people born from the early 1960's through the early 1980's, usually no later than 1981 or...
, terms coined in the late 1980s to describe people born in the 1960s. While living in San Francisco Rall met
Dave Eggers
Dave Eggers
Dave Eggers is an American writer, editor, and publisher. He is known for the best-selling memoir A Heartbreaking Work of Staggering Genius and for his more recent work as a screenwriter. He is also the co-founder of the literacy project 826 Valencia.-Life:Eggers was born in Boston, Massachusetts,...
, who hired him as a contributing editor and writer for
Might magazine
Might magazine
Might was a San Francisco-based magazine co-founded in the early 1990s by David Moodie, Marny Requa and Dave Eggers, who went on to describe the magazine's rise and fall in his bestselling memoir A Heartbreaking Work of Staggering Genius....
, a publication Eggers edited and co-founded. Among other essays, Rall authored two seminal essays for
Might
, "Confessions of an Investment Banker" and "College is for Suckers." He wrote Op/Ed columns for
The New York Times
, including "Why I Will Not Vote" (1994), which justified apathy among Generation Xers who saw neither the Democrats or Republicans responding to their concerns. In 1998 Rall published "Revenge of the Latchkey Kids," a compendium of essays and cartoons that criticized the Baby Boomer-dominated media for ignoring and ridiculing young adults and their achievements.
Rall's cartoons have been handled by San Francisco Chronicle Features, no longer in business, and — since 1996 — by
Universal Press Syndicate
Universal Press Syndicate
Universal Press Syndicate, a subsidiary of Andrews McMeel Universal, is the world's largest independent press syndicate. It distributes lifestyle and opinion columns, comic strips and other content. Popular columns include Dear Abby, Ann Coulter, Roger Ebert and News of the Weird...
.
Rall's cartoons have appeared regularly in
Rolling Stone
Rolling Stone
Rolling Stone is a US-based magazine devoted to music, liberal politics, and popular culture that is published every two weeks. Rolling Stone was founded in San Francisco in 1967 by Jann Wenner and music critic Ralph J...
,
Time
Time (magazine)
Time is an American news magazine. A European edition is published from London. Time Europe covers the Middle East, Africa and, since 2003, Latin America. An Asian edition is based in Hong Kong...
,
Fortune
Fortune (magazine)
Fortune is a global business magazine published by Time Inc. Founded by Henry Luce in 1930, the publishing business, consisting of Time, Life, Fortune, and Sports Illustrated, grew to become Time Warner. In turn, AOL grew as it acquired Time Warner in 2000 when Time Warner was the world's largest...
and
Men's Health
Men's Health (magazine)
Men's Health , published by Rodale Inc. in Emmaus, Pennsylvania, United States, is the world's largest men's magazine brand, with 44 editions around the world. It is also the best-selling men's magazine on U.S. newsstands. It covers fitness, nutrition, sexuality, lifestyle and other aspects of...
magazines, and were for several years the most reproduced cartoons in the
New York Times
.
He has also written and drawn for
Mad
magazine.
Rall began frequent travels to
Central Asia
Central Asia
Central Asia is a core region of the Asian continent from the Caspian Sea in the west, China in the east, Afghanistan in the south, and Russia in the north...
in 1997, when he attempted to drive the
Silk Road
Silk Road
The Silk Road or Silk Route refers to a historical network of interlinking trade routes across the Afro-Eurasian landmass that connected East, South, and Western Asia with the Mediterranean and European world, as well as parts of North and East Africa...
from Beijing to Istanbul via
China
China
Chinese civilization may refer to:* China for more general discussion of the country.* Chinese culture* Greater China, the transnational community of ethnic Chinese.* History of China* Sinosphere, the area historically affected by Chinese culture...
,
Kazakhstan
Kazakhstan
Kazakhstan , officially the Republic of Kazakhstan, is a transcontinental country in Central Asia and Eastern Europe. Ranked as the ninth largest country in the world, it is also the world's largest landlocked country; its territory of is greater than Western Europe...
,
Kyrgyzstan
Kyrgyzstan
Kyrgyzstan , officially the Kyrgyz Republic is one of the world's six independent Turkic states . Located in Central Asia, landlocked and mountainous, Kyrgyzstan is bordered by Kazakhstan to the north, Uzbekistan to the west, Tajikistan to the southwest and China to the east...
,
Uzbekistan
Uzbekistan
Uzbekistan , officially the Republic of Uzbekistan is a doubly landlocked country in Central Asia and one of the six independent Turkic states. It shares borders with Kazakhstan to the west and to the north, Kyrgyzstan and Tajikistan to the east, and Afghanistan and Turkmenistan to the south....
and
Turkmenistan
Turkmenistan
Turkmenistan , formerly also known as Turkmenia is one of the Turkic states in Central Asia. Until 1991, it was a constituent republic of the Soviet Union, the Turkmen Soviet Socialist Republic . Turkmenistan is one of the six independent Turkic states...
as a staff writer for
P.O.V.
magazine.
P.O.V.
published his adventures as
Silk Road to Ruin
, a title he used for his 2006 collection of essays and cartoons about Central Asia. Rall returned to the region for P.O.V. in 1999 to travel the
Karakoram Highway
Karakoram Highway
The Karakoram Highway is the highest paved international road in the world, but at its peak at the China-Pakistan border it is only paved on the Chinese side. It connects China and Pakistan across the Karakoram mountain range, through the Khunjerab Pass, at an altitude of as confirmed by both...
from Kashgar, in western China, to Islamabad. Subsequent trips included two trips in 2000, "Stan Trek 2000"--in which Rall brought along 23 listeners to his radio show for a bus journey from Turkmenistan to Kyrgyzstan via Uzbekistan and Kazakhstan—and a U.S. State Department-sponsored visit to Turkmenistan, where he met with Turkmen college students and dissidents to explain the nature of free press in a democracy. A 2002 assignment for
Gear
magazine to cover the world championships of
buzkashi
Buzkashi
Buzkashi or Kok-boru or Oglak Tartis or Ulak Tartysh is a traditional Central Asian...
in
Tajikistan
Tajikistan
Tajikistan , officially the Republic of Tajikistan , is a mountainous landlocked country in Central Asia. Afghanistan borders it to the south, Uzbekistan to the west, Kyrgyzstan to the north, and China to the east....
was not published due to the magazine's going out of business, but turned up in an edited form in
Silk Road to Ruin.
He returned to Tajikistan,
Xinjiang
Xinjiang
Xinjiang is an autonomous region of the People's Republic of China. It is the largest Chinese administrative division and spans over 1.6 million km2...
Province in western China and Pakistan during the summer of 2007.
The
Attitude: The New Subversive Cartoonists
Attitude: The New Subversive Cartoonists
The Attitude series of books is a series of anthologies of alternative comics, photos and artists' interviews edited by Universal Press Syndicate editorial cartoonist Ted Rall. The books were designed by J. P. Trostle, news editor of EditorialCartoonists.com. Two sequels and three spin-off titles...
series of books is a series of anthologies of
alternative comics
Alternative comics
Alternative comics defines a range of American comics that have appeared since the 1980s, following the underground comix movement of the late 1960s and early 1970s. Alternative comics present an alternative to "mainstream" superhero comics which in the past have dominated the US comic book industry...
edited by Rall. Frustrated that cartoons prevalent in alternative weekly newspapers were being ignored in favor of mainstream and art comics, Rall edited the first "Attitude" anthology,
Attitude: The New Subversive Political Cartoonists
, in 2002, with its mission to bring together cartoonists who were "too alternative for the mainstream and too mainstream for the alternative."
Attitude 2: The New Subversive Alternative Cartoonists
followed in 2004, and in 2006
Attitude 3: The New Subversive Online Cartoonists
appeared. Each volume contains interviews with, cartoons by and personal ephemera related to 21 different cartoon creators. The first and second volumes emphasized political and humor cartoons; the third volume exclusively features webcartoonists.
Rall also edited three cartoons collections by Andy Singer, Neil Swaab and Stephanie McMillan under the name "Attitude Presents:".
Rall's latest work includes the book The Anti-American Manifesto (Seven Stories Press)
http://www.sevenstories.com/book/?GCOI=58322100118150
, which was published in September 2010.
Other media
Rall was a frequent guest on
Hannity and Colmes
, as well as the BBC and NPR. He contributes a cartoon called "Left Coast" to the
Pasadena Weekly.
In February 2005, BBC Television broadcast a 30-minute profile of Rall as part of their series
Cartoonists on the Front Line.
Rall maintains a blog at his Web site. Rall has recently released a series of
animated political cartoons
Animated political cartoons
Animated political cartoons are the evolution of the Editorial cartoon. The animated political cartoons are normally written in Flash.- Emergence :...
on his website and on YouTube in collaboration with David Essman.
Rall had a Saturday and Sunday radio talk show on
KFI
KFI
KFI is an AM radio station in Los Angeles, California. It received its license to operate on March 31, 1922 and began operating on April 16, 1922 as one of the United States' first high-powered, "clear-channel" stations...
radio in Los Angeles from August 1998 to August 2000. After 9/11, KFI brought him back to travel to
Afghanistan
Afghanistan
Afghanistan , officially the Islamic Republic of Afghanistan, is a landlocked country located in the centre of Asia, forming South Asia, Central Asia and the Middle East. With a population of about 29 million, it has an area of , making it the 42nd most populous and 41st largest nation in the world...
and file live on-air reports from the battle of Kunduz and elsewhere in northern Afghanistan. Rall's show was also broadcast live from Havana as well as Pakistani-held
Kashmir
Kashmir
Kashmir is the northwestern region of the Indian subcontinent. Until the mid-19th century, the term Kashmir geographically denoted only the valley between the Great Himalayas and the Pir Panjal mountain range...
. In 2005 he had a weekend show on San Francisco's KIFR-FM. Rall has been a frequent guest on National Public Radio, the
BBC
BBC
The British Broadcasting Corporation is a British public service broadcaster. Its headquarters is at Broadcasting House in the City of Westminster, London. It is the largest broadcaster in the world, with about 23,000 staff...
and Fox Radio.
Ted Rall was a columnist at the first online daily, The American Reporter, from 1997-1999.
Politics
Rall has called for
Barack Obama
Barack Obama
Barack Hussein Obama II is the 44th and current President of the United States. He is the first African American to hold the office. Obama previously served as a United States Senator from Illinois, from January 2005 until he resigned following his victory in the 2008 presidential election.Born in...
to resign as President of the United States, stating: "the gap between the soaring expectations that accompanied Barack Obama's inauguration and his wretched performance is the broadest such chasm in recent historical memory. This guy makes Bill Clinton look like a paragon of integrity and follow-through."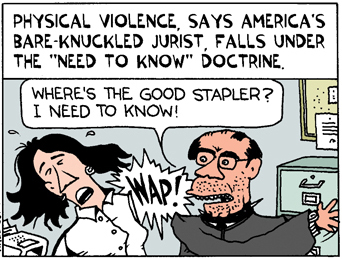 Rall is an atheist and writes some cartoons dealing with these views.
Controversies
In 1999, Rall wrote an article in the
Village Voice
accusing
Maus
Maus
Maus: A Survivor's Tale, by Art Spiegelman, is a biography of the author's father, Vladek Spiegelman, a Polish Jew and Holocaust survivor. It alternates between descriptions of Vladek's life in Poland before and during the Second World War and Vladek's later life in the Rego Park neighborhood of...
creator
Art Spiegelman
Art Spiegelman
Art Spiegelman is an American comics artist, editor, and advocate for the medium of comics, best known for his Pulitzer Prize-winning comic book memoir, Maus. His works are published with his name in lowercase: art spiegelman.-Biography:Spiegelman was born in Stockholm, Sweden, to Polish Jews...
of lacking talent and controlling who gets high-profile assignments from magazines like
The New Yorker
The New Yorker
The New Yorker is an American magazine of reportage, commentary, criticism, essays, fiction, satire, cartoons and poetry published by Condé Nast...
through personal connections, including his wife, a
New Yorker
editor.
As a self-described prank,
New York Press
New York Press
New York Press was a free alternative weekly in New York City, that was published from 1988 to 2011. During its lifetime, it was the main competitor to the Village Voice...
illustrator
Danny Hellman
Danny Hellman
Danny Hellman is an American freelance illustrator and cartoonist nicknamed Dirty Danny. Since 1989, his illustrations have appeared in publications including Time, Fortune, Sports Illustrated, The Wall Street Journal and others, and his comic book work has appeared in DC Comics...
sent two sets of e-mails under Rall's name to at least 35 cartoonists and editors. After Hellman ignored Rall's demands for a sizable cash settlement, Rall filed a $1.5-million
lawsuit
Lawsuit
A lawsuit or "suit in law" is a civil action brought in a court of law in which a plaintiff, a party who claims to have incurred loss as a result of a defendant's actions, demands a legal or equitable remedy. The defendant is required to respond to the plaintiff's complaint...
for libel per se, libel per quod, injurious falsehood, violation of
civil rights
Civil rights
Civil and political rights are a class of rights that protect individuals' freedom from unwarranted infringement by governments and private organizations, and ensure one's ability to participate in the civil and political life of the state without discrimination or repression.Civil rights include...
, and
intentional infliction of emotional distress
Intentional infliction of emotional distress
Intentional infliction of emotional distress is a tort claim of recent origin for intentional conduct that results in extreme emotional distress. Some courts and commentators have substituted mental for emotional, but the tort is the same...
. Rall's suit stated that Hellman was attempting to sabotage his career. Before long, four of Rall's five claims were dismissed, leaving only libel per se. The lawsuit was eventually abandoned before going to trial.
In a Rall cartoon from May 3, 2004,
Pat Tillman
Pat Tillman
Corporal Patrick Daniel "Pat" Tillman Jr. was an American football player who left his professional career and enlisted in the United States Army in June 2002 in the aftermath of the September 11, 2001, attacks. He joined the Army Rangers and served several tours in combat before he died in the...
(a former
Arizona Cardinals
Arizona Cardinals
The Arizona Cardinals are a professional American football team based in Glendale, Arizona, a suburb of Phoenix. They are currently members of the Western Division of the National Football Conference in the National Football League...
player who abandoned his NFL career to enlist in the
United States Army Rangers
United States Army Rangers
United States Army Rangers are elite members of the United States Army. Rangers have served in recognized U.S. Army Ranger units or have graduated from the U.S. Army's Ranger School...
and was killed in Afghanistan) is depicted asking an Army recruiter, "Never mind the fine print. Will I get to kill Arabs?". The narrator points out that he was killed and the reader is then given a choice: "idiot", "sap" or "hero". Later, after revelations of Tillman's privately held anti-Iraq-war sentiments and the
friendly fire
Friendly fire
Friendly fire is inadvertent firing towards one's own or otherwise friendly forces while attempting to engage enemy forces, particularly where this results in injury or death. A death resulting from a negligent discharge is not considered friendly fire...
circumstances of his death became public, Rall wrote that he regretted making such sweeping assumptions about Tillman's motives, describing Tillman as "one hell of an interesting human being."
His July 5, 2004, cartoon mocked
Condoleezza Rice
Condoleezza Rice
Condoleezza Rice is an American political scientist and diplomat. She served as the 66th United States Secretary of State, and was the second person to hold that office in the administration of President George W. Bush...
, depicting her character being sent to a "racial re-education camp" where she refers to herself as a "house
nigga
Nigga
Nigga is a term used in African American Vernacular English that began as an eye dialect form of the word nigger .- Use in language :In practice, its use and meaning are...
" and George W. Bush's
"beard"
Beard (female companion)
Beard is a slang term describing a person who is used, knowingly or unknowingly, as a date, romantic partner , or spouse either to conceal infidelity or to conceal one's sexual orientation...
. Rall, a white man, was accused of
racism
Racism
Racism is the belief that inherent different traits in human racial groups justify discrimination. In the modern English language, the term "racism" is used predominantly as a pejorative epithet. It is applied especially to the practice or advocacy of racial discrimination of a pernicious nature...
by
Project 21
Project 21
Project 21 is a conservative public policy group. The organization refers to itself as "The National Leadership Network of Black Conservatives." Its director is David Almasi....
, a
conservative
Conservatism
Conservatism is a political and social philosophy that promotes the maintenance of traditional institutions and supports, at the most, minimal and gradual change in society. Some conservatives seek to preserve things as they are, emphasizing stability and continuity, while others oppose modernism...
organization with black membership.
A November 8, 2004, cartoon depicted mentally disabled children as classroom teachers in an attempt to make an analogy to American voters who reelected Bush, drawing complaints from advocates for the disabled and led to his cartoons being dropped from
The Washington Post
The Washington Post
The Washington Post is Washington, D.C.'s largest newspaper and its oldest still-existing paper, founded in 1877. Located in the capital of the United States, The Post has a particular emphasis on national politics. D.C., Maryland, and Virginia editions are printed for daily circulation...
s website. Rall responded in his
blog
Blog
A blog is a type of website or part of a website supposed to be updated with new content from time to time. Blogs are usually maintained by an individual with regular entries of commentary, descriptions of events, or other material such as graphics or video. Entries are commonly displayed in...
saying: "I regret hurting people who I have nothing against. I do want to comfort the afflicted and afflict the comfortable, and I think I failed in that with this cartoon. Not to mention that the cartoon failed—too many people got bogged down in the analogy and the main point got lost."
On October 22, 2007, Rall published a cartoon saying "Over time, however, the endless war in Iraq began to play a role in natural selection. Only idiots signed up; only idiots died. Back home, the average I.Q. soared." This caused an uproar by military supporters both conservative and liberal alike.
Rall is listed at #15 in Bernard Goldberg's book
100 People Who Are Screwing Up America
100 People Who Are Screwing Up America
100 People Who Are Screwing Up America is a non-fiction book by Bernard Goldberg that was published in 2005. The book's central idea is to name and blame a long list of specific individuals for making the United States a "far more selfish, vulgar, and cynical place."Goldberg's book denounces many...
described by the author as a "vicious, conspiracy-minded, hate-filled jerk." Rall perceived the listing as an honor, replying, "Not only am I grouped with many people whom I admire for their achievements and patriotism, I'm being demonized by
McCarthyite
McCarthyism
McCarthyism is the practice of making accusations of disloyalty, subversion, or treason without proper regard for evidence. The term has its origins in the period in the United States known as the Second Red Scare, lasting roughly from the late 1940s to the late 1950s and characterized by...
thugs I despise."
Rall solicited funds from readers and left-wing bloggers in an attempt to sue
Ann Coulter
Ann Coulter
Ann Hart Coulter is an American lawyer, conservative social and political commentator, author, and syndicated columnist. She frequently appears on television, radio, and as a speaker at public events and private events...
for libel and slander for her (self-described as "joking") statement that, "Iran is soliciting cartoons on the Holocaust. So far, only Ted Rall,
Garry Trudeau
Garry Trudeau
Garretson Beekman "Garry" Trudeau is an American cartoonist, best known for the Doonesbury comic strip.-Background and education:...
, and The New York Times have made submissions." Coulter first made the remark at the 2006
Conservative Political Action Conference
Conservative Political Action Conference
The Conservative Political Action Conference is an annual political conference attended by conservative activists and elected officials from across the United States....
meeting in Washington D.C. on February 10, and then printed it in her syndicated column the following week. By 18 days later, pledges totaled over $21,000. However, pledges are no longer being solicited, and in a December 27, 2006 blog entry, Rall posted an email that was sent to pledged contributors to the lawsuit, stating that his attorneys had determined that "The road ahead is too uncertain to justify spending thousands of dollars of pledges, not to mention my own money".
Awards
1995 — Robert F. Kennedy Journalism Award

Robert F. Kennedy Journalism Award

The Robert F. Kennedy Awards for Excellence in Journalism is journalisms award named after Robert F. Kennedy and awarded by the Robert F. Kennedy Center for Justice and Human Rights. The annual awards are issued in several categories and were established in December 1968 by a group of reporters who...



1996 — Finalist, Pulitzer Prize
1997 — First Prize, Firecracker Alternative Press Award, for "Real Americans Admit: The Worst Thing I've Ever Done!"
1997 — First Prize, Deadline Club Award, Society of Professional Journalists
2000 — Robert F. Kennedy Journalism Award
2001 — Amazon's Best Books of the Year

Amazon's Best Books of the Year

Amazon's Best Books of the Year is a list of best books created yearly by Amazon.com. It is a list of best books picked by Amazon editors and customers. It began in 2000. Customer favorites are ranked according to the number of sales made through October, for books published in that calender year...


, for "2024: A Graphic Novel"
2002 — Best Book of the Year, American Library Association

American Library Association

The American Library Association is a non-profit organization based in the United States that promotes libraries and library education internationally. It is the oldest and largest library association in the world, with more than 62,000 members....


, for "To Afghanistan and Back"
2002 — James Aronson Award for Social Justice Graphics
2007 — Second Prize, Association of Alternative Newsweeklies Awards http://aan.org/alternative/Aan/ViewArticle?oid=oid%3A184044
2007 — Second Prize, Lambda Legal's "Life Without Fair Courts" cartoon contest
2007 — First Prize, New York Book Festival Competition, for "Silk Road to Ruin"
2008 — Ohioana Citation for Art and Journalism
2010 — Scripps Howard National Journalism Award, Finalist http://latimesblogs.latimes.com/readers/2011/03/grading-the-teachers-wins-scripps-howard-public-service-award.html
2011 — First Prize, Association of Alternative Newsweeklies Awards http://www.altweeklies.com/aan/2011-altweekly-awards-winners-announced/Article?oid=4549589
Cartoon collections
Waking Up In America (St. Martin's Press, 1992), ISBN 0-312-08518-4
All The Rules Have Changed (Rip Off Press, 1995), ISBN 0-89620-119-8
Search and Destroy (Andrews McMeel 2001), ISBN 0-7407-1396-5
America Gone Wild (Andrews McMeel, 2006), ISBN 0-7407-6045-9
Graphic novels
Real Americans Admit: The Worst Thing I've Ever Done! (NBM Publishing, 1996), ISBN 1-56163-157-4
My War With Brian (NBM, 1998), ISBN 1-56163-215-5
2024: A Graphic Novel (NBM, 2001), ISBN 1-56163-290-2
The Year of Loving Dangerously (NBM, 2009), artwork by Pablo G. Callejo, ISBN 1-56163-565-0
Non-fiction/prose
Revenge of the Latchkey Kids: An Illustrated Guide to Surviving the '90s and Beyond (Workman, 1998), essays and cartoons, ISBN 0-7611-0745-2
Gas War: The Truth Behind the American Occupation of Afghanistan (NBM, 2002), prose non-fiction, ISBN 0-7407-1396-5
To Afghanistan and Back (NBM, 2002), graphic travelogue, ISBN 1-56163-325-9
Wake Up, You're Liberal!: How We Can Take America Back from the Right (Soft Skull Press, 2004), prose non-fiction, ISBN 1-932360-22-0
Generalissimo El Busho: Essays and Cartoons on the Bush Years (NBM, 2004), essays and cartoons, ISBN 1-56163-384-4
Silk Road to Ruin: Is Central Asia the New Middle East? (NBM, 2006), graphic novellas and essays, ISBN 1-56163-454-9
The Anti-American Manifesto (Seven Stories, 2010), political polemic, ISBN 1-58322-933-7
Attitude: The New Subversive Cartoonists Anthologies
Attitude: The New Subversive Political Cartoonists (NBM, 2002), ISBN 1-56163-317-8
Attitude 2: The New Subversive Alternative Cartoonists (NBM, 2004), ISBN 1-56163-381-X
Attitude 3: The New Subversive Online Cartoonists (NBM, 2006), ISBN 1-56163-465-4
Other
Shiny Adidas Track Suits and the Death of Camp (1998), contains essays from Might Magazine

Might magazine

Might was a San Francisco-based magazine co-founded in the early 1990s by David Moodie, Marny Requa and Dave Eggers, who went on to describe the magazine's rise and fall in his bestselling memoir A Heartbreaking Work of Staggering Genius....


, ISBN 0-425-16477-2
9-11: Emergency Relief (2001) 9/11 benefit anthology; contributor, ISBN 1-891867-12-1
Working For the Man (2003) William Messner-Loebs

William Messner-Loebs

William Messner-Loebs is an American comic book writer and artist from Michigan, also known as Bill Loebs and Bill Messner-Loebs...


benefit anthology; contributor
Masters of War: Militarism and Blowback in the Era of American Empire (2003), cartoon foreword, ISBN 0-415-94499-6
Talk to Her: Interviews with Kristine McKenna (2004), illustration of Joe Stummer, ISBN 1-56097-570-9
Killed: Great Journalism Too Hot to Print (2004), edited by David Wallis, contains "Money Changes Everything" essay, ISBN 1-56025-581-1
The Disposable Male: Sex, Love, and Money (2006), by Michael Gilbert, includes cartoon, ISBN 0-9776552-3-7
Killed Cartoons: Casualties from the War on Free Expression (2007), edited by David Wallis, contains "Ronald Reagan airport" and "Gulf War Beach" cartoons, ISBN 0-393-32924-0
External links
Editorials
News articles
Transcripts from Hannity & Colmes