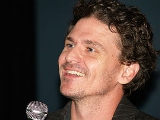 Dave Eggers
Dave Eggers
is an
American
United States
The United States of America is a federal constitutional republic comprising fifty states and a federal district...
writer
Writer
A writer is a person who produces literature, such as novels, short stories, plays, screenplays, poetry, or other literary art. Skilled writers are able to use language to portray ideas and images....
,
editor
Editing
Editing is the process of selecting and preparing written, visual, audible, and film media used to convey information through the processes of correction, condensation, organization, and other modifications performed with an intention of producing a correct, consistent, accurate, and complete...
, and
publisher
Publishing
Publishing is the process of production and dissemination of literature or information—the activity of making information available to the general public...
. He is known for the best-selling memoir
A Heartbreaking Work of Staggering Genius
A Heartbreaking Work of Staggering Genius
A Heartbreaking Work of Staggering Genius is a memoir by Dave Eggers released in 2000. It chronicles his stewardship of younger brother Christopher "Toph" Eggers following the cancer-related deaths of his parents....
and for his more recent work as a screenwriter. He is also the co-founder of the literacy project
826 Valencia
826 Valencia
826 Valencia is a non-profit organisation dedicated to helping children and young adults develop writing skills and to helping teachers inspire their students to write.-Overview:...
.
Eggers was born in Boston, Massachusetts, one of four siblings. His father was John K. Eggers (1936–1991), an attorney, and his mother, Heidi McSweeney Eggers (1940–1992), was a school teacher. When Eggers was still a child, the family moved to the upscale suburb of
Lake Forest
Lake Forest, Illinois
Lake Forest is an affluent city located in Lake County, Illinois, United States. The city is south of Waukegan along the shore of Lake Michigan, and is a part of the Chicago metropolitan area and the North Shore. Lake Forest was founded around Lake Forest College and was laid out as a town in...
, near
Chicago
Chicago
Chicago is the largest city in the US state of Illinois. With nearly 2.7 million residents, it is the most populous city in the Midwestern United States and the third most populous in the US, after New York City and Los Angeles...
.
First of all: I am tired. I am true of heart! And also:You are tired.You are true of heart!

Matter of fact, the first three or four chapters are all some of you might want to bother with. That gets you to page 123 or so, which is a nice length, a nice novella sort of length.

'Listen John—' 'Who's John?' 'You're John.' 'I'm John?' 'Yeah, I changed your name.'

I am sorry Chris is late this morning. I could make something up about an appointment or a sickness, but the fact is that we woke up late. Go figure Best, Brother of Toph.

Ooh, look at me, I'm Dave, I'm writing a book! With all my thoughts in it. La la la!

. . . I'll raise my arms and give you my chest and throat and wait, and I've been so old for so long for you, for you, I want it fast and right through me— Oh do it, do it you motherfuckers do it you fuckers finally, finally, finally.

We cannot fathom why people would stand across the street, easily a hundred feet away, when they could be so close, near us. 'Suckers.' I tell Toph, thumbing toward those watching from so far away. It is important, I feel, that the boy knows what suckers look like."

Toph does not know the words, and I know few of the words, but you cannot fucking stop us from singing

— Mr. Churchill you were given a mission. — Yes — I want to have been given your mission. I want your place in world events, the centrality of it. You were born in the cradle of a catapult! — You are wrong. I found my mission. — I disagree. — If you must. — Tell me: where is my mission? Where are my bunkers and trenches, my goddamn Gallipoli?