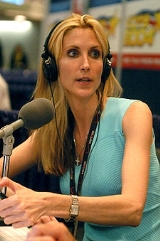 Ann Coulter
Ann Hart Coulter is an American
lawyer
Lawyer
A lawyer, according to Black's Law Dictionary, is "a person learned in the law; as an attorney, counsel or solicitor; a person who is practicing law." Law is the system of rules of conduct established by the sovereign government of a society to correct wrongs, maintain the stability of political...
, conservative
social
Social criticism
The term social criticism locates the reasons for malicious conditions of the society in flawed social structures. People adhering to a social critics aim at practical solutions by specific measures, often consensual reform but sometimes also by powerful revolution.- European roots :Religious...
and
political
Political criticism
Political criticism is criticism that is specific of or relevant to politics, including policies, politicians, political parties, and types of government.-Controversy:...
commentator, author, and
syndicated columnist
Syndicated columnist
This list of syndicated columnists comprises columnists whose recurring columns are published in multiple periodical publications .*Ghaith Abdul-Ahad*Yasmin Alibhai-Brown*Timothy Garton Ash*Lucius Beebe*Max Boot...
. She frequently appears on television, radio, and as a speaker at public events and private events. Well-known for her conservative political opinions and the controversial ways in which she presents and defends them, Coulter has described herself as a polemicist who likes to "stir up the pot" and does not "pretend to be impartial or balanced, as broadcasters do."
Ann Hart Coulter was born in New York City on December 8, 1961, to Nell Husbands (née Martin; a native of
Paducah, Kentucky
Paducah, Kentucky
Paducah is the largest city in Kentucky's Jackson Purchase Region and the county seat of McCracken County, Kentucky, United States. It is located at the confluence of the Tennessee River and the Ohio River, halfway between the metropolitan areas of St. Louis, Missouri, to the west and Nashville,...
) and John Vincent Coulter (a native of
Albany, New York
Albany, New York
Albany is the capital city of the U.S. state of New York, the seat of Albany County, and the central city of New York's Capital District. Roughly north of New York City, Albany sits on the west bank of the Hudson River, about south of its confluence with the Mohawk River...
).
I think the government should be spying on all Arabs, engaging in torture as a televised spectator sport, dropping daisy cutters wantonly throughout the Middle East and sending liberals to Guantanamo.

Her column; December 21, 2005
We were terrified that Paula Jones|Jones would settle. It was contrary to our purpose of bringing down Bill Clinton|the president.

Uncovering Clinton: A Reporter's Story (1998), pg. 183
If Americans support abortion, let's vote. . . Just this past term, in Stenberg vs. Carhart, the court expanded the apocryphal abortion right to an all-new right to stick a fork in the head of a half-born baby.

Her syndicated column, 12/28/2000
Taxes are like abortion, and not just because both are grotesque procedures supported by Democrats. You're for them or against them. Taxes go up or down; government raises taxes or lowers them. But Democrats will not let the words abortion or tax hikes pass their lips.

Her syndicated column, February 2, 2002
Not all Muslims may be terrorists, but all terrorists are Muslims.

Her syndicated column, September 28, 2001
I wouldn't kill an abortionist myself, but I wouldn't want to impose my moral values on others. No one is for shooting abortionists. But how will criminalizing men making difficult, often tragic, decisions be an effective means of achieving the goal of reducing the shootings of abortionists?

Her syndicated column, "49 MILLION TO FIVE", June 3, 2009
The only place Al Gore conserves energy these days is on the treadmill. I don't want to suggest that Al's getting big, but the last time I saw him on TV I thought, "That reminds me — we have to do something about saving the polar bears."