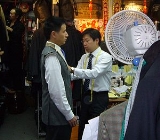 Tailor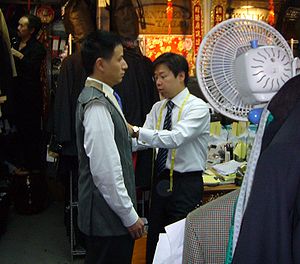 A
tailor
is a person who makes, repairs, or alters clothing professionally, especially suits and men's clothing.
Although the term dates to the thirteenth century,
tailor
took on its modern sense in the late eighteenth century, and now refers to makers of men's and women's
suits
Suit (clothing)
In clothing, a suit is a set of garments made from the same cloth, consisting of at least a jacket and trousers. Lounge suits are the most common style of Western suit, originating in the United Kingdom as country wear...
,
coat
Coat (clothing)
A coat is a long garment worn by both men and women, for warmth or fashion. Coats typically have long sleeves and are open down the front, closing by means of buttons, zippers, hook-and-loop fasteners, toggles, a belt, or a combination of some of these...
s,
trousers
Trousers
Trousers are an item of clothing worn on the lower part of the body from the waist to the ankles, covering both legs separately...
, and similar garments, usually of
wool
Wool
Wool is the textile fiber obtained from sheep and certain other animals, including cashmere from goats, mohair from goats, qiviut from muskoxen, vicuña, alpaca, camel from animals in the camel family, and angora from rabbits....
,
linen
Linen
Linen is a textile made from the fibers of the flax plant, Linum usitatissimum. Linen is labor-intensive to manufacture, but when it is made into garments, it is valued for its exceptional coolness and freshness in hot weather....
, or
silk
Silk
Silk is a natural protein fiber, some forms of which can be woven into textiles. The best-known type of silk is obtained from the cocoons of the larvae of the mulberry silkworm Bombyx mori reared in captivity...
.
The term refers to a set of specific hand and machine sewing and pressing techniques that are unique to the construction of traditional jackets. Retailers of tailored suits often take their services internationally, traveling to various cities, allowing the client to be measured locally.
Traditional tailoring is called
bespoke

Bespoke

Bespoke is a term employed in a variety of applications to mean an item custom-made to the buyer's specification...


tailoring
in the United Kingdom, where the heart of the
trade
Trade
Trade is the transfer of ownership of goods and services from one person or entity to another. Trade is sometimes loosely called commerce or financial transaction or barter. A network that allows trade is called a market. The original form of trade was barter, the direct exchange of goods and...
is in London's
Savile Row
Savile Row
Savile Row is a shopping street in Mayfair, central London, famous for its traditional men's bespoke tailoring. The term "bespoke" is understood to have originated in Savile Row when cloth for a suit was said to "be spoken for" by individual customers...
, and
custom tailoring
in the United States and
Hong Kong
Hong Kong
Hong Kong is one of two Special Administrative Regions of the People's Republic of China , the other being Macau. A city-state situated on China's south coast and enclosed by the Pearl River Delta and South China Sea, it is renowned for its expansive skyline and deep natural harbour...
. This is unlike
made to measure
Made to measure
Made to measure typically refers to clothing that is sewn from a standard-sized base pattern. A tailored suit is a common example of a made-to-measure garment...
which uses pre-existing patterns.
A bespoke garment or suit is completely original and unique to each customer.
Famous fictional tailors include the tailor in
The Emperor's New Clothes
The Emperor's New Clothes
"The Emperor's New Clothes" is a short tale by Hans Christian Andersen about two weavers who promise an Emperor a new suit of clothes that is invisible to those unfit for their positions, stupid, or incompetent...
and
Brave Little Tailor
Brave Little Tailor
Brave Little Tailor is a 1938 American animated short film produced by Walt Disney Productions and released by RKO Radio Pictures. The cartoon is an adaptation of the fairy tale The Valiant Little Tailor with Mickey Mouse in the title role. The film was directed by Bill Roberts and features...
. A more recent title is
John le Carré
John le Carré
David John Moore Cornwell , who writes under the name John le Carré, is an author of espionage novels. During the 1950s and the 1960s, Cornwell worked for MI5 and MI6, and began writing novels under the pseudonym "John le Carré"...
's
The Tailor of Panama
The Tailor of Panama
The Tailor of Panama is a 2001 American film based on the 1996 spy novel of the same name by John le Carré, which was inspired by Graham Greene's Our Man in Havana...
.
Types of Tailoring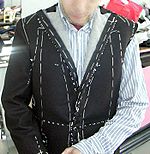 As the tailoring profession has evolved, so too have the methods of tailoring. There are a number of distinctive business models which modern tailors may practice. While some may practice many, there are others who will practice only one or two.
Local Tailoring
Local tailoring is as the name implies. Typically the tailor is met locally and the garment produced locally. This method enables the tailor to take professional measurements, assess posture and body shape to make unique modifications to the garment. Local tailors will typically have a showroom or shopfront allowing clients to choose fabrics from samples or return the garment easily should it require further modification. This is the most traditional form of tailoring. Sometimes local tailoring can attract a global clientele,
Sam's Tailor
Sam's Tailor
Sam's Tailor is a tailor located in Hong Kong. The shop was founded by Sam Melwani in 1957 and is still run by his sons, Manu and Sham Melwani, as well as his grandson Roshan Melwani...
of
Hong Kong
Hong Kong
Hong Kong is one of two Special Administrative Regions of the People's Republic of China , the other being Macau. A city-state situated on China's south coast and enclosed by the Pearl River Delta and South China Sea, it is renowned for its expansive skyline and deep natural harbour...
being a notable example of this.
Distance Tailoring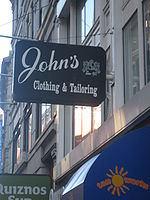 Distance tailoring involves ordering a garment from an out-of-town tailor enabling cheaper labour to be used. In practice this can now be done on a global scale via e-commerce websites. Unlike local tailoring, customers must take their own measurements, fabric selection must be made from a photo and if further alterations are required the garment must be shipped. Today, the most common platform for distance tailoring is via online tailors. Examples of this include Australian based
InStitchu
Traveling Tailors
Traveling Tailors are an attempt to blend the best of local and distance tailoring. Commonly these tailors will operate out of areas which have a strong tailoring trade or low labour costs but spend much of their time traveling to major cities to meet with clients. On their visits they take measurements and showcase physical fabric samples, once the client places an order, the garment is manufactured elsewhere and delivered via courier or mail. This method has the advantage of allowing tailors to meet with their clients and make a professional assessment of the fit with the lower labour costs of distance tailoring. Often though, there will not be a store front so in the event further alterations are needed the garment must still be shipped away. Some examples of Hong Kong based high-quality tailors who operate in the way include Ying Tai Tailor.,
ANS Fashions
ANS fashions
ANS Fashions is a Bespoke Tailoring company based in Kowloon, Hong Kong. They have adopted an international business model with representatives traveling internationally to take orders which are then manufactured in Hong Kong...
and Raja Fashions.
Related terms
A tailor-made is a woman's suit consisting of a (usually) woolen

Woolen

Woolen or woollen is a type of yarn made from carded wool. Woolen yarn is soft, light, stretchy, and full of air. It is thus a good insulator, and makes a good knitting yarn...


or tweed

Tweed (cloth)

Tweed is a rough, unfinished woolen fabric, of a soft, open, flexible texture, resembling cheviot or homespun, but more closely woven. It is made in either plain or twill weave and may have a check or herringbone pattern...


coat

Coat (clothing)

A coat is a long garment worn by both men and women, for warmth or fashion. Coats typically have long sleeves and are open down the front, closing by means of buttons, zippers, hook-and-loop fasteners, toggles, a belt, or a combination of some of these...


and shirt

Shirt

A shirt is a cloth garment for the upper body. Originally an undergarment worn exclusively by men, it has become, in American English, a catch-all term for almost any garment other than outerwear such as sweaters, coats, jackets, or undergarments such as bras, vests or base layers...


; the name arose during the Edwardian period

Edwardian period

The Edwardian era or Edwardian period in the United Kingdom is the period covering the reign of King Edward VII, 1901 to 1910.The death of Queen Victoria in January 1901 and the succession of her son Edward marked the end of the Victorian era...


.
As an adjective, tailor-made (from the second half of the twentieth century usually simplified to tailored) refers to clothing

Clothing

Clothing refers to any covering for the human body that is worn. The wearing of clothing is exclusively a human characteristic and is a feature of nearly all human societies...


made by or in the style of clothes made by a tailor, characterized by simplicity of cut

Cut (clothing)

Cut in clothing, sewing and tailoring, is the style or shape of a garment as opposed to its fabric or trimmings.The cut of a coat refers to the way the garment hangs on the body based on the shape of the fabric pieces used to construct it, the position of the fabric's grain line, and so on....


and trim

Trim (sewing)

Trim or trimming in clothing and home decorating is applied ornament, such as gimp, passementerie, ribbon, ruffles, or, as a verb, to apply such ornament....


and fine (often hand) finishing

Finish

Finish refer to:* Finishing in the distillation of Scotch* Finished good, a good that is completed as to manufacturing but not yet sold or distributed to the end-user* Surface finishing, various industrial processes for modifying a workpiece's surface...


; as a women's clothing style tailored as opposed to dressmaker

Dressmaker

A dressmaker is a person who makes custom clothing for women, such as dresses, blouses, and evening gowns. Also called a mantua-maker or a modiste.-Notable dressmakers:*Cristobal Balenciaga*Charles Frederick Worth...


.
Rodeo tailor is a term for a creator of the flamboyant costumes typical of country and western

Country music

Country music is a popular American musical style that began in the rural Southern United States in the 1920s. It takes its roots from Western cowboy and folk music...


musicians, characterized by extensive hand embroidery

Embroidery

Embroidery is the art or handicraft of decorating fabric or other materials with needle and thread or yarn. Embroidery may also incorporate other materials such as metal strips, pearls, beads, quills, and sequins....


, an abundance of rhinestone

Rhinestone

A rhinestone or paste or diamante is a diamond simulant made from rock crystal, glass or acrylic.Originally, rhinestones were rock crystals gathered from the river Rhine. The availability was greatly increased around 1775 when the Alsatian jeweller Georg Friedrich Strass had the idea to imitate...


s, and cowboy

Cowboy

A cowboy is an animal herder who tends cattle on ranches in North America, traditionally on horseback, and often performs a multitude of other ranch-related tasks. The historic American cowboy of the late 19th century arose from the vaquero traditions of northern Mexico and became a figure of...


details such as pearl

Pearl

A pearl is a hard object produced within the soft tissue of a living shelled mollusk. Just like the shell of a mollusk, a pearl is made up of calcium carbonate in minute crystalline form, which has been deposited in concentric layers. The ideal pearl is perfectly round and smooth, but many other...


snaps

Snap fastener

A snap fastener is a pair of interlocking discs commonly used in place of buttons to fasten clothing. A circular lip under one disc fits into a groove on the top of the other, holding them fast until a certain amount of force is applied...


and arrowhead pockets

Western wear

Western wear is a category of men's and women's clothing which derives its unique style from the clothes worn in the 19th-century American West. It ranges from accurate historical reproductions of pioneer, mountain man, Civil War, cowboy and vaquero clothing to the stylized garments popularized by...


.
In some documents, tailor means adjust, and tailoring means adjusting.
Sewing professional
is the most general term for those who make their living by sewing, teaching, writing about sewing, or retailing sewing supplies. They may work out of their home, a studio, or retail shop, and may work part-time or full-time. They may be any or all or the following sub-specialties:
A custom clothier makes custom garments one at a time, to order, to meet an individual customer's needs and preferences.
A custom dressmaker specializes in women's custom apparel, including day dresses, suits, evening or bridal wear, sportswear, or lingerie.
A tailor makes custom menswear-style jackets and trousers.
A cutter cuts out, from lengths of cloth, the panels that make up a suit. In bespoke tailoring, the cutter may also measure the client, advise them on style choices, and commission craftsmen to sew the suit.
An alterations specialist, or alterationist adjusts the fit of completed garments, usually ready-to-wear, or restyles them. Note that while all tailors can do alterations, by no means can all alterationists do tailoring.
Designer

Designer

A designer is a person who designs. More formally, a designer is an agent that "specifies the structural properties of a design object". In practice, anyone who creates tangible or intangible objects, such as consumer products, processes, laws, games and graphics, is referred to as a...


s conceive combinations of line, proportion, color, and texture for intended garments. They may or may not have sewing or patternmaking skills, and may only sketch or conceptualize garments. They work with people who know how to actually construct the garment.
Patternmaker

Pattern (sewing)

In sewing and fashion design, a pattern is an original garment from which other garments of a similar style are copied, or the paper or cardboard templates from which the parts of a garment are traced onto fabric before cutting out and assembling .Patternmaking, pattern making or pattern cutting is...


s flat draft the shapes and sizes of the numerous pieces of a garment by hand, using paper and measuring tools or by computer using AutoCAD based software, or by draping muslin onto a dressform. The resulting pattern pieces must comprise the intended design of the garment and they must fit the intended wearer.
A wardrobe consultant, fashion advisor, or stylist recommends styles and colors that are flattering to a client.
A seamstress is someone who sews seams or a machine operator in a factory who may not have the skills to make garments 'from scratch' or to fit them onto a real body. This term is not a synonym for dressmaker. Seamstress is an old, unkind euphemism for prostitute.
Tailor as a surname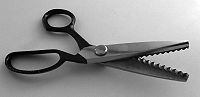 The profession's denomination,
Tailor
, is a common surname in many languages:
Taylor
Taylor (surname)
Taylor is a surname in the English language which originated as an occupational surname in England The name is derived from the Old French tailleur, which is in turn derived from the Late Latin taliator, from taliare meaning "to cut"...
(English),
Schneider
(German), Siuvejas (Lithuanian),
Szabó
(Hungarian),
Croitoru
(Romanian),
Sastre
(Spanish),
Krawiec
(
Kravitz
) (Polish),
Portnoy
(Russian),
Krejčí
(Czech),
Darzi
(
Hindi
Hindi
Standard Hindi, or more precisely Modern Standard Hindi, also known as Manak Hindi , High Hindi, Nagari Hindi, and Literary Hindi, is a standardized and sanskritized register of the Hindustani language derived from the Khariboli dialect of Delhi...
/
Urdu
Urdu
Urdu is a register of the Hindustani language that is identified with Muslims in South Asia. It belongs to the Indo-European family. Urdu is the national language and lingua franca of Pakistan. It is also widely spoken in some regions of India, where it is one of the 22 scheduled languages and an...
),
Kleermaker(s)
(Dutch),
Alfaiate
(Portuguese), Al-Khayyat / الخياط (Arabic),
Chait
/ חייט (Hebrew),
Raftis
/Ράφτης (Greek).
In the movie
Meeting Venus
Meeting Venus
Meeting Venus is a 1991 British–American-Japanese film directed by the Hungarian director István Szabó and starring Glenn Close, Niels Arestrup, Marián Labuda, Victor Poletti, Jay O. Sanders, Maria de Medeiros and Johanna ter Steege...
(written and directed by
István Szabó
István Szabó
István Szabó is a Hungarian film director, screenwriter, and opera director.Szabó is the most internationally famous Hungarian filmmaker since the late 1960s. Working in the tradition of European, auteurist art cinema, he has made films that represent many of the psychological and political...
), many of the characters have the cognates ("blood relative") of the surname
Tailor
from different languages.
External links