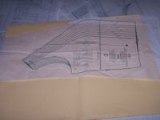 Pattern (sewing)
In
sewing
Sewing
Sewing is the craft of fastening or attaching objects using stitches made with a needle and thread. Sewing is one of the oldest of the textile arts, arising in the Paleolithic era...
and
fashion design
Fashion design
Fashion design is the art of the application of design and aesthetics or natural beauty to clothing and accessories. Fashion design is influenced by cultural and social latitudes, and has varied over time and place. Fashion designers work in a number of ways in designing clothing and accessories....
, a
pattern
is an original
garment
Clothing
Clothing refers to any covering for the human body that is worn. The wearing of clothing is exclusively a human characteristic and is a feature of nearly all human societies...
from which other garments of a similar style are copied, or the paper or cardboard
templates
Stencil
A stencil is a thin sheet of material, such as paper, plastic, or metal, with letters or a design cut from it, used to produce the letters or design on an underlying surface by applying pigment through the cut-out holes in the material. The key advantage of a stencil is that it can be reused to...
from which the parts of a garment are traced onto
fabric
Textile
A textile or cloth is a flexible woven material consisting of a network of natural or artificial fibres often referred to as thread or yarn. Yarn is produced by spinning raw fibres of wool, flax, cotton, or other material to produce long strands...
before cutting out and assembling (sometimes called
paper patterns
).
Patternmaking
,
pattern making
or
pattern cutting
is the art of designing patterns.
A custom-fitted basic pattern from which patterns for many different styles can be created is called a
sloper
or
block
.
Pattern making
A custom
dressmaker
Dressmaker
A dressmaker is a person who makes custom clothing for women, such as dresses, blouses, and evening gowns. Also called a mantua-maker or a modiste.-Notable dressmakers:*Cristobal Balenciaga*Charles Frederick Worth...
frequently employs one of three pattern creation methods. The flat-pattern method begins with the creation of a
sloper
or
block
, a basic pattern for a fitted, jewel-neck
bodice
Bodice
A bodice, historically, is an article of clothing for women, covering the body from the neck to the waist. In modern usage it typically refers to a specific type of upper garment common in Europe during the 16th to the 18th century, or to the upper portion of a modern dress to distinguish it from...
and narrow
skirt
Skirt
A skirt is a tube- or cone-shaped garment that hangs from the waist and covers all or part of the legs.In the western world, skirts are usually considered women's clothing. However, there are exceptions...
, made to the wearer's measurements. The sloper is usually made of lightweight cardboard or
tagboard
Paperboard
Paperboard is a thick paper based material. While there is no rigid differentiation between paper and paperboard, paperboard is generally thicker than paper. According to ISO standards, paperboard is a paper with a basis weight above 224 g/m2, but there are exceptions. Paperboard can be single...
, without
seam allowance
Seam allowance
Seam allowance is the area between the edge and the stitching line on two pieces of material being stitched together. Seam allowances can range from 1/4 inch wide to as much as several inches. Commercial patterns for home sewers have seam allowances ranging from 1/4 inch to 5/8 inch.Sewing...
s or style details. Once the shape of the sloper has been refined by making a series of mock-up garments called
toile

Toile

Toile is the name of a fabric that entered the English language around the 16th century from a French word meaning "linen cloth" or "canvas" — particularly cloth or canvas for painting on...


s
(UK) or
muslins
(US), the final sloper can be used in turn to create patterns for many styles of garments with varying necklines, sleeves, dart placements, and so on.
Although it is also used for women's' clothing, the drafting method is more commonly employed in men's garments and involves drafting a pattern directly onto pattern paper using a variety of straightedges and curves.
The pattern draping method is used for more elaborate and unique designs that are hard to obtain through the flat pattern method. This is because it is nearly impossible to account for the way a fabric will drape or hang on the body without an actual 3-dimensional test run. It involves creating a muslin mock-up pattern by pinning fabric directly on a
dress form
Dress form
A dress form is a three-dimensional model of the torso used for fitting clothing that is being designed or sewed. When making a piece of clothing, it can be put on the dress form so one can see the fit and drape of the garment as it would appear on a body, and make adjustments or alterations.Dress...
, then transferring the muslin outline and markings onto a paper pattern or using the muslin as the pattern itself.
Pattern grading
Pattern grading is an essential part of pattern making. It decides how patterns increase or decrease sizes. According to countries, pattern grading includes USA's, EUR's, UK's, and CHN's.Generally, pattern grading adjusts for people of different ages and genders. The fabric type also influences the pattern grading standards. And marker makings are the actual full size print out of how the styles are cut on the fabric. The cost of pattern grading is incomplete without considering marker making.
Patterns for home sewing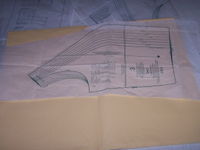 Home sewing patterns are generally printed on
tissue paper
Tissue paper
Tissue paper is a lightweight paper or, light crêpe paper. Tissue can be made both from virgin and recycled paper pulp.-Properties:Key properties are: strength, absorbency, basis weight, thickness , brightness, stretch, appearance and comfort....
and sold in packets containing sewing instructions and suggestions for fabric and
trim
Trim (sewing)
Trim or trimming in clothing and home decorating is applied ornament, such as gimp, passementerie, ribbon, ruffles, or, as a verb, to apply such ornament....
. Modern patterns are available in a wide range of prices, sizes, styles, and sewing skill levels, to meet the needs of consumers.
Home sewing patterns are
graded
, that is, redrawn to fit larger and smaller sizes than the original design.
Ebenezer Butterick
Ebenezer Butterick
Ebenezer Butterick was an American tailor, inventor, manufacturer, and fashion business executive, born in Sterling, Massachusetts....
invented the commercially produced graded home sewing pattern in 1863 (based on grading systems used by
Victorian
Victorian era
The Victorian era of British history was the period of Queen Victoria's reign from 20 June 1837 until her death on 22 January 1901. It was a long period of peace, prosperity, refined sensibilities and national self-confidence...
tailors), originally selling hand-drawn patterns for men's and boys' clothing. In 1866, Butterick added patterns for women's clothing, which remains the heart of the home sewing pattern market today.
There are some applications today that enable a home sewer to customize a computerized pattern to fit her body measurements and or body shape. The 3D technology enables the home sewer to see a virtual simulation of the final garment as it will appear on her. This reduces the Time-to-Market as well as the number of muslins/test garments that are needed.
A variation on the theme was evolved by iconic British brand
Clothkits
Clothkits
Clothkits is an English clothing company, originally based in Lewes, East Sussex. Founded as a mail order business by Anne Kennedy in 1969 and sold in 1988, Clothkits at one stage employed nearly 400 workers...
. Clothkits devised ingenious cut and sew clothing kits for home sewing that avoided the need for paper patterns. Rather than using conventional techniques, Clothkits pre-printed fabric with both quirky designs and the pattern lines, to make dressmaking for the novice easier.
Patternmaking books
Patternmaking books are instructional manuals that provide instructions and diagrams on the constructions of various garments. They are primarily for personal and educational purposes.
Evolution of American sewing pattern manufacturers
Four historic American pattern companies still exist:
Butterick
McCall's
Simplicity
Vogue
William Jennings Demorest
William Jennings Demorest
right|thumb|325px|William Jennings Demorest , from New York City, was an American magazine publisher, national prohibition leader, and, in collaboration with his second wife, Ellen Demorest, née Curtis, attained international success from his wife's development of paper patterns for sewing fashion...
and
Ellen Louise Demorest
Ellen Louise Demorest
Ellen Louise Demorest was a US fashion arbiter. She was a successful milliner who widely credited for inventing mass-produced tissue-paper dressmaking patterns. With her husband, William Jennings Demorest, she established a company to sell the patterns, which were adaptations of the latest French...
began the home sewing pattern industry in 1860 by holding fashion shows in their homes and selling the patterns. This was the beginning of the Mme. Demorests' Emporium of Fashion. They published a magazine,
The Mirror of Fashion
, which listed hundreds of different patterns, most available in only one size. Patterns were of unprinted paper, cut to shape, and could be purchased "flat" (folded), or, for an additional charge, "made up" (with the separate pieces tacked into position). The latter version was intended to compensate for the absence of detailed instructions.
Ebenezer Butterick
Ebenezer Butterick
Ebenezer Butterick was an American tailor, inventor, manufacturer, and fashion business executive, born in Sterling, Massachusetts....
launched The Butterick Company in 1863 to create heavy cardboard templates for children's clothing. Butterick's innovation was offering every pattern in a series of standard,
graded
Pattern grading
Pattern grading is the scaling of a pattern to a different size by incrementing important points of the pattern using an algorithm in the clothing and footwear industry.See also: Shoe size...
sizes. Members of his family cut and folded the first patterns that were sold from their home. In 1866 Butterick began manufacturing patterns for women's fashions, and later added some articles of men's clothing. They began publishing the fashion magazine
The Delineator
in 1873 to publicize their patterns. Their patterns started as unprinted tissue paper cut to shape, folded and held together by a pinned (later pasted-on) label with an image and, later, brief instructions. In the early 1900s they began to use an envelope to hold the pattern. In the late 1910s they introduced a separate instruction sheet, called the "Deltor" (from the first three and last three letters of Delineator). In 1948, they purchased two new presses specially designed to print markings directly onto the pattern tissue.
James McCall
McCall's
McCall's was a monthly American women's magazine that enjoyed great popularity through much of the 20th century, peaking at a readership of 8.4 million in the early 1960s. It was established as a small-format magazine called The Queen in 1873...
, a Scottish tailor, established the McCall Pattern Company in 1870 in New York City. Patterns were unprinted until 1919, when they started printing information directly onto the pattern pieces. In the 1920s, selected patterns had full color illustrations on their pattern envelopes. In 1932 they started printing full color illustrations on all pattern envelopes. McCall usually printed the date of release on their envelopes (the only company which consistently did so before mid-century), which makes it easy to date their patterns.
Vogue Pattern Service
Vogue (magazine)
Vogue is a fashion and lifestyle magazine that is published monthly in 18 national and one regional edition by Condé Nast.-History:In 1892 Arthur Turnure founded Vogue as a weekly publication in the United States. When he died in 1909, Condé Montrose Nast picked up the magazine and slowly began...
began in 1899, a spinoff of Vogue Magazine's weekly pattern feature. In 1909 Condé Nast bought Vogue. As a result, Vogue Pattern Company was formed in 1914, and in 1916 Vogue patterns were sold in department stores. In 1961
Condé Nast
Condé Nast Publications
Condé Nast, a division of Advance Publications, is a magazine publisher. In the U.S., it produces 18 consumer magazines, including Architectural Digest, Bon Appétit, GQ, The New Yorker, Vanity Fair, and Vogue, as well as four business-to-business publications, 27 websites, and more than 50 apps...
entered in a licensing agreement with the Butterick Company.
Simplicity Pattern

Simplicity Pattern

The Simplicity Pattern Company is a manufacturer of sewing pattern guides, under the "Simplicity Pattern," "It's So Easy" and "New Look" brands. The company, now owned by Wrights, began in 1927 in New York City. During the Great Depression, Simplicity allowed home seamstresses to create...


Co. Inc.
started producing patterns in 1927. Their goal was to produce an easy-to-use, lower-priced pattern. They were one of the fastest growing pattern companies, opening offices in Canada, London, Australia, and several in the United States. Their patterns are sold in over 60 countries. Their unprinted patterns ended in 1946, and were all printed thereafter.
DuBarry
patterns were manufactured by Simplicity from 1931–1940 exclusively for
F. W. Woolworth Company
F. W. Woolworth Company
The F. W. Woolworth Company was a retail company that was one of the original American five-and-dime stores. The first successful Woolworth store was opened on July 18, 1879 by Frank Winfield Woolworth in Lancaster, Pennsylvania, as "Woolworth's Great Five Cent Store"...
.
Hollywood Pattern Company
was started by
Condé Nast
Condé Nast Publications
Condé Nast, a division of Advance Publications, is a magazine publisher. In the U.S., it produces 18 consumer magazines, including Architectural Digest, Bon Appétit, GQ, The New Yorker, Vanity Fair, and Vogue, as well as four business-to-business publications, 27 websites, and more than 50 apps...
in 1932. They were known for printing photos of Hollywood stars on some of their patterns, quickly making them very popular. They continued production through the end of World War II.
The New York Pattern Company
started in 1932 and continued until the early 1950s. They were unique in that the pattern sleeves had drawn characters rather than photos and the paper used was non-glossy.
Advance
began manufacturing patterns in 1933, which was sold exclusively at J. C. Penney Company. The company continued through 1966 until it was sold to Puritan Fashions.
Fitzpatterns.com
began offering downloadable sewing patterns in 2004. These consist of full-size patterns to be printed at a copyshop on a large format printer and or in a tiled version that can be printed on an A4 or letter sized printer and sticky taped together.
Patterns for commercial clothing manufacture
The making of industrial patterns begins with an existing block pattern that most closely resembles the designer's vision. Patterns are cut of oak-tag (manila folder)
paper
Paper
Paper is a thin material mainly used for writing upon, printing upon, drawing or for packaging. It is produced by pressing together moist fibers, typically cellulose pulp derived from wood, rags or grasses, and drying them into flexible sheets....
, punched with a hole and stored by hanging with a special hook. The pattern is first checked for accuracy, then it is cut out of sample fabrics and the resulting garment is fit tested. Once the pattern meets the designer's approval, a small production run of selling samples are made and the style is presented to buyers in wholesale markets. Once the style has demonstrated sales potential, the pattern is graded for sizes, usually by computer with an apparel industry specific
CAD
Computer-aided design
Computer-aided design , also known as computer-aided design and drafting , is the use of computer technology for the process of design and design-documentation. Computer Aided Drafting describes the process of drafting with a computer...
program. Following grading, the pattern must be vetted; the accuracy of each size and the direct comparison in laying
seam
Seam (sewing)
In sewing, a seam is the join where two or more layers of fabric, leather, or other materials are held together with stitches. Prior to the invention of the sewing machine, all sewing was done by hand...
lines is done. Once these steps have been followed and any errors corrected, the pattern is approved for production. When the manufacturing company is ready to manufacture the style, all of the sizes of each given pattern piece are arranged into a
marker
, usually by computer. The marker is then laid on top of the layers of fabric and cut. Once the style has been sold and delivered to stores – and if it proves to be quite popular – the pattern of this style will itself become a block, with subsequent generations of patterns developed from it.
See also
External links