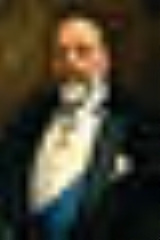 Edwardian period
The
Edwardian era
or
Edwardian period
in the United Kingdom is the period covering the reign of
King Edward VII
Edward VII of the United Kingdom
Edward VII was King of the United Kingdom and the British Dominions and Emperor of India from 22 January 1901 until his death in 1910...
, 1901 to 1910.
The death of
Queen Victoria
Victoria of the United Kingdom
Victoria was the monarch of the United Kingdom of Great Britain and Ireland from 20 June 1837 until her death. From 1 May 1876, she used the additional title of Empress of India....
in January 1901 and the succession of her son Edward marked the end of the
Victorian era
Victorian era
The Victorian era of British history was the period of Queen Victoria's reign from 20 June 1837 until her death on 22 January 1901. It was a long period of peace, prosperity, refined sensibilities and national self-confidence...
. While Victoria had shunned society, Edward was the leader of a fashionable elite that set a style influenced by the art and fashions of Continental Europe—perhaps because of the King's fondness for travel.