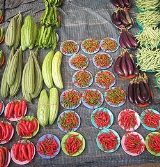 Organic food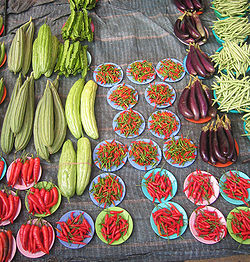 Organic foods
are foods that are produced using methods that do not involve modern synthetic inputs such as synthetic pesticides and chemical fertilizers, do not contain genetically modified organisms, and are not processed using
irradiation
Irradiation
Irradiation is the process by which an object is exposed to radiation. The exposure can originate from various sources, including natural sources. Most frequently the term refers to ionizing radiation, and to a level of radiation that will serve a specific purpose, rather than radiation exposure to...
, industrial solvents, or chemical food additives.
For the vast majority of human history, agriculture can be described as organic; only during the 20th century was a large supply of new synthetic chemicals introduced to the food supply. The organic farming movement arose in the 1940s in response to the industrialization of
agriculture
Agriculture
Agriculture is the cultivation of animals, plants, fungi and other life forms for food, fiber, and other products used to sustain life. Agriculture was the key implement in the rise of sedentary human civilization, whereby farming of domesticated species created food surpluses that nurtured the...
known as the
Green Revolution
Green Revolution
Green Revolution refers to a series of research, development, and technology transfer initiatives, occurring between the 1940s and the late 1970s, that increased agriculture production around the world, beginning most markedly in the late 1960s....
.
The weight of the available scientific evidence has not shown a significant difference between organic and more conventionally grown food in terms of safety, nutritional value, or taste.
Organic food production is a heavily regulated industry, distinct from
private gardening
Kitchen garden
The traditional kitchen garden, also known as a potager, is a space separate from the rest of the residential garden - the ornamental plants and lawn areas...
. Currently, the European Union, the United States, Canada, Japan and many other countries require producers to obtain
special certification
Organic certification
Organic certification is a certification process for producers of organic food and other organic agricultural products. In general, any business directly involved in food production can be certified, including seed suppliers, farmers, [food] processors, retailers and restaurants.Requirements vary...
in order to market food as organic within their borders. In the context of these regulations, organic food is food made in a way that complies with organic standards set by national governments and international organizations. In the United States, organic production is a system that is managed in accordance with the Organic Foods Production Act (OFPA) of 1990 and regulations in Title 7, Part 205 of the Code of Federal Regulations to respond to site-specific conditions by integrating cultural, biological, and mechanical practices that foster cycling of resources, promote ecological balance, and conserve biodiversity. If livestock are involved, the livestock must be reared with regular access to pasture and without the routine use of antibiotics or
growth hormones
Bovine somatotropin
Bovine somatotropin , or BGH, is a chain of amino acids produced by the cow's pituitary gland. Like other hormones, it is produced in small quantities and is used in regulating metabolic processes...
. In the United States, a food can be labelled as "organic" if it contains a minimum of 95% organic ingredients. In most countries, organic produce may not be genetically modified. It has been suggested that the application of
nanotechnology
Nanotechnology
Nanotechnology is the study of manipulating matter on an atomic and molecular scale. Generally, nanotechnology deals with developing materials, devices, or other structures possessing at least one dimension sized from 1 to 100 nanometres...
to food and agriculture is a further technology that needs to be excluded from certified organic food. The
Soil Association
Soil Association
The Soil Association is a charity based in the United Kingdom. Founded in 1946, it has over 27,000 members today. Its activities include campaign work on issues including opposition to intensive farming, support for local purchasing and public education on nutrition; as well the certification of...
(UK) has been the first organic certifier to implement a nano-exclusion.
Meaning and origin of the term
In 1939,
Lord Northbourne
Walter James, 4th Baron Northbourne
Walter Ernest Christopher James, 4th Baron Northbourne , was an English agriculturalist, author and rower who competed in the 1920 Summer Olympics.-Life:...
coined the term
organic farming
in his book
Look to the Land
(1940), out of his conception of "the farm as organism," to describe a holistic, ecologically-balanced approach to farming—in contrast to what he called
chemical farming
, which relied on "imported fertility" and "cannot be self-sufficient nor an organic whole." This is different from the scientific use of the term "organic," to refer to a
class of molecules that contain carbon
Organic compound
An organic compound is any member of a large class of gaseous, liquid, or solid chemical compounds whose molecules contain carbon. For historical reasons discussed below, a few types of carbon-containing compounds such as carbides, carbonates, simple oxides of carbon, and cyanides, as well as the...
, especially those involved in the chemistry of life. This class of molecules includes many chemicals that would not be used in organic farming.
Identifying organic food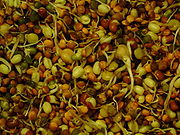 See also: Organic farming

Organic farming

Organic farming is the form of agriculture that relies on techniques such as crop rotation, green manure, compost and biological pest control to maintain soil productivity and control pests on a farm...


for information on the production of organic food.
Processed organic food usually contains only organic ingredients. If non-organic ingredients are present, at least a certain percentage of the food's total plant and animal ingredients must be organic (95% in the United States, Canada, and Australia) and any non-organically produced ingredients are subject to various agricultural requirements. Foods claiming to be organic must be free of artificial food additives, and are often processed with fewer artificial methods, materials and conditions, such as
chemical ripening
SmartFresh
SmartFresh is a brand of a synthetic produce quality enhancer based on 1-methylcyclopropene . It is marketed by AgroFresh Inc.-Function:...
,
food irradiation
Food irradiation
Food irradiation is the process of exposing food to ionizing radiation to destroy microorganisms, bacteria, viruses, or insects that might be present in the food. Further applications include sprout inhibition, delay of ripening, increase of juice yield, and improvement of re-hydration...
, and genetically modified ingredients. Pesticides are allowed so long as they are not synthetic.
Early consumers interested in organic food would look for non-chemically treated, non-use of unapproved pesticides, fresh or minimally processed food. They mostly had to buy directly from growers: "Know your farmer, know your food" was the motto. Personal definitions of what constituted "organic" were developed through firsthand experience: by talking to farmers, seeing farm conditions, and farming activities. Small farms grew vegetables (and raised livestock) using
organic farming
Organic farming
Organic farming is the form of agriculture that relies on techniques such as crop rotation, green manure, compost and biological pest control to maintain soil productivity and control pests on a farm...
practices, with or without certification, and the individual consumer monitored. As demand for organic foods continued to increase, high volume sales through mass outlets such as supermarkets rapidly replaced the direct farmer connection. Today there is no limit to organic farm sizes and many large corporate farms currently have an organic division. However, for supermarket consumers, food production is not easily observable, and product labeling, like "certified organic", is relied on. Government regulations and third-party inspectors are looked to for assurance.
The
USDA
United States Department of Agriculture
The United States Department of Agriculture is the United States federal executive department responsible for developing and executing U.S. federal government policy on farming, agriculture, and food...
carries out routine inspections of farms that produce USDA Organic labeled foods. Of the 30 third party inspectors 15 of them have been placed under probation after an audit. On April 20, 2010, the Department of Agriculture said that it would begin enforcing rules requiring the spot testing of organically grown foods for traces of pesticides, after an auditor exposed major gaps in federal oversight of the organic food industry.
Legal definition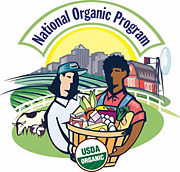 To be
certified organic
, products must be grown and manufactured in a manner that adheres to standards set by the country they are sold in:
Environmental impact
Several surveys and studies have attempted to examine and compare conventional and organic systems of farming. The general consensus across these surveys is that organic farming is less damaging for the following reasons:
Organic farms do not consume or release synthetic pesticides into the environment—some of which have the potential to harm soil, water and local terrestrial and aquatic wildlife.
Organic farms are better than conventional farms at sustaining diverse ecosystems, i.e., populations of plants and insects, as well as animals.
When calculated per unit area, organic farms use less energy and produce less waste, e.g., waste such as packaging materials for chemicals.
A 2003 investigation by the Department for Environment Food and Rural Affairs in the UK found, similar to other reports, that organic farming "can produce positive environmental benefits", but that some of the benefits were decreased or lost when comparisons are made on "the basis of unit production rather than area".
The environmental impact of pesticides as well as the impact to the health of farm workers are reasons given for purchasing organic food.
However, critics of organic farming methods believe that the increased land needed to farm organic food could potentially destroy the rainforests and wipe out many ecosystems.
Yield
One study found a 20% smaller yield from organic farms using 50% less fertilizer and 97% less pesticide. Studies comparing yields have had mixed results. Supporters claim that organically managed soil has a higher quality and higher water retention. This may help increase yields for organic farms in drought years.
One study from the Danish Environmental Protection Agency found that, area-for-area, organic farms of potatoes, sugar beet and seed grass produce as little as half the output of conventional farming.
Michael Pollan
Michael Pollan
Michael Pollan is an American author, journalist, activist, and professor of journalism at the UC Berkeley Graduate School of Journalism. A 2006 New York Times book review describes him as a "liberal foodie intellectual."...
, author of
The Omnivore's Dilemma
The Omnivore's Dilemma
The Omnivore's Dilemma: A Natural History of Four Meals is a nonfiction book by Michael Pollan published in 2006. In the book, Pollan asks the seemingly straightforward question of what we should have for dinner. As omnivores – the most unselective eaters – we humans are faced with a...
, responds to this by pointing out that the average yield of world agriculture is substantially lower than modern sustainable farming yields. Bringing average world yields up to modern organic levels could increase the world's food supply by 50%.
A 2007 study compiling research from 293 different comparisons into a single study to assess the overall efficiency of the two agricultural systems has concluded that

...organic methods could produce enough food on a global per capita basis to sustain the current human population, and potentially an even larger population, without increasing the agricultural land base. (from the abstract)

The researchers also found that while in developed countries, organic systems on average produce 92% of the yield produced by conventional agriculture, organic systems produce 80% more than conventional farms in developing countries, because the materials needed for organic farming are more accessible than synthetic farming materials to farmers in some poor countries. On the other hand, communities that lack sufficient manure to replenish soils would struggle with organic farming, and the soil would degrade rapidly.
Energy efficiency
A study of the sustainability of
apple
Apple
The apple is the pomaceous fruit of the apple tree, species Malus domestica in the rose family . It is one of the most widely cultivated tree fruits, and the most widely known of the many members of genus Malus that are used by humans. Apple grow on small, deciduous trees that blossom in the spring...
production systems showed that in comparing a conventional farming system to an organic method of farming, the organic system is more
energy efficient
Efficient energy use
Efficient energy use, sometimes simply called energy efficiency, is the goal of efforts to reduce the amount of energy required to provide products and services. For example, insulating a home allows a building to use less heating and cooling energy to achieve and maintain a comfortable temperature...
. A more comprehensive study compared efficiency of agriculture for products such as grain, roughage crops, and animal husbandry. While the study did not investigate specific additional requirements of
arable land
Arable land
In geography and agriculture, arable land is land that can be used for growing crops. It includes all land under temporary crops , temporary meadows for mowing or pasture, land under market and kitchen gardens and land temporarily fallow...
or numbers of farm laborers to produce total yields for organic farming vs. conventional farming, leaving open the question of overall capacity of organic farming to meet current and future agricultural needs, it concluded that organic farming had a higher yield per unit of energy over multiple crops and for livestock. However, conventional farming had higher total yield. Conversely, another study noted that organic wheat and corn production was more energy efficient than conventional methods while organic apple and potato production was less energy efficient than conventional methods. A long-term study, spanning two decades, noted that crop yields were 20% lower in organic systems while fertilizer plus energy input was 34% to 53% lower. However, pesticide input was reduced by 97% in organic farm systems.
Consumer safety
There is widespread belief that organic food is significantly safer for consumption than food grown conventionally, based mainly on
anecdotal evidence
Anecdotal evidence
The expression anecdotal evidence refers to evidence from anecdotes. Because of the small sample, there is a larger chance that it may be true but unreliable due to cherry-picked or otherwise unrepresentative of typical cases....
and testimonials rather than scientific evidence, which has fueled increased demand for organic food despite higher prices.
Reviews
Literature review
A literature review is a body of text that aims to review the critical points of current knowledge including substantive findings as well as theoretical and methodological contributions to a particular topic...
of the available body of scientific literature comparing the safety of organic to conventional foods have found neither to be significantly more safe than the other. Firm conclusions about the relative safety of organic foods has been hampered by the difficulty in proper
study design
Study design
Clinical study design is the formulation of trials and experiments in medical and epidemiological research, sometimes known as clinical trials. Many of the considerations here are shared under the more general topic of design of experiments but there can be others, in particular related to patient...
and relatively small number of studies directly comparing organic food to conventional food.
Claims of improved safety of organic food has largely focused on
pesticide residue
Pesticide residue
Pesticide residue refers to the pesticides that may remain on or in food after they are applied to food crops. The levels of these residues in foods is often stipulated by regulatory bodies in many countries...
s. While studies have shown organically grown fruits and vegetables have significantly lower pesticide residue levels, the significance of this finding on actual health risk reduction is debatable as both conventional foods and organic foods generally have pesticide levels well below government established guidelines for what is considered safe. This view has been echoed by the U.S. Department of Agriculture and the UK
Food Standards Agency
Food Standards Agency
The Food Standards Agency is a non-ministerial government department of the Government of the United Kingdom. It is responsible for protecting public health in relation to food throughout the United Kingdom and is led by a board appointed to act in the public interest...
. Claims of increased risk related to pesticide residue and rates of
infertility
Infertility
Infertility primarily refers to the biological inability of a person to contribute to conception. Infertility may also refer to the state of a woman who is unable to carry a pregnancy to full term...
or lower sperm counts have not been supported by the evidence in the medical literature. Reviews have noted that the risks from microbiological sources or natural
toxin
Toxin
A toxin is a poisonous substance produced within living cells or organisms; man-made substances created by artificial processes are thus excluded...
s are likely to be much more significant than short term or chronic risks from pesticide residues.
Some focus has been placed on the amount of
nitrogen
Nitrogen
Nitrogen is a chemical element that has the symbol N, atomic number of 7 and atomic mass 14.00674 u. Elemental nitrogen is a colorless, odorless, tasteless, and mostly inert diatomic gas at standard conditions, constituting 78.08% by volume of Earth's atmosphere...
content in certain vegetables, especially green leafy vegetables and
tuber
Tuber
Tubers are various types of modified plant structures that are enlarged to store nutrients. They are used by plants to survive the winter or dry months and provide energy and nutrients for regrowth during the next growing season and they are a means of asexual reproduction...
s when grown organically as compared to conventionally. While these vegetables, when grown organically, have been found to have lower nitrogen content, there is no consensus as to whether consumption of lower levels of nitrogen translates to improved health risk. When evaluating environmental toxins such as heavy metals, the USDA noted that organically raised
chicken
Chicken
The chicken is a domesticated fowl, a subspecies of the Red Junglefowl. As one of the most common and widespread domestic animals, and with a population of more than 24 billion in 2003, there are more chickens in the world than any other species of bird...
may have lower
arsenic
Arsenic
Arsenic is a chemical element with the symbol As, atomic number 33 and relative atomic mass 74.92. Arsenic occurs in many minerals, usually in conjunction with sulfur and metals, and also as a pure elemental crystal. It was first documented by Albertus Magnus in 1250.Arsenic is a metalloid...
levels, while a literature review found no significant evidence that levels of arsenic,
cadmium
Cadmium
Cadmium is a chemical element with the symbol Cd and atomic number 48. This soft, bluish-white metal is chemically similar to the two other stable metals in group 12, zinc and mercury. Similar to zinc, it prefers oxidation state +2 in most of its compounds and similar to mercury it shows a low...
or other heavy metals differed significantly between organic and conventional food products.
In looking at possible increased risk to safety from organic food consumption, reviews have found that although there are theoretical increased risk from microbiological contamination due to increased
manure
Manure
Manure is organic matter used as organic fertilizer in agriculture. Manures contribute to the fertility of the soil by adding organic matter and nutrients, such as nitrogen, that are trapped by bacteria in the soil...
use as fertilizer from organisms like
E. coli O157:H7
Escherichia coli O157:H7
Escherichia coli O157:H7 is an enterohemorrhagic strain of the bacterium Escherichia coli and a cause of foodborne illness. Infection often leads to hemorrhagic diarrhea, and occasionally to kidney failure, especially in young children and elderly persons...
during organic produce production, there does not exist sufficient evidence of actual incidence of outbreaks that can be clearly tied to organic food production to draw any firm conclusions. Other possible sources of increased safety risk from organic food consumption like use of biological pesticides or the theoretical risk from mycotoxins from fungi grown on products due to the lack of effective organic compliant fungicides have likewise not been confirmed by rigorous studies in the scientific literature.
Nutritional value and taste
According to the UK's
Food Standards Agency
Food Standards Agency
The Food Standards Agency is a non-ministerial government department of the Government of the United Kingdom. It is responsible for protecting public health in relation to food throughout the United Kingdom and is led by a board appointed to act in the public interest...
, "Consumers may choose to buy organic fruit, vegetables and meat because they believe them to be more nutritious than other food. However, the balance of current scientific evidence does not support this view." A 12-month systematic review commissioned by the FSA in 2009 and conducted at the
London School of Hygiene & Tropical Medicine
London School of Hygiene & Tropical Medicine
The London School of Hygiene & Tropical Medicine is a constituent college of the federal University of London, specialising in public health and tropical medicine...
based on 50 years' worth of collected evidence concluded that "there is no good evidence that consumption of organic food is beneficial to health in relation to nutrient content." Other studies have found no proof that organic food offers greater nutritional values, more consumer safety or any distinguishable difference in taste. A review of nutrition claims showed that organic food proponents are unreliable information sources which harm consumers, and that consumers are wasting their money if they buy organic food believing that it contains better nutrients.
Although it is commonly claimed that organically grown food tastes better than conventionally grown food, reviews of the literature that looked at the sensory qualities of the two have not found convincing evidence that there is any significant differences.
Organic baby products
Organic baby products
are commercially produced
infant formula
Infant formula
Infant formula is a manufactured food designed and marketed for feeding to babies and infants under 12 months of age, usually prepared for bottle-feeding or cup-feeding from powder or liquid . The U.S...
s and
baby food
Baby food
Baby food is any food, other than breastmilk or infant formula, that is made specifically for infants, roughly between the ages of four to six months to 2 years. The food comes in multiple varieties and tastes, can be produced by many manufacturers, or may be table food that the rest of the family...
s that have obtained
organic certification
Organic certification
Organic certification is a certification process for producers of organic food and other organic agricultural products. In general, any business directly involved in food production can be certified, including seed suppliers, farmers, [food] processors, retailers and restaurants.Requirements vary...
. They are often recommended as substitutes for conventionally marketed baby foods in order to reduce the amount of chemical exposure for rapidly developing
infant
Infant
A newborn or baby is the very young offspring of a human or other mammal. A newborn is an infant who is within hours, days, or up to a few weeks from birth. In medical contexts, newborn or neonate refers to an infant in the first 28 days after birth...
s. Since babies' bodies are smaller and their brains grow faster, they are more vulnerable to environmental toxins as they absorb more pesticides per pound of body weight than adults.
In many countries mothers who are not
breastfeeding
Breastfeeding
Breastfeeding is the feeding of an infant or young child with breast milk directly from female human breasts rather than from a baby bottle or other container. Babies have a sucking reflex that enables them to suck and swallow milk. It is recommended that mothers breastfeed for six months or...
can find organic versions of infant formulas and baby foods using various substances (e.g. soy, dairy
milk
Milk
Milk is a white liquid produced by the mammary glands of mammals. It is the primary source of nutrition for young mammals before they are able to digest other types of food. Early-lactation milk contains colostrum, which carries the mother's antibodies to the baby and can reduce the risk of many...
, wheat) through various channels (e.g. hospitals, grocery stores, mail order). However the marketing of organic baby products for newborns and infants under six months of age, just like the marketing of other breastmilk substitutes, has met with increasing skepticism and controversy (see
International Code of Marketing of Breast-milk Substitutes
International Code of Marketing of Breast-milk Substitutes
The International Code of Marketing of Breastmilk Substitutes is an international health policy framework for breastfeeding promotion adopted by the World Health Assembly of the World Health Organization in 1981...
). The
World Health Organization
World Health Organization
The World Health Organization is a specialized agency of the United Nations that acts as a coordinating authority on international public health. Established on 7 April 1948, with headquarters in Geneva, Switzerland, the agency inherited the mandate and resources of its predecessor, the Health...
, UNICEF and many national health departments recommend that infants should be exclusively breastfed for the first six months of life to achieve optimal health, growth and development.
Organic baby products are more expensive to produce and get certified, therefore often priced higher than conventional goods and not as accessible to middle and lower income families. The
International Federation of Organic Agriculture Movements
International Federation of Organic Agriculture Movements
The International Federation of Organic Agriculture Movements is the worldwide umbrella organization for the organic agriculture movement, uniting more than 750 member organizations in 108 countries...
(IFOAM) says that while prices have been declining, there are reasons the costs of certified organic products remain higher than conventional products. They include limited supply as compared to demand, greater labor and transportation costs per unit produced. The smaller number of units involved also means marketing and distribution costs have to be spread out over a smaller number of units. As demand for organic food and products increases, technological innovations and economies of scale should reduce costs of production, processing, distribution and marketing for organic produce.
Economics
Demand for organic foods is primarily concern for personal health and concern for the environment. Organic products typically cost 10 to 40% more than similar conventionally produced products. According to the USDA, Americans, on average, spent $1,347 on groceries in 2004; thus switching entirely to organics would raise their cost of groceries by about $135 to $539 per year ($11 to $45 per month) assuming that prices remained stable with increased demand. Processed organic foods vary in price when compared to their conventional counterparts.
While organic food accounts for 1–2% of total food sales worldwide, the organic food market is growing rapidly, far ahead of the rest of the food industry, in both developed and developing nations.
World organic food sales jumped from US $23 billion in 2002 to $52 billion in 2008.
The world organic market has been growing by 20% a year since the early 1990s, with future growth estimates ranging from 10%–50% annually depending on the country.
North America
United States

United States

The United States of America is a federal constitutional republic comprising fifty states and a federal district...




Organic food is the fastest growing sector of the American food marketplace.
Organic food sales have grown by 17 to 20 percent a year for the past few years while sales of conventional food have grown at only about 2 to 3 percent a year.
In 2003 organic products were available in nearly 20,000 natural food stores and 73% of conventional grocery stores.
Organic products accounted for 3.7% of total food and beverage sales, and 11.4% of all fruit and vegetable sales in the year 2009.
Two thirds of organic milk

Organic milk

Organic milk is defined by the USDA as milk from cows that have been exclusively fed organic feed, have not been treated with synthetic hormones, are not given certain medications to treat sickness. [Citation Needed]- Comparison with regular milk :...


and cream

Cream

Cream is a dairy product that is composed of the higher-butterfat layer skimmed from the top of milk before homogenization. In un-homogenized milk, over time, the lighter fat rises to the top. In the industrial production of cream this process is accelerated by using centrifuges called "separators"...


and half of organic cheese and yogurt are sold through conventional supermarkets.
Canada

Canada

Canada is a North American country consisting of ten provinces and three territories. Located in the northern part of the continent, it extends from the Atlantic Ocean in the east to the Pacific Ocean in the west, and northward into the Arctic Ocean...




Organic food sales surpassed $1 billion in 2006, accounting for 0.9% of food sales in Canada.
Organic food sales by grocery stores were 28% higher in 2006 than in 2005.
British Columbians account for 13% of the Canadian population, but purchased 26% of the organic food sold in Canada in 2006.
Europe
In the European Union (EU25) 3.9% of the total utilized agricultural area was used for organic production in 2005. The countries with the highest proportion of organic land were Austria (11%) and Italy (8.4), followed by the Czech Republic and Greece (both 7.2%). The lowest figures were shown for Malta (0.1%), Poland (0.6%) and Ireland (0.8%).
Austria

Austria

Austria , officially the Republic of Austria , is a landlocked country of roughly 8.4 million people in Central Europe. It is bordered by the Czech Republic and Germany to the north, Slovakia and Hungary to the east, Slovenia and Italy to the south, and Switzerland and Liechtenstein to the...




11.6% of all farmers produced organically in 2007. The government has created incentives to increase the figure to 20% by 2010.
In 2006, 4.9% of all food products sold in Austrian supermarkets (including discount stores) were organic. In the same year, 8,000 different organic products were available.
Italy

Italy

Italy , officially the Italian Republic languages]] under the European Charter for Regional or Minority Languages. In each of these, Italy's official name is as follows:;;;;;;;;), is a unitary parliamentary republic in South-Central Europe. To the north it borders France, Switzerland, Austria and...




Since 2000, the use of some organic food is compulsory in Italian schools and hospitals. A 2002 law of the Emilia Romagna region implemented in 2005, explicitly requires that the food in nursery and primary schools (from 3 months to 10 years) must be 100% organic, and the food in meals at schools, universities and hospitals must be at least 35% organic.
Poland

Poland

Poland , officially the Republic of Poland , is a country in Central Europe bordered by Germany to the west; the Czech Republic and Slovakia to the south; Ukraine, Belarus and Lithuania to the east; and the Baltic Sea and Kaliningrad Oblast, a Russian exclave, to the north...




In 2005 168,000 ha of land were under organic management. 7 percent of Polish consumers buy food that was produced according to the EU-Eco-regulation. The value of the organic market is estimated at 50 million Euros (2006).
UK

Organic food sales increased from just over £100 million in 1993/94 to £1.21 billion in 2004 (an 11% increase on 2003).
Latin America
Cuba

Cuba

The Republic of Cuba is an island nation in the Caribbean. The nation of Cuba consists of the main island of Cuba, the Isla de la Juventud, and several archipelagos. Havana is the largest city in Cuba and the country's capital. Santiago de Cuba is the second largest city...




After the collapse of the Soviet Union

Soviet Union

The Soviet Union , officially the Union of Soviet Socialist Republics , was a constitutionally socialist state that existed in Eurasia between 1922 and 1991....


in 1991, agricultural inputs that had previously been purchased from Eastern bloc

Eastern bloc

The term Eastern Bloc or Communist Bloc refers to the former communist states of Eastern and Central Europe, generally the Soviet Union and the countries of the Warsaw Pact...


countries were no longer available in Cuba, and many Cuban farms converted to organic methods out of necessity. Consequently, organic agriculture is a mainstream practice in Cuba, while it remains an alternative practice in most other countries. Although some products called organic in Cuba would not satisfy certification requirements in other countries (crops may be genetically modified, for example), Cuba exports organic citrus and citrus juices to EU markets that meet EU organic standards. Cuba's forced conversion to organic methods may position the country to be a global supplier of organic products.
Mexico

Mexico

The United Mexican States , commonly known as Mexico , is a federal constitutional republic in North America. It is bordered on the north by the United States; on the south and west by the Pacific Ocean; on the southeast by Guatemala, Belize, and the Caribbean Sea; and on the east by the Gulf of...




Although certification seals have become more common on Mexican produce, mainly for export, there have been strong internal movements to block GMOs and decrease pesticide practice. As the country does not have as long a history of using pesticides as developed nations, it is striving to regain the purity of much of its arable land

Arable land

In geography and agriculture, arable land is land that can be used for growing crops. It includes all land under temporary crops , temporary meadows for mowing or pasture, land under market and kitchen gardens and land temporarily fallow...


.
Much of its internal and domestic produce consumption is not labeled

Organic certification

Organic certification is a certification process for producers of organic food and other organic agricultural products. In general, any business directly involved in food production can be certified, including seed suppliers, farmers, [food] processors, retailers and restaurants.Requirements vary...


as organic, even when the practice is sustainable. This is mainly due to cultural differences.
External links