 Subclinical infection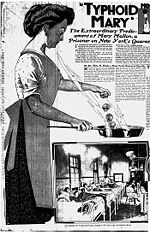 A
subclinical infection
is the asymptomatic (without apparent sign)
carrying
Asymptomatic carrier
An asymptomatic carrier is a person or other organism that has contracted an infectious disease, but who displays no symptoms. Although unaffected by the disease themselves, carriers can transmit it to others...
of an (
infection
Infection
An infection is the colonization of a host organism by parasite species. Infecting parasites seek to use the host's resources to reproduce, often resulting in disease...
) by an individual of an agent (microbe,
intestinal parasite
Intestinal parasite
Intestinal parasites are parasites that populate the gastro-intestinal tract in humans and other animals. They can live throughout the body, but most prefer the intestinal wall. Means of exposure include: ingestion of undercooked meat, drinking infected water, and skin absorption...
, or
virus
Virus
A virus is a small infectious agent that can replicate only inside the living cells of organisms. Viruses infect all types of organisms, from animals and plants to bacteria and archaea...
) that usually is a
pathogen
Pathogen
A pathogen gignomai "I give birth to") or infectious agent — colloquially, a germ — is a microbe or microorganism such as a virus, bacterium, prion, or fungus that causes disease in its animal or plant host...
causing
illness
Illness
Illness is a state of poor health. Illness is sometimes considered another word for disease. Others maintain that fine distinctions exist...
, at least in some individuals. Many pathogens spread by being silently carried in this way by some of their
host
Host (biology)
In biology, a host is an organism that harbors a parasite, or a mutual or commensal symbiont, typically providing nourishment and shelter. In botany, a host plant is one that supplies food resources and substrate for certain insects or other fauna...
population. Such infections occur both in humans and nonhuman animals. An example of an asymptomatic infection is a mild
common cold
Common cold
The common cold is a viral infectious disease of the upper respiratory system, caused primarily by rhinoviruses and coronaviruses. Common symptoms include a cough, sore throat, runny nose, and fever...
that is not noticed by the infected individual. Since subclinical infections often occur without eventual overt sign, their existence is only identified by
microbiological culture
Microbiological culture
A microbiological culture, or microbial culture, is a method of multiplying microbial organisms by letting them reproduce in predetermined culture media under controlled laboratory conditions. Microbial cultures are used to determine the type of organism, its abundance in the sample being tested,...
, or DNA techniques such as
polymerase chain reaction
Polymerase chain reaction
The polymerase chain reaction is a scientific technique in molecular biology to amplify a single or a few copies of a piece of DNA across several orders of magnitude, generating thousands to millions of copies of a particular DNA sequence....
.
Infection transmission
An individual may only develop signs of an infection after a period of subclinical infection, a duration that is called the
incubation period
Incubation period
Incubation period is the time elapsed between exposure to a pathogenic organism, a chemical or radiation, and when symptoms and signs are first apparent...
. This is the case, for example, for subclinical
sexually transmitted disease
Sexually transmitted disease
Sexually transmitted disease , also known as a sexually transmitted infection or venereal disease , is an illness that has a significant probability of transmission between humans by means of human sexual behavior, including vaginal intercourse, oral sex, and anal sex...
s such as
AIDS
AIDS
Acquired immune deficiency syndrome or acquired immunodeficiency syndrome is a disease of the human immune system caused by the human immunodeficiency virus...
and genital warts. Individuals with such subclinical infections, and those that never develop overt illness, creates a reserve of individuals that can
transmit
Transmission (medicine)
In medicine and biology, transmission is the passing of a communicable disease from an infected host individual or group to a conspecific individual or group, regardless of whether the other individual was previously infected...
an infectious agent to infect other individuals. Because such cases of infections do not come to clinical attention, health statistics can often fail to measure the true
prevalence
Prevalence
In epidemiology, the prevalence of a health-related state in a statistical population is defined as the total number of cases of the risk factor in the population at a given time, or the total number of cases in the population, divided by the number of individuals in the population...
of an infection in a
population
Statistical population
A statistical population is a set of entities concerning which statistical inferences are to be drawn, often based on a random sample taken from the population. For example, if we were interested in generalizations about crows, then we would describe the set of crows that is of interest...
, and this prevents the accurate
modeling of its infectious transmission
Mathematical modelling in epidemiology
It is possible to mathematically model the progress of most infectious diseases to discover the likely outcome of an epidemic or to help manage them by vaccination...
.
Evolution of host tolerance
Fever
Fever
Fever is a common medical sign characterized by an elevation of temperature above the normal range of due to an increase in the body temperature regulatory set-point. This increase in set-point triggers increased muscle tone and shivering.As a person's temperature increases, there is, in...
and
sickness behavior
Sickness behavior
thumb|350px|right|[[Michael Peter Ancher|Ancher, Michael]], "The Sick Girl", 1882, [[Statens Museum for Kunst]]Sickness behavior is a coordinated set of adaptive behavioral changes that develop in ill individuals during the course of an infection....
and other signs of infection are often taken to be due to them. However, they are evolved physiological and behavioral responses of the host to clear itself of the infection. Instead of incurring the
costs of deploying
Deployment cost-benefit selection in physiology
Deployment cost–benefit selection in physiology concerns the costs and benefits of physiological process that can be deployed and selected in regard to whether they will increase or not an animal's survival and biological fitness...
these evolved responses to infections, the body opts to tolerate an infection as an alternative to seeking to control or remove the infecting pathogen.
Hidden costs
Subclinical infections are important since they allow infections to spread from a reserve of carriers. They also can cause clinical problems unrelated to the direct issue of infection. For example, in the case of
urinary tract infection
Urinary tract infection
A urinary tract infection is a bacterial infection that affects any part of the urinary tract. Symptoms include frequent feeling and/or need to urinate, pain during urination, and cloudy urine. The main causal agent is Escherichia coli...
s in women, this infection may cause preterm delivery if she gets
pregnant
Pregnancy
Pregnancy refers to the fertilization and development of one or more offspring, known as a fetus or embryo, in a woman's uterus. In a pregnancy, there can be multiple gestations, as in the case of twins or triplets...
without proper
treatment
Pharmacotherapy
Pharmacotherapy is the treatment of disease through the administration of drugs. As such, it is considered part of the larger category of therapy....
.
List of subclinical infections
The following pathogens (together with their symptomatic illnesses) are known to be carried asymptomatically, often in a large percentage of the potential host population:
See also