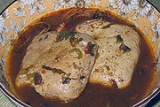 Stinky tofu
Stinky tofu
or
chòu dòufu
is a form of
fermented
Fermentation (food)
Fermentation in food processing typically is the conversion of carbohydrates to alcohols and carbon dioxide or organic acids using yeasts, bacteria, or a combination thereof, under anaerobic conditions. Fermentation in simple terms is the chemical conversion of sugars into ethanol...
tofu
Tofu
is a food made by coagulating soy milk and then pressing the resulting curds into soft white blocks. It is part of East Asian and Southeast Asian cuisine such as Chinese, Japanese, Korean, Indonesian, Vietnamese, and others. There are many different varieties of tofu, including fresh tofu and tofu...
that has a strong
odor
Odor
An odor or odour is caused by one or more volatilized chemical compounds, generally at a very low concentration, that humans or other animals perceive by the sense of olfaction. Odors are also commonly called scents, which can refer to both pleasant and unpleasant odors...
. It is a popular
snack
Snack
A snack is a small portion of food eaten between meals. The food might be snack food—items like potato chips or baby carrots—but could also simply be a smaller amount of any food item.-Snacks and health:...
in
East
East Asia
East Asia or Eastern Asia is a subregion of Asia that can be defined in either geographical or cultural terms...
and
Southeast Asia
Southeast Asia
Southeast Asia, South-East Asia, South East Asia or Southeastern Asia is a subregion of Asia, consisting of the countries that are geographically south of China, east of India, west of New Guinea and north of Australia. The region lies on the intersection of geological plates, with heavy seismic...
, particularly
mainland China
Mainland China
Mainland China, the Chinese mainland or simply the mainland, is a geopolitical term that refers to the area under the jurisdiction of the People's Republic of China . According to the Taipei-based Mainland Affairs Council, the term excludes the PRC Special Administrative Regions of Hong Kong and...
,
Taiwan
Taiwan
Taiwan , also known, especially in the past, as Formosa , is the largest island of the same-named island group of East Asia in the western Pacific Ocean and located off the southeastern coast of mainland China. The island forms over 99% of the current territory of the Republic of China following...
and
Hong Kong
Hong Kong
Hong Kong is one of two Special Administrative Regions of the People's Republic of China , the other being Macau. A city-state situated on China's south coast and enclosed by the Pearl River Delta and South China Sea, it is renowned for its expansive skyline and deep natural harbour...
and in East Asian enclaves elsewhere where it is usually found homemade, at
night market
Night market
Night markets or night bazaars are street markets which operate at night and are generally dedicated to more leisurely strolling, shopping, and eating than more businesslike day markets.-Geographical spread:...
s or roadside stands, or as a side dish in lunch bars rather than in restaurants. It is listed at number 41 on
World's 50 most delicious foods
complied by
CNN Go
in 2011.
Unlike
cheese
Cheese
Cheese is a generic term for a diverse group of milk-based food products. Cheese is produced throughout the world in wide-ranging flavors, textures, and forms....
, stinky tofu fermentation does not have fixed formula for starter bacteria; wide regional and individual variations exist in manufacture and preparation.
The traditional method for producing stinky tofu is to prepare a brine made from fermented
milk
Milk
Milk is a white liquid produced by the mammary glands of mammals. It is the primary source of nutrition for young mammals before they are able to digest other types of food. Early-lactation milk contains colostrum, which carries the mother's antibodies to the baby and can reduce the risk of many...
, vegetables, and meat; the brine can also include dried
shrimp
Shrimp
Shrimp are swimming, decapod crustaceans classified in the infraorder Caridea, found widely around the world in both fresh and salt water. Adult shrimp are filter feeding benthic animals living close to the bottom. They can live in schools and can swim rapidly backwards. Shrimp are an important...
,
amaranth
Amaranth
Amaranthus, collectively known as amaranth, is a cosmopolitan genus of herbs. Approximately 60 species are recognized, with inflorescences and foliage ranging from purple and red to gold...
greens,
mustard greens
Brassica juncea
Brassica juncea, also known as mustard greens, Indian mustard, Chinese mustard, and leaf mustard, is a species of mustard plant. Subvarieties include southern giant curled mustard, which resembles a headless cabbage such as kale, but with a distinct horseradish-mustard flavor...
,
bamboo shoots
Bamboo Shoots
Bamboo Shoots is an American four-piece musical group based out of Brooklyn, New York and suburban New Jersey. They are known for their dueling, two-person rhythm section and their South Asian identity and influence...
, and Chinese herbs.