 Night market
Night markets
or
night bazaars
are
street market
Street market
A street market is an outdoor market such as traditionally held in a market square or in a market town, and often held only on particular days of the week...
s which operate at night and are generally dedicated to more leisurely strolling, shopping, and eating than more businesslike day markets.
Geographical spread
The most well-known night markets are those in
Taiwan
Taiwan
Taiwan , also known, especially in the past, as Formosa , is the largest island of the same-named island group of East Asia in the western Pacific Ocean and located off the southeastern coast of mainland China. The island forms over 99% of the current territory of the Republic of China following...
, but they also exist in other areas inhabited by
ethnic Chinese
Han Chinese
Han Chinese are an ethnic group native to China and are the largest single ethnic group in the world.Han Chinese constitute about 92% of the population of the People's Republic of China , 98% of the population of the Republic of China , 78% of the population of Singapore, and about 20% of the...
such as
Hong Kong
Hong Kong
Hong Kong is one of two Special Administrative Regions of the People's Republic of China , the other being Macau. A city-state situated on China's south coast and enclosed by the Pearl River Delta and South China Sea, it is renowned for its expansive skyline and deep natural harbour...
,
Macau
Macau
Macau , also spelled Macao , is, along with Hong Kong, one of the two special administrative regions of the People's Republic of China...
,
Singapore
Singapore
Singapore , officially the Republic of Singapore, is a Southeast Asian city-state off the southern tip of the Malay Peninsula, north of the equator. An island country made up of 63 islands, it is separated from Malaysia by the Straits of Johor to its north and from Indonesia's Riau Islands by the...
,
Malaysia
,
China
China
Chinese civilization may refer to:* China for more general discussion of the country.* Chinese culture* Greater China, the transnational community of ethnic Chinese.* History of China* Sinosphere, the area historically affected by Chinese culture...
,
Thailand
Thailand
Thailand , officially the Kingdom of Thailand , formerly known as Siam , is a country located at the centre of the Indochina peninsula and Southeast Asia. It is bordered to the north by Burma and Laos, to the east by Laos and Cambodia, to the south by the Gulf of Thailand and Malaysia, and to the...
,
Philippines
Philippines
The Philippines , officially known as the Republic of the Philippines , is a country in Southeast Asia in the western Pacific Ocean. To its north across the Luzon Strait lies Taiwan. West across the South China Sea sits Vietnam...
and
Chinatown
Chinatown
A Chinatown is an ethnic enclave of overseas Chinese people, although it is often generalized to include various Southeast Asian people. Chinatowns exist throughout the world, including East Asia, Southeast Asia, the Americas, Australasia, and Europe. Binondo's Chinatown located in Manila,...
s worldwide.
Malaysia, Singapore, Indonesia
Night markets are commonly known as Pasar Malam by the locals, which literally means
night market
, "pasar" being related to "bazaar" in Persian. A pasar malam is a street market in Malaysia, Singapore and Indonesia that opens in the evening, usually in residential neighbourhoods.[1]
It brings together a collection of stalls that usually sell goods such as fruit, vegetables, snacks, toys, clothes, movie discs and ornaments at cheap or at least reasonable prices. A pasar malam often takes place only one to a few days of the week, as the traders rotate around different neighbourhoods on different days of the week. Haggling over prices is a common practice at such markets.
Taiwan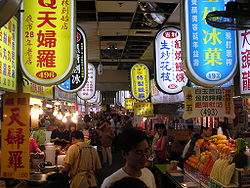 Taiwan hosts numerous night markets in each of its major cities. The larger and more formal of these markets might take place in purpose-built
marketplace
Marketplace
A marketplace is the space, actual, virtual or metaphorical, in which a market operates. The term is also used in a trademark law context to denote the actual consumer environment, ie. the 'real world' in which products and services are provided and consumed.-Marketplaces and street markets:A...
s while smaller or more informal ones tend to occupy streets or roads that are normal thoroughfares by day. Although some of these markets are specialized (e.g., in certain types of food), most have a mixture of individual stalls hawking clothing, consumer goods,
xiaochi
Xiaochi
Xiaochi are an important category of Chinese food, substantial snacks along the lines of Spanish tapas or Levantine meze.Xiaochi are not typically cooked in homes nor are they featured prominently on the menus of more formal reaturants...
(snacks or fast food), and specialty drinks. The atmosphere is usually crowded and noisy with
hawker
Hawker (trade)
A hawker is a vendor of merchandise that can be easily transported; the term is roughly synonymous with peddler or costermonger. In most places where the term is used, a hawker sells items or food that are native to the area...
s shouting and fast-paced music playing over loudspeakers. Some individual vendors may take advantage of the informality of the market to offer counterfeit,
pirated
Copyright infringement
Copyright infringement is the unauthorized or prohibited use of works under copyright, infringing the copyright holder's exclusive rights, such as the right to reproduce or perform the copyrighted work, or to make derivative works.- "Piracy" :...
or
grey market
Grey market
A grey market or gray market also known as parallel market is the trade of a commodity through distribution channels which, while legal, are unofficial, unauthorized, or unintended by the original manufacturer...
consumer goods. The night markets usually open around 6pm, and are busy until past midnight.
North America
Night markets are also hosted in various areas of North America to celebrate Chinese culture. Many Taiwanese-American student organizations host annual night market events to emulate the jovial atmosphere and celebrate the unique culture of night markets. In San Francisco's Chinatown, a large night market with almost 100 booths takes place every autumn Saturday in Portsmouth Square. In Chinatown in Vancouver, British Columbia, large night markets take place every Friday, Saturday, and Sunday from May to September, as well as in an industrial area near suburban
Richmond, BC
Richmond, British Columbia
Richmond is a coastal city, incorporated in the Canadian province of British Columbia. Part of Metro Vancouver, its neighbouring communities are Vancouver and Burnaby to the north, New Westminster to the east, and Delta to the south, while the Strait of Georgia forms its western border...
's
Golden Village
Golden Village (Richmond, British Columbia)
Golden Village is a commercial district of Richmond, British Columbia, Canada best known for its high concentration of Asian-themed shopping malls. It is the home to the second-largest Asian community in North America....
; the
Richmond Night Market
Richmond Night Market
The Richmond Night Market operated by was a popular annual night market held through the summer months in Richmond, British Columbia, Canada. The Richmond Night Market was held on Friday, Saturday, Sunday nights and long weekend Mondays from May through October at the Vulcan Way location behind...
features more than 400 booths and attracts in excess of 30,000 people per night (total attendance in 2005 was almost two million). Night It Up! (formerly Toronto Night Market and Asian Night Market), has been and continues to be Power Unit Youth Organizations's flagship project, attracting tens of thousands to a two-day celebration of Asian food and culture in
Markham, Ontario
Markham, Ontario
Markham is a town in the Regional Municipality of York, located within the Greater Toronto Area of Southern Ontario, Canada. The population was 261,573 at the 2006 Canadian census...
(attendance was over 60,000 in 2006).
See also
Further reading
Shuenn-Der Yu "Hot and Noisy: Taiwan's Night Market Culture" in The Minor Arts of Daily Life: Popular Culture in Taiwan David K. Jordan, Andrew D. Morris, and Marc L. Moskowitz, (eds.), Honolulu: Univ. of Hawai'i Press, 2004.
External links