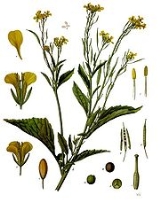 Brassica juncea
Brassica juncea
, also known as
mustard greens
,
Indian mustard
,
Chinese mustard
, and
leaf mustard
, is a species of
mustard plant
Mustard plant
Mustards are several plant species in the genera Brassica and Sinapis whose small mustard seeds are used as a spice and, by grinding and mixing them with water, vinegar or other liquids, are turned into the condiment known as mustard or prepared mustard...
. Subvarieties include southern giant curled mustard, which resembles a headless cabbage such as
kale
Kale
Kale is very high in beta carotene, vitamin K, vitamin C, lutein, zeaxanthin, and reasonably rich in calcium. Kale, as with broccoli and other brassicas, contains sulforaphane , a chemical with potent anti-cancer properties. Boiling decreases the level of sulforaphane; however, steaming,...
, but with a distinct horseradish-mustard flavor. It is also known as green mustard cabbage.
The leaves, the seeds, and the stem of this mustard variety are edible.