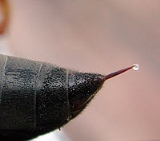 Stinger (organ)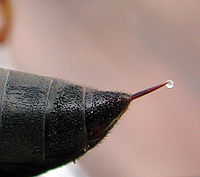 A
sting
, sometimes called a
stinger
in the US, is a sharp
organ
Organ (anatomy)
In biology, an organ is a collection of tissues joined in structural unit to serve a common function. Usually there is a main tissue and sporadic tissues . The main tissue is the one that is unique for the specific organ. For example, main tissue in the heart is the myocardium, while sporadic are...
or body part found in various
animal
Animal
Animals are a major group of multicellular, eukaryotic organisms of the kingdom Animalia or Metazoa. Their body plan eventually becomes fixed as they develop, although some undergo a process of metamorphosis later on in their life. Most animals are motile, meaning they can move spontaneously and...
s (typically
arthropod
Arthropod
An arthropod is an invertebrate animal having an exoskeleton , a segmented body, and jointed appendages. Arthropods are members of the phylum Arthropoda , and include the insects, arachnids, crustaceans, and others...
s) that delivers some kind of venom (usually piercing the skin of another animal). A true sting differs from other piercing structures in that it pierces by its own action and injects venom, as opposed to teeth, which pierce by the force of opposing
jaw
Jaw
The jaw is any opposable articulated structure at the entrance of the mouth, typically used for grasping and manipulating food. The term jaws is also broadly applied to the whole of the structures constituting the vault of the mouth and serving to open and close it and is part of the body plan of...
s. Stinging hairs which actively inject venom on plants such as
nettle
Nettle
Nettles constitute between 24 and 39 species of flowering plants of the genus Urtica in the family Urticaceae, with a cosmopolitan though mainly temperate distribution. They are mostly herbaceous perennial plants, but some are annual and a few are shrubby...
s are also known as
stings
, but not
stingers
.
"Sting" also refers to the wound caused by a sting. It is also used as a verb: "to sting" is to inflict such a wound.
Zoology
The main type of construction of stings is a sharp organ of offense or defense, especially when connected with a
venom
Venom
Venom is the general term referring to any variety of toxins used by certain types of animals that inject it into their victims by the means of a bite or a sting...
gland, and adapted to inflict a wound by piercing; as the caudal sting of a
scorpion
Scorpion
Scorpions are predatory arthropod animals of the order Scorpiones within the class Arachnida. They have eight legs and are easily recognized by the pair of grasping claws and the narrow, segmented tail, often carried in a characteristic forward curve over the back, ending with a venomous stinger...
. The wasp has a very painful sting, and will sting if it feels threatened.
Stings are usually located at the rear of the animal. Animals with stings include
bee
Bee
Bees are flying insects closely related to wasps and ants, and are known for their role in pollination and for producing honey and beeswax. Bees are a monophyletic lineage within the superfamily Apoidea, presently classified by the unranked taxon name Anthophila...
s,
wasp
Wasp
The term wasp is typically defined as any insect of the order Hymenoptera and suborder Apocrita that is neither a bee nor an ant. Almost every pest insect species has at least one wasp species that preys upon it or parasitizes it, making wasps critically important in natural control of their...
s (including
hornet
Hornet
Hornets are the largest eusocial wasps; some species can reach up to in length. The true hornets make up the genus Vespa and are distinguished from other vespines by the width of the vertex , which is proportionally larger in Vespa and by the anteriorly rounded gasters .- Life cycle :In...
s), some
ant
Ant
Ants are social insects of the family Formicidae and, along with the related wasps and bees, belong to the order Hymenoptera. Ants evolved from wasp-like ancestors in the mid-Cretaceous period between 110 and 130 million years ago and diversified after the rise of flowering plants. More than...
s (fire ants), and
scorpion
Scorpion
Scorpions are predatory arthropod animals of the order Scorpiones within the class Arachnida. They have eight legs and are easily recognized by the pair of grasping claws and the narrow, segmented tail, often carried in a characteristic forward curve over the back, ending with a venomous stinger...
s. The scorpion's sting is not
homologous
Homology (biology)
Homology forms the basis of organization for comparative biology. In 1843, Richard Owen defined homology as "the same organ in different animals under every variety of form and function". Organs as different as a bat's wing, a seal's flipper, a cat's paw and a human hand have a common underlying...
to that of the other two; this is an example of
convergent evolution
Convergent evolution
Convergent evolution describes the acquisition of the same biological trait in unrelated lineages.The wing is a classic example of convergent evolution in action. Although their last common ancestor did not have wings, both birds and bats do, and are capable of powered flight. The wings are...
.
Unlike most other stings,
honey bee
Honey bee
Honey bees are a subset of bees in the genus Apis, primarily distinguished by the production and storage of honey and the construction of perennial, colonial nests out of wax. Honey bees are the only extant members of the tribe Apini, all in the genus Apis...
workers' stings (a modified
ovipositor
Ovipositor
The ovipositor is an organ used by some animals for oviposition, i.e., the laying of eggs. It consists of a maximum of three pairs of appendages formed to transmit the egg, to prepare a place for it, and to place it properly...
as in other stinging
Hymenoptera
Hymenoptera
Hymenoptera is one of the largest orders of insects, comprising the sawflies, wasps, bees and ants. There are over 130,000 recognized species, with many more remaining to be described. The name refers to the heavy wings of the insects, and is derived from the Ancient Greek ὑμήν : membrane and...
) are strongly barbed, and lodge in the flesh of
mammal
Mammal
Mammals are members of a class of air-breathing vertebrate animals characterised by the possession of endothermy, hair, three middle ear bones, and mammary glands functional in mothers with young...
s upon use, tearing free from the honey bee's body, leading to the bee's death within minutes. The sting has its own
ganglion
Ganglion
In anatomy, a ganglion is a biological tissue mass, most commonly a mass of nerve cell bodies. Cells found in a ganglion are called ganglion cells, though this term is also sometimes used to refer specifically to retinal ganglion cells....
and it continues to saw into the target's flesh and release venom for several minutes. This trait is of obvious disadvantage to the individual, but protects the colony, comprising many sterile workers who are all sisters, from attacks by large animals; the shared genes of the colony are more likely to be passed on if it is defended vigorously. The barbs ensure that a honey bee's attack is only suicidal if the attacker is by a relatively large animal; bees can sting other bees (in inter-colony raids) repeatedly and without dying.The sting of nearly all other bees, and other stinged organisms, is not barbed and can be used to sting mammals repeatedly; the only exceptions (
yellowjacket
Yellowjacket
Yellowjacket is the common name in North America for predatory wasps of the genera Vespula and Dolichovespula. Members of these genera are known simply as "wasps" in other English-speaking countries...
wasps and the Mexican honey wasp) have barbs so small that they do not cause the sting apparatus to pull free, so they may sting more than once without harm to themselves.
Non-arthropods with stings
Organs that perform similar functions in non-arthropods are often referred to as "stings", although they are all technically considered to be something else (e.g., a venomous barb). These include the modified dermal denticle of the
stingray
Stingray
The stingrays are a group of rays, which are cartilaginous fishes related to sharks. They are classified in the suborder Myliobatoidei of the order Myliobatiformes, and consist of eight families: Hexatrygonidae , Plesiobatidae , Urolophidae , Urotrygonidae , Dasyatidae , Potamotrygonidae The...
, the
venomous spurs
Platypus venom
The platypus is one of the few mammals to produce venom. Males have a pair of spurs on their hind limbs. The male's pair of spurs spits out a cocktail of poisons that, while excruciatingly painful, is not lethal to most animals.-Spur and crural gland:...
on the hind legs of the male
platypus
Platypus
The platypus is a semi-aquatic mammal endemic to eastern Australia, including Tasmania. Together with the four species of echidna, it is one of the five extant species of monotremes, the only mammals that lay eggs instead of giving birth to live young...
, and the
cnidocyte
Cnidocyte
A cnidocyte, cnidoblast, or nematocyte is a type of venomous cell unique to the phylum Cnidaria . The cnidocyte cell provides a means for them to catch prey and defend themselves from predators. Despite being morphologically simple, lacking a skeleton and usually being sessile, cnidarians prey on...
tentacle
Tentacle
A tentacle or bothrium is one of usually two or more elongated flexible organs present in animals, especially invertebrates. The term may also refer to the hairs of the leaves of some insectivorous plants. Usually, tentacles are used for feeding, feeling and grasping. Anatomically, they work like...
s of the
jellyfish
Jellyfish
Jellyfish are free-swimming members of the phylum Cnidaria. Medusa is another word for jellyfish, and refers to any free-swimming jellyfish stages in the phylum Cnidaria...
.
The term
sting
was historically often used for the
fang
Fang
Fang is a mammal's canine tooth.Fang may also refer to:* A snake's poison-injecting tooth: see snake venom* Fang people, in Central Africa* Fang language, spoken by Fang people...
(a modified tooth) of a
snake
Snake
Snakes are elongate, legless, carnivorous reptiles of the suborder Serpentes that can be distinguished from legless lizards by their lack of eyelids and external ears. Like all squamates, snakes are ectothermic, amniote vertebrates covered in overlapping scales...
, although this usage is uncommon today; snakes are said, correctly, to bite, not sting. One species of snake in
South Africa
South Africa
The Republic of South Africa is a country in southern Africa. Located at the southern tip of Africa, it is divided into nine provinces, with of coastline on the Atlantic and Indian oceans...
,
Psammophylax rhombeatus
Psammophylax rhombeatus
Psammophylax rhombeatus or Rhombic Skaapsteker, is a small, attractively patterned, Southern African snake usually measuring between 45 and 85 centimetres in length, though occasionally reaching 140 cm....
, is known as (
Afrikaans
Afrikaans
Afrikaans is a West Germanic language, spoken natively in South Africa and Namibia. It is a daughter language of Dutch, originating in its 17th century dialects, collectively referred to as Cape Dutch .Afrikaans is a daughter language of Dutch; see , , , , , .Afrikaans was historically called Cape...
for sheep stinger).
Botany
In plants, the term "sting" is normally used as a verb, but occasionally used as a noun refer to
urticating hair
Urticating hair
Urticating hairs, i.e. stinging hairs, are one of the primary defense mechanisms used by numerous plants, some New World tarantulas, and various lepidopteran caterpillars. Urtica is Latin for "nettle", and hairs that urticate are characteristic of this type of plant, and many other plants in...
s; sharp-pointed hollow hairs seated on a gland which secretes an acrid fluid, as in
nettle
Nettle
Nettles constitute between 24 and 39 species of flowering plants of the genus Urtica in the family Urticaceae, with a cosmopolitan though mainly temperate distribution. They are mostly herbaceous perennial plants, but some are annual and a few are shrubby...
s. The points of these hairs usually break off in the wound, and the acrid fluid is pressed into it.
See also