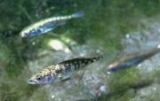 Stickleback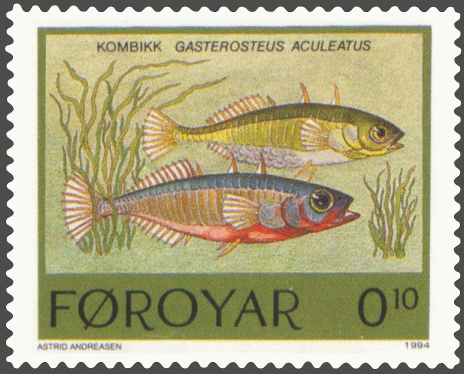 The
Gasterosteidae
are a
family
Family (biology)
In biological classification, family is* a taxonomic rank. Other well-known ranks are life, domain, kingdom, phylum, class, order, genus, and species, with family fitting between order and genus. As for the other well-known ranks, there is the option of an immediately lower rank, indicated by the...
of
fish
Fish
Fish are a paraphyletic group of organisms that consist of all gill-bearing aquatic vertebrate animals that lack limbs with digits. Included in this definition are the living hagfish, lampreys, and cartilaginous and bony fish, as well as various extinct related groups...
including the
sticklebacks
.
FishBase
FishBase
FishBase is a comprehensive database of information about fish species . It is the largest and most extensively accessed online database on adult finfish on the web...
currently recognises sixteen species in the family, grouped in five genera. However several of the species have a number of recognised subspecies, and the taxonomy of the family is thought to be in need of revision. Although some authorities give the common name of the family as "sticklebacks and tube-snouts", the tube-snouts are currently classified in the related family Aulorhynchidae.
An unusual feature of sticklebacks is that they have no scales, although some species have bony armour plates. They are related to
pipefish
Pipefish
Pipefishes or pipe-fishes are a subfamily of small fishes, which, together with the seahorses, form the family Syngnathidae.-Anatomy:...
and
seahorse
Seahorse
Seahorses compose the fish genus Hippocampus within the family Syngnathidae, in order Syngnathiformes. Syngnathidae also includes the pipefishes. "Hippocampus" comes from the Ancient Greek hippos meaning "horse" and kampos meaning "sea monster".There are nearly 50 species of seahorse...
s.
Stickleback are most commonly found in the ocean, but can be found in some freshwater lakes. The freshwater species were trapped in freshwater lakes in
Europe
Europe
Europe is, by convention, one of the world's seven continents. Comprising the westernmost peninsula of Eurasia, Europe is generally 'divided' from Asia to its east by the watershed divides of the Ural and Caucasus Mountains, the Ural River, the Caspian and Black Seas, and the waterways connecting...
,
Asia
Asia
Asia is the world's largest and most populous continent, located primarily in the eastern and northern hemispheres. It covers 8.7% of the Earth's total surface area and with approximately 3.879 billion people, it hosts 60% of the world's current human population...
and
North America
North America
North America is a continent wholly within the Northern Hemisphere and almost wholly within the Western Hemisphere. It is also considered a northern subcontinent of the Americas...
after the ice age, and have evolved different features from the ocean variety. They feed on small crustaceans and fish larvae.
Sticklebacks are distinguished by the presence of strong and clearly isolated spines in the
dorsal fin
Dorsal fin
A dorsal fin is a fin located on the backs of various unrelated marine and freshwater vertebrates, including most fishes, marine mammals , and the ichthyosaurs...
. Their maximum length is about 4 inches, but few of them are more than 3 inches long. They mature sexually at a length of about 2 inches. All species show a similar mating behaviour, which is also unusual among fish. The males construct a nest from vegetation held together by secretions from their kidneys. The males then attract females to the nest. The female will lay their eggs inside the nest where the male can fertilise them. The male then guards the eggs until they hatch.
Three-spined stickleback
The family includes the
three-spined stickleback
Three-spined stickleback
The three-spined stickleback, Gasterosteus aculeatus, is a fish native to much of northern Europe, northern Asia and North America. It has been introduced into parts of southern and central Europe.-Distribution and morphological variation:...
Gasterosteus aculeatus aculeatus
, common in northern temperate climates around the world including Europe, most of northern North America and Japan and colloquially known in the
United Kingdom
United Kingdom
The United Kingdom of Great Britain and Northern IrelandIn the United Kingdom and Dependencies, other languages have been officially recognised as legitimate autochthonous languages under the European Charter for Regional or Minority Languages...
as the "tiddler", or "sprick". In the Republic of Ireland they are commonly known as "pinkeens" due to the reddish colour of the male three spined stickleback's throat during breeding season. Niko Tinbergen's studies of the behaviour of this fish were important in the early development of
ethology
Ethology
Ethology is the scientific study of animal behavior, and a sub-topic of zoology....
as an example of a
fixed action pattern
Fixed action pattern
In ethology, a fixed action pattern , or modal action pattern, is an instinctive behavioral sequence that is indivisible and runs to completion...
. More recently, the fish have become a favorite system for studying the molecular genetics of evolutionary change in wild populations and a powerful "supermodel" for combining evolutionary studies at molecular, developmental, population genetic, and ecological levels.
Species
Stickleback trap
The common freshwater three-spined stickleback of Europe, Asia and North America may easily be caught in a simple trap made from a two-litre
PET plastic soda bottle
Plastic bottle
A plastic bottle is a bottle constructed of plastic, with a neck that is narrower than its real body and an opening at the top. The mouth of the bottle is normally sealed with a plastic bottle cap. Plastic bottles are typically used to store liquids such as water, soft drinks, motor oil, cooking...
(capped) and the tapered top part of a one-litre PET plastic soda bottle (uncapped), glued or taped together as shown, weighted with a small piece of metal (a few inches of
rebar
Rebar
A rebar , also known as reinforcing steel, reinforcement steel, rerod, or a deformed bar, is a common steel bar, and is commonly used as a tensioning device in reinforced concrete and reinforced masonry structures holding the concrete in compression...
is ideal) and left on the bottom of a pond or stream, or suspended horizontally in mid-water by two pieces of string, for an hour or two—the sticklebacks enter through the wide (but narrowing) entrance and cannot find their way back out. Bait is not necessary.
External links