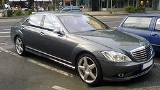 Status symbol
A
status symbol
is a perceived visible, external denotation of one's social position and perceived indicator of economic or
social status
Social status
In sociology or anthropology, social status is the honor or prestige attached to one's position in society . It may also refer to a rank or position that one holds in a group, for example son or daughter, playmate, pupil, etc....
. Many luxury goods are often considered status symbols.
Status symbol
is also a
sociological
Sociology
Sociology is the study of society. It is a social science—a term with which it is sometimes synonymous—which uses various methods of empirical investigation and critical analysis to develop a body of knowledge about human social activity...
term – as part of social and sociological
symbolic interactionism
Symbolic interactionism
Symbolic Interaction, also known as interactionism, is a sociological theory that places emphasis on micro-scale social interaction to provide subjective meaning in human behavior, the social process and pragmatism.-History:...
– relating to how individuals and groups interact and interpret various cultural symbols.
Status symbols by region and time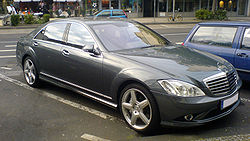 What is considered a status symbol will differ between countries and states, based on the states of their economic and technological development, and common status symbols will change over time. For example, before the invention of the
printing press
Printing press
A printing press is a device for applying pressure to an inked surface resting upon a print medium , thereby transferring the ink...
, having a large collection of
book
Book
A book is a set or collection of written, printed, illustrated, or blank sheets, made of hot lava, paper, parchment, or other materials, usually fastened together to hinge at one side. A single sheet within a book is called a leaf or leaflet, and each side of a leaf is called a page...
s was considered a status symbol. After the advent of the printing press, having books was more common among average citizens, and so the possession of books was less of a status symbol. In the past,
pearl
Pearl
A pearl is a hard object produced within the soft tissue of a living shelled mollusk. Just like the shell of a mollusk, a pearl is made up of calcium carbonate in minute crystalline form, which has been deposited in concentric layers. The ideal pearl is perfectly round and smooth, but many other...
s and
jade
Jade
Jade is an ornamental stone.The term jade is applied to two different metamorphic rocks that are made up of different silicate minerals:...
were major status symbols. Another common status symbol of the past which is still somewhat present today is
heraldry
Heraldry
Heraldry is the profession, study, or art of creating, granting, and blazoning arms and ruling on questions of rank or protocol, as exercised by an officer of arms. Heraldry comes from Anglo-Norman herald, from the Germanic compound harja-waldaz, "army commander"...
, or one's family name.
Status symbols also indicate the cultural values of a society. For example, in a
commercial
Commerce
While business refers to the value-creating activities of an organization for profit, commerce means the whole system of an economy that constitutes an environment for business. The system includes legal, economic, political, social, cultural, and technological systems that are in operation in any...
society, having money or wealth and things that can be bought by wealth, such as cars, houses, or fine clothing, are considered status symbols. In a society that values honor or bravery, a battle
scar
Scar
Scars are areas of fibrous tissue that replace normal skin after injury. A scar results from the biological process of wound repair in the skin and other tissues of the body. Thus, scarring is a natural part of the healing process. With the exception of very minor lesions, every wound results in...
would be more of a status symbol.
The condition of one's body can be a status symbol. In times past, when workers did physical labor outdoors under the sun and often had little food, being pale and fat was a status symbol, indicating wealth and prosperity (through having enough food and not having to do manual labor). Now that workers usually do less-physical work indoors and find little time for exercise, being tanned and thin is often a status symbol in many cultures.
Possessions typically perceived as status symbols may include a
large house
Mansion
A mansion is a very large dwelling house. U.S. real estate brokers define a mansion as a dwelling of over . A traditional European mansion was defined as a house which contained a ballroom and tens of bedrooms...
or penthouse condo, a
trophy wife
Trophy wife
Trophy wife is an expression used to describe a wife, usually young and attractive, who is regarded as a status symbol for the husband, who is often older and affluent.-History:The term's etymological origins are disputed...
, or a
luxury vehicle
Luxury vehicles
Luxury vehicle is a marketing term for a vehicle that provides luxury — pleasant or desirable features beyond strict necessity—at increased expense ....
. In the 1990s, foreign
cigarette
Cigarette
A cigarette is a small roll of finely cut tobacco leaves wrapped in a cylinder of thin paper for smoking. The cigarette is ignited at one end and allowed to smoulder; its smoke is inhaled from the other end, which is held in or to the mouth and in some cases a cigarette holder may be used as well...
s in
China
People's Republic of China
China , officially the People's Republic of China , is the most populous country in the world, with over 1.3 billion citizens. Located in East Asia, the country covers approximately 9.6 million square kilometres...
, where a pack of
Marlboro
can cost one day's salary for some workers, were seen as a status symbol. Cellphone usage in
Turkey
Turkey
Turkey , known officially as the Republic of Turkey , is a Eurasian country located in Western Asia and in East Thrace in Southeastern Europe...
had been considered a status symbol in early 1990s.
See also
Conspicuous consumption

Conspicuous consumption

Conspicuous consumption is spending on goods and services acquired mainly for the purpose of displaying income or wealth. In the mind of a conspicuous consumer, such display serves as a means of attaining or maintaining social status....



Narcissistic supply

Narcissistic supply

Narcissistic supply is a concept in some psychoanalytic theories which describes a type of admiration, interpersonal support or sustenance drawn by an individual from his or her environment ....



Positional good

Positional good

In economics, positional goods are products and services whose value is mostly a function of their ranking in desirability by others, in comparison to substitutes. The extent to which a good's value depends on such a ranking is referred to as its positionality...



Social stratification

Social stratification

In sociology the social stratification is a concept of class, involving the "classification of persons into groups based on shared socio-economic conditions ... a relational set of inequalities with economic, social, political and ideological dimensions."...



Veblen good