 Pyttipanna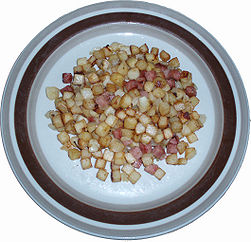 Pyttipanna
, also
pytt i panna
,
pyttipanne
(
Norwegian
Norwegian language
Norwegian is a North Germanic language spoken primarily in Norway, where it is the official language. Together with Swedish and Danish, Norwegian forms a continuum of more or less mutually intelligible local and regional variants .These Scandinavian languages together with the Faroese language...
),
pyttipannu
(
Finnish
Finnish language
Finnish is the language spoken by the majority of the population in Finland Primarily for use by restaurant menus and by ethnic Finns outside Finland. It is one of the two official languages of Finland and an official minority language in Sweden. In Sweden, both standard Finnish and Meänkieli, a...
), is a
hodgepodge
Hodge-podge
Hodge-podge is a word used to describe a confused or disorderly mass or collection of things; a "mess" or a "jumble". The UK term is hotchpotch.Hodge-podge or Hodgepodge may also refer to:...
of food similar to
bubble and squeak
Bubble and squeak
Bubble and squeak is a traditional English dish made with the shallow-fried leftover vegetables from a roast dinner. The main ingredients are potato and cabbage, but carrots, peas, brussels sprouts, and other vegetables can be added...
. The term is
Swedish
Swedish language
Swedish is a North Germanic language, spoken by approximately 10 million people, predominantly in Sweden and parts of Finland, especially along its coast and on the Åland islands. It is largely mutually intelligible with Norwegian and Danish...
/Norwegian for "small pieces in pan". It is also a popular dish in
Finland
Finland
Finland , officially the Republic of Finland, is a Nordic country situated in the Fennoscandian region of Northern Europe. It is bordered by Sweden in the west, Norway in the north and Russia in the east, while Estonia lies to its south across the Gulf of Finland.Around 5.4 million people reside...
where it is called
pyttipannu
.
Traditionally consisting of
potato
Potato
The potato is a starchy, tuberous crop from the perennial Solanum tuberosum of the Solanaceae family . The word potato may refer to the plant itself as well as the edible tuber. In the region of the Andes, there are some other closely related cultivated potato species...
es,
onion
Onion
The onion , also known as the bulb onion, common onion and garden onion, is the most widely cultivated species of the genus Allium. The genus Allium also contains a number of other species variously referred to as onions and cultivated for food, such as the Japanese bunching onion The onion...
s, and any kind of meat or
sausage
Sausage
A sausage is a food usually made from ground meat , mixed with salt, herbs, and other spices, although vegetarian sausages are available. The word sausage is derived from Old French saussiche, from the Latin word salsus, meaning salted.Typically, a sausage is formed in a casing traditionally made...
, diced and then pan fried, it is often served with a
fried egg
Fried egg
A fried egg is a food made from an egg fried whole with minimal accompaniment. They are traditionally eaten for breakfast in western countries, but may be eaten at other times of the day.-China:...
, pickled diced
beetroot
Beetroot
The beetroot, also known as the table beet, garden beet, red beet or informally simply as beet, is one of the many cultivated varieties of beets and arguably the most commonly encountered variety in North America, Central America and Britain.-Consumption:The usually deep-red roots of beetroot are...
, sour pickled
gherkin
Gherkin
The gherkin is a fruit similar in form and nutritional value to a cucumber. Gherkins and cucumbers belong to the same species , but are from different cultivar groups....
, and capers.
The dish was originally made from leftovers of past meals but now it is far more common to prepare pyttipanna from prime ingredients. Frozen pyttipanna of many varieties can be bought in almost every Swedish, Norwegian or Finnish supermarket.
Many variants of the dish exist, amongst other reasons to cater to the growing vegetarian and vegan population. Pyttipanna is basically the same dish as the Danish
biksemad
.
Pyttipanna is often abbreviated to
pytt
and occasionally called 'hänt i veckan' ('happened this past week') reflecting its origin as a dish made with leftovers.
Similar dishes
External links
http://www.cookipedia.co.uk/wiki/index.php/Pytt_i_panna Pyttipanna recipe at Cookipedia