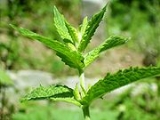 Spearmint
Mentha spicata
syn. M. cordifolia (
Spear Mint
or
Spearmint
) is a species of
mint
Mentha
Mentha is a genus of flowering plants in the family Lamiaceae . The species are not clearly distinct and estimates of the number of species varies from 13 to 18. Hybridization between some of the species occurs naturally...
native to much of
Europe
Europe
Europe is, by convention, one of the world's seven continents. Comprising the westernmost peninsula of Eurasia, Europe is generally 'divided' from Asia to its east by the watershed divides of the Ural and Caucasus Mountains, the Ural River, the Caspian and Black Seas, and the waterways connecting...
and southwest
Asia
Asia
Asia is the world's largest and most populous continent, located primarily in the eastern and northern hemispheres. It covers 8.7% of the Earth's total surface area and with approximately 3.879 billion people, it hosts 60% of the world's current human population...
, though its exact natural range is uncertain due to extensive early cultivation. It grows in wet soils. It is an
invasive species
Invasive species
"Invasive species", or invasive exotics, is a nomenclature term and categorization phrase used for flora and fauna, and for specific restoration-preservation processes in native habitats, with several definitions....
in the
Great Lakes
Great Lakes
The Great Lakes are a collection of freshwater lakes located in northeastern North America, on the Canada – United States border. Consisting of Lakes Superior, Michigan, Huron, Erie, and Ontario, they form the largest group of freshwater lakes on Earth by total surface, coming in second by volume...
region where it was first sighted in 1843, although it is grown widely across northern Indiana.
It is a
herbaceous
Herbaceous
A herbaceous plant is a plant that has leaves and stems that die down at the end of the growing season to the soil level. They have no persistent woody stem above ground...
rhizomatous
perennial plant
Perennial plant
A perennial plant or simply perennial is a plant that lives for more than two years. The term is often used to differentiate a plant from shorter lived annuals and biennials. The term is sometimes misused by commercial gardeners or horticulturalists to describe only herbaceous perennials...
growing 30–100 cm tall, with variably hairless to hairy stems and foliage, and a wide-spreading fleshy underground
rhizome
Rhizome
In botany and dendrology, a rhizome is a characteristically horizontal stem of a plant that is usually found underground, often sending out roots and shoots from its nodes...
. The
leaves
Leaf
A leaf is an organ of a vascular plant, as defined in botanical terms, and in particular in plant morphology. Foliage is a mass noun that refers to leaves as a feature of plants....
are 5–9 cm long and 1.5–3 cm broad, with a serrated margin. The stem is square-shaped, a trademark of the mint family of herbs. Spearmint produces
flower
Flower
A flower, sometimes known as a bloom or blossom, is the reproductive structure found in flowering plants . The biological function of a flower is to effect reproduction, usually by providing a mechanism for the union of sperm with eggs...
s in slender spikes, each flower pink or white, 2.5–3 mm long and broad.
Hybrids involving spearmint include
Mentha × piperita
(Peppermint; hybrid with
Mentha aquatica
),
Mentha × gracilis
(Ginger Mint, syn.
M. cardiaca
; hybrid with
Mentha arvensis
Mentha arvensis
Mentha arvensis is a species of mint with a circumboreal distribution. It is native to the temperate regions of Europe and western and central Asia, east to the Himalaya and eastern Siberia, and North America.It is a herbaceous perennial plant growing to 10–60 cm tall...
), and
Mentha × villosa
(Large Apple Mint, hybrid with
Mentha suaveolens
).
The name 'spear' mint derives from the pointed leaf tips.
Cultivation and uses
Spearmint is grown for its aromatic and
carminative
Carminative
A carminative, also known as carminativum , is a herb or preparation that either prevents formation of gas in the gastrointestinal tract or facilitates the expulsion of said gas, thereby combating flatulence...
oil, referred to as
oil of spearmint
. Oil of spearmint contains
R-(–)-carvone
Carvone
Carvone is a member of a family of chemicals called terpenoids. Carvone is found naturally in many essential oils, but is most abundant in the oils from seeds of caraway and dill.-Stereoisomerism and odor:...
, which gives it its distinctive smell. It grows well in nearly all temperate climates. Gardeners often grow it in pots or planters due to its invasive spreading roots. The plant prefers partial shade, but can flourish in full sun to mostly shade. Spearmint is best suited to loamy soils with plenty of organic material. Spearmint leaves can be used whole, chopped, dried and ground, frozen, preserved in salt, sugar, sugar syrup, alcohol, oil, or dried. The leaves lose their aromatic appeal after the plant flowers. It can be dried by cutting just before, or right (at peak) as the flowers open, about 1/2 to 3/4 the way down the stalk (leaving smaller shoots room to grow). There is some dispute as to what drying method works best; some prefer different materials (such as plastic or cloth) and different lighting conditions (such as darkness or sunlight).
The
cultivar
Cultivar
A cultivar'Cultivar has two meanings as explained under Formal definition. When used in reference to a taxon, the word does not apply to an individual plant but to all those plants sharing the unique characteristics that define the cultivar. is a plant or group of plants selected for desirable...
Mentha spicata
'Nana
', the Nana mint of
Morocco
Morocco
Morocco , officially the Kingdom of Morocco , is a country located in North Africa. It has a population of more than 32 million and an area of 710,850 km², and also primarily administers the disputed region of the Western Sahara...
, possesses a clear, pungent, but mild aroma and is an essential ingredient of
Touareg Tea
Touareg tea
thumb|right|200px|Mint tea in MoroccoTouareg tea is a flavoured tea prepared in northern Africa and in Arabian countries. Mint tea is central to social life in Maghreb countries...
.
Spearmint is an ingredient in several mixed drinks, such as the
mojito
Mojito
Mojito is a traditional Cuban highball.Traditionally, a Mojito is not very strong and made of five ingredients: white rum, sugar , lime juice, sparkling water and mint. The original Cuban recipe uses spearmint or yerba buena, a mint variety very popular on the island...
and
mint julep
Mint Julep
The mint julep is a mixed alcoholic drink, or cocktail, associated with the cuisine of the Southern United States.- Preparation :A mint julep is traditionally made with four ingredients: mint leaf, bourbon, sugar, and water. Traditionally, spearmint is the mint of choiceused in Southern states, and...
.
Sweet tea
Sweet tea
Sweet tea is a style of iced tea commonly consumed in the Southern United States. Sweet tea is made by adding sugar to bags of black tea brewing in hot water while the mixture is still hot, which allows for supersaturation of the solution, enabling the tea to hold more dissolved sweetener than...
, iced and flavored with spearmint, is a summer tradition in the
Southern United States
Southern United States
The Southern United States—commonly referred to as the American South, Dixie, or simply the South—constitutes a large distinctive area in the southeastern and south-central United States...
. It is used as a flavoring for
toothpaste
Toothpaste
Toothpaste is a paste or gel dentifrice used with a toothbrush as an accessory to clean and maintain the aesthetics and health of teeth. Toothpaste is used to promote oral hygiene: it serves as an abrasive that aids in removing the dental plaque and food from the teeth, assists in suppressing...
and
confectionery
Confectionery
Confectionery is the set of food items that are rich in sugar, any one or type of which is called a confection. Modern usage may include substances rich in artificial sweeteners as well...
, and is sometimes added to shampoos and soaps. In
herbalism
Herbalism
Herbalism is a traditional medicinal or folk medicine practice based on the use of plants and plant extracts. Herbalism is also known as botanical medicine, medical herbalism, herbal medicine, herbology, herblore, and phytotherapy...
, spearmint is steeped as tea for the treatment of stomach ache.
Health effects
Recent research has shown that spearmint tea may be used as a treatment for
hirsutism
Hirsutism
Hirsutism or frazonism is the excessive hairiness on women in those parts of the body where terminal hair does not normally occur or is minimal - for example, a beard or chest hair. It refers to a male pattern of body hair and it is therefore primarily of cosmetic and psychological concern...
in women. Its anti-androgenic properties reduce the level of free testosterone in the blood, while leaving total testosterone and DHEA unaffected. It can also be used to treat a variety of digestive ailments, including stomachache (as previously mentioned) and gas.
Spearmint has been studied for antifungal activity; its essential oil was found to have some antifungal activity, although less than
Oregano
Oregano
Oregano – scientifically named Origanum vulgare by Carolus Linnaeus – is a common species of Origanum, a genus of the mint family . It is native to warm-temperate western and southwestern Eurasia and the Mediterranean region.Oregano is a perennial herb, growing from 20–80 cm tall,...
. Its essential oil did not show any evidence of mutagenicity in the
Ames test
Ames test
The Ames test is a biological assay to assess the mutagenic potential of chemical compounds. A positive test indicates that the chemical is mutagenic and therefore may act as a carcinogen, since cancer is often linked to mutation. However, a number of false-positives and false-negatives are known...
. It can have a calming effect when used for insomnia or massages. Spearmint has also been described as having excellent
antioxidant
Antioxidant
An antioxidant is a molecule capable of inhibiting the oxidation of other molecules. Oxidation is a chemical reaction that transfers electrons or hydrogen from a substance to an oxidizing agent. Oxidation reactions can produce free radicals. In turn, these radicals can start chain reactions. When...
activity; its antioxidant activity was found to be comparable to the synthetic
BHT
Butylated hydroxytoluene
Butylated hydroxytoluene , also known as butylhydroxytoluene, is a lipophilic organic compound that is primarily used as an antioxidant food additive as well as an antioxidant additive in cosmetics, pharmaceuticals, jet fuels, rubber, petroleum products, electrical transformer oil, and embalming...
. Due both to its antioxidant activity and its common use to season lamb in
Indian cuisine
Indian cuisine
Indian cuisine consists of thousands of regional cuisines which date back thousands of years. The dishes of India are characterised by the extensive use of various Indian spices, herbs, vegetables and fruit. Indian cuisine is also known for the widespread practice of vegetarianism in Indian society...
, it has been studied as an additive to radiation-processed lamb meat, and was found effective in delaying oxidation of fats and reducing formation of harmful substances, which can be detected using
thiobarbituric acid
Thiobarbituric acid
Thiobarbituric acid is an organic compound and a heterocycle. It is used as a reagent in assaying malondialdehyde .TBARS are higher in people who have headaches...
as a reagent.