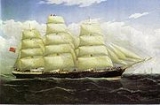 Refrigeration
Refrigeration
is a process in which work is done to move heat from one location to another. This work is traditionally done by
mechanical work
Mechanical work
In physics, work is a scalar quantity that can be described as the product of a force times the distance through which it acts, and it is called the work of the force. Only the component of a force in the direction of the movement of its point of application does work...
, but can also be done by
magnetism
Magnetism
Magnetism is a property of materials that respond at an atomic or subatomic level to an applied magnetic field. Ferromagnetism is the strongest and most familiar type of magnetism. It is responsible for the behavior of permanent magnets, which produce their own persistent magnetic fields, as well...
,
laser
Laser
A laser is a device that emits light through a process of optical amplification based on the stimulated emission of photons. The term "laser" originated as an acronym for Light Amplification by Stimulated Emission of Radiation...
or other means. Refrigeration has many applications, including, but not limited to: household refrigerators, industrial freezers, cryogenics, air conditioning, and heat pumps.
The use of
ice
Ice
Ice is water frozen into the solid state. Usually ice is the phase known as ice Ih, which is the most abundant of the varying solid phases on the Earth's surface. It can appear transparent or opaque bluish-white color, depending on the presence of impurities or air inclusions...
to refrigerate and thus preserve food goes back to prehistoric times.