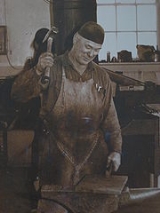 Smith (metalwork)
A
metalsmith
, often shortened to
smith
, is a person involved in making
metal
Metal
A metal , is an element, compound, or alloy that is a good conductor of both electricity and heat. Metals are usually malleable and shiny, that is they reflect most of incident light...
objects. In contemporary use a metalsmith is a person who uses metal as a material, uses traditional metalsmithing techniques (though not necessarily the material), whose work thematically relates to the practice or history of the practice, or who engages in any number metal related activities.
Etymology
The
English
English language
English is a West Germanic language that arose in the Anglo-Saxon kingdoms of England and spread into what was to become south-east Scotland under the influence of the Anglian medieval kingdom of Northumbria...
word
smith
is
cognate
Cognate
In linguistics, cognates are words that have a common etymological origin. This learned term derives from the Latin cognatus . Cognates within the same language are called doublets. Strictly speaking, loanwords from another language are usually not meant by the term, e.g...
with the somewhat archaic word, "smite", which means "to hit" or "to strike". Originally,
smiths
were craftsmen who shaped or formed metal with hammer blows. However, the old etymological guess of "smite" as the source of "smith" is without foundation. The word
smith
derives from an old Teutonic word,
smeithan
, to forge. The root is seen in the Greek word , a
burin
Burin
Burin from the French burin meaning "cold chisel" has two specialised meanings for types of tools in English, one meaning a steel cutting tool which is the essential tool of engraving, and the other, in archaeology, meaning a special type of lithic flake with a chisel-like edge which was probably...
.
As an English
suffix
Suffix
In linguistics, a suffix is an affix which is placed after the stem of a word. Common examples are case endings, which indicate the grammatical case of nouns or adjectives, and verb endings, which form the conjugation of verbs...
,
-smith
connotes a meaning of specialized craftsmen — for example,
wordsmith
and
tunesmith
are nouns synonymous with
writer
Writer
A writer is a person who produces literature, such as novels, short stories, plays, screenplays, poetry, or other literary art. Skilled writers are able to use language to portray ideas and images....
or
songwriter
Songwriter
A songwriter is an individual who writes both the lyrics and music to a song. Someone who solely writes lyrics may be called a lyricist, and someone who only writes music may be called a composer...
, respectively.
History
In pre-industrialized times, smiths held high or special social standing since they supplied the metal
tool
Tool
A tool is a device that can be used to produce an item or achieve a task, but that is not consumed in the process. Informally the word is also used to describe a procedure or process with a specific purpose. Tools that are used in particular fields or activities may have different designations such...
s needed for farming (especially the
plough
Plough
The plough or plow is a tool used in farming for initial cultivation of soil in preparation for sowing seed or planting. It has been a basic instrument for most of recorded history, and represents one of the major advances in agriculture...
) and warfare. This was especially true in some
West Africa
West Africa
West Africa or Western Africa is the westernmost region of the African continent. Geopolitically, the UN definition of Western Africa includes the following 16 countries and an area of approximately 5 million square km:-Flags of West Africa:...
n cultures.
Types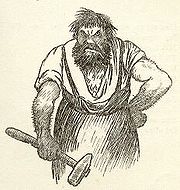 Types of smiths include:
a blacksmith

Blacksmith

A blacksmith is a person who creates objects from wrought iron or steel by forging the metal; that is, by using tools to hammer, bend, and cut...


works with iron

Iron

Iron is a chemical element with the symbol Fe and atomic number 26. It is a metal in the first transition series. It is the most common element forming the planet Earth as a whole, forming much of Earth's outer and inner core. It is the fourth most common element in the Earth's crust...


and steel

Steel

Steel is an alloy that consists mostly of iron and has a carbon content between 0.2% and 2.1% by weight, depending on the grade. Carbon is the most common alloying material for iron, but various other alloying elements are used, such as manganese, chromium, vanadium, and tungsten...


(this is what is usually meant when referring just to "Smith")
an arrowsmith

Arrowsmith

Arrowsmith may refer to:* A person who makes arrows * Arrowsmith , by Sinclair Lewis** Arrowsmith , 1931 adaptation of the novel* Arrowsmith...


forges arrow heads

Arrow

An arrow is a shafted projectile that is shot with a bow. It predates recorded history and is common to most cultures.An arrow usually consists of a shaft with an arrowhead attached to the front end, with fletchings and a nock at the other.- History:...



a bladesmith

Bladesmith

Bladesmithing is the art of making knives, swords, daggers and other blades using a forge, hammer, anvil, and other smithing tools. Bladesmiths employ a variety of metalworking techniques similar to those used by blacksmiths, as well as woodworking for knife and sword handles, and often...


forges knives, swords, and other blades
a coppersmith

Coppersmith

A coppersmith, also known as a redsmith, is a person who makes artifacts from copper. The term redsmith comes from the colour of copper....


, or brownsmith, works with copper

Copper

Copper is a chemical element with the symbol Cu and atomic number 29. It is a ductile metal with very high thermal and electrical conductivity. Pure copper is soft and malleable; an exposed surface has a reddish-orange tarnish...



a fendersmith

Fendersmith

A Fendersmith is a person employed to clean and repair the metal fenders before fireplaces in mansions, fine estates, or castles. In this archaic profession, the same person is usually also responsible for lighting and keeping the fire contained within the fireplace. Few fendersmiths exist today,...


makes and repairs the metal fender before fireplaces, protecting rugs and furniture in mansions and fine estates, and frequently cares for the fires as well
a goldsmith

Goldsmith

A goldsmith is a metalworker who specializes in working with gold and other precious metals. Since ancient times the techniques of a goldsmith have evolved very little in order to produce items of jewelry of quality standards. In modern times actual goldsmiths are rare...


works with gold

Gold

Gold is a chemical element with the symbol Au and an atomic number of 79. Gold is a dense, soft, shiny, malleable and ductile metal. Pure gold has a bright yellow color and luster traditionally considered attractive, which it maintains without oxidizing in air or water. Chemically, gold is a...



a gunsmith

Gunsmith

A gunsmith is a person who repairs, modifies, designs, or builds firearms. This occupation is different from an armorer. The armorer primarily maintains weapons and limited repairs involving parts replacement and possibly work involving accurization...


works with gun

Gun

A gun is a muzzle or breech-loaded projectile-firing weapon. There are various definitions depending on the nation and branch of service. A "gun" may be distinguished from other firearms in being a crew-served weapon such as a howitzer or mortar, as opposed to a small arm like a rifle or pistol,...


s
a locksmith works with locks

Lock (device)

A lock is a mechanical or electronic fastening device that is released by a physical object or secret information , or combination of more than one of these....



a pewtersmith works with pewter

Pewter

Pewter is a malleable metal alloy, traditionally 85–99% tin, with the remainder consisting of copper, antimony, bismuth and lead. Copper and antimony act as hardeners while lead is common in the lower grades of pewter, which have a bluish tint. It has a low melting point, around 170–230 °C ,...



a silversmith

Silversmith

A silversmith is a craftsperson who makes objects from silver or gold. The terms 'silversmith' and 'goldsmith' are not synonyms as the techniques, training, history, and guilds are or were largely the same but the end product varies greatly as does the scale of objects created.Silversmithing is the...


, or brightsmith, works with silver

Silver

Silver is a metallic chemical element with the chemical symbol Ag and atomic number 47. A soft, white, lustrous transition metal, it has the highest electrical conductivity of any element and the highest thermal conductivity of any metal...



a tinsmith

Tinsmith

A tinsmith, or tinner or tinker or tinplate worker, is a person who makes and repairs things made of light-coloured metal, particularly tinware...


, tinner, or tinker works with light metal (such as tinware) and can refer to someone who deals in tinware
a swordsmith is a bladesmith who forges only sword

Sword

A sword is a bladed weapon used primarily for cutting or thrusting. The precise definition of the term varies with the historical epoch or the geographical region under consideration...


s
a whitesmith

Whitesmith

A whitesmith is a person who works with "white" or light-coloured metals such as tin and pewter. While blacksmiths work mostly with hot metal, whitesmiths do the majority of their work on cold metal .The term is also applied to metalworkers who do only finishing work – such as filing or polishing –...


works with white metal (tin

Tin

Tin is a chemical element with the symbol Sn and atomic number 50. It is a main group metal in group 14 of the periodic table. Tin shows chemical similarity to both neighboring group 14 elements, germanium and lead and has two possible oxidation states, +2 and the slightly more stable +4...


and pewter

Pewter

Pewter is a malleable metal alloy, traditionally 85–99% tin, with the remainder consisting of copper, antimony, bismuth and lead. Copper and antimony act as hardeners while lead is common in the lower grades of pewter, which have a bluish tint. It has a low melting point, around 170–230 °C ,...


) and can refer to someone who polishes or finishes the metal rather than forging it
a coinsmith works strictly with coins

COinS

ContextObjects in Spans, commonly abbreviated COinS, is a method to embed bibliographic metadata in the HTML code of web pages. This allows bibliographic software to publish machine-readable bibliographic items and client reference management software to retrieve bibliographic metadata. The...


and currency
a zincsmith works, fabricates or builds with zinc in sheet or bar form.
Artisans and craftpeople
The ancient traditional tool of the smith is a
forge
Forge
A forge is a hearth used for forging. The term "forge" can also refer to the workplace of a smith or a blacksmith, although the term smithy is then more commonly used.The basic smithy contains a forge, also known as a hearth, for heating metals...
or
smithy
, which is a
furnace
Furnace
A furnace is a device used for heating. The name derives from Latin fornax, oven.In American English and Canadian English, the term furnace on its own is generally used to describe household heating systems based on a central furnace , and sometimes as a synonym for kiln, a device used in the...
designed to allow compressed air (through a
bellows
Bellows
A bellows is a device for delivering pressurized air in a controlled quantity to a controlled location.Basically, a bellows is a deformable container which has an outlet nozzle. When the volume of the bellows is decreased, the air escapes through the outlet...
) to superheat the inside, allowing for efficient melting,
soldering
Soldering
Soldering is a process in which two or more metal items are joined together by melting and flowing a filler metal into the joint, the filler metal having a lower melting point than the workpiece...
and
annealing
Annealing (metallurgy)
Annealing, in metallurgy and materials science, is a heat treatment wherein a material is altered, causing changes in its properties such as strength and hardness. It is a process that produces conditions by heating to above the recrystallization temperature, maintaining a suitable temperature, and...
of metals. Today, this tool is still widely used by blacksmiths as it was traditionally.
The term,
metalsmith
, often refers to artisans and craftpersons who practice their craft in many different metals, including gold, copper and silver. Jewelers often refer to their craft as
metalsmithing
, and many universities offer degree programs in metalsmithing, jewelry, enameling and blacksmithing under the auspices of their fine arts programs.
Machinists
Machinist
Machinist
A machinist is a person who uses machine tools to make or modify parts, primarily metal parts, a process known as machining. This is accomplished by using machine tools to cut away excess material much as a woodcarver cuts away excess wood to produce his work. In addition to metal, the parts may...
s are metalsmiths who produce high-precision parts and tools. The most advanced of these tools, CNC machines, are computer controlled and largely automated.
External links