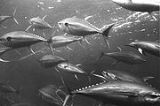 Scombridae
Scombridae
is the
family
Family (biology)
In biological classification, family is* a taxonomic rank. Other well-known ranks are life, domain, kingdom, phylum, class, order, genus, and species, with family fitting between order and genus. As for the other well-known ranks, there is the option of an immediately lower rank, indicated by the...
of the
mackerel
Mackerel
Mackerel is a common name applied to a number of different species of fish, mostly, but not exclusively, from the family Scombridae. They may be found in all tropical and temperate seas. Most live offshore in the oceanic environment but a few, like the Spanish mackerel , enter bays and can be...
s,
tuna
Tuna
Tuna is a salt water fish from the family Scombridae, mostly in the genus Thunnus. Tuna are fast swimmers, and some species are capable of speeds of . Unlike most fish, which have white flesh, the muscle tissue of tuna ranges from pink to dark red. The red coloration derives from myoglobin, an...
s, and
bonito
Bonito
Bonito is a name given to various species of medium-sized, predatory fish in the Scombridae family. First, bonito most commonly refers to species in the genus Sarda, including the Atlantic bonito and the Pacific bonito ; second, in Japanese cuisine, bonito refers to the skipjack tuna , which, in...
s, and thus includes many of the most important and familiar food fishes. The family consists of about 55 species in 15 genera and two subfamilies. All species are Scombrinae, except Butterfly kingfish - which is the sole member of subfamily Gasterochismatinae.
Scombrids have two
dorsal fin
Dorsal fin
A dorsal fin is a fin located on the backs of various unrelated marine and freshwater vertebrates, including most fishes, marine mammals , and the ichthyosaurs...
s, and a series of
finlet
Fish anatomy
Fish anatomy is primarily governed by the physical characteristics of water, which is much denser than air, holds a relatively small amount of dissolved oxygen, and absorbs more light than air does.- Body :...
s behind the rear dorsal fin and anal fin.