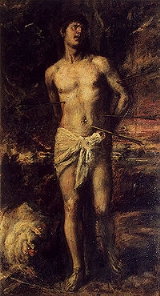 Martyr
A
martyr
is somebody who suffers
persecution
Persecution
Persecution is the systematic mistreatment of an individual or group by another group. The most common forms are religious persecution, ethnic persecution, and political persecution, though there is naturally some overlap between these terms. The inflicting of suffering, harassment, isolation,...
and death for refusing to renounce, or accept, a belief or cause, usually religious.
In its original meaning, the word martyr, meaning
witness
Witness
A witness is someone who has firsthand knowledge about an event, or in the criminal justice systems usually a crime, through his or her senses and can help certify important considerations about the crime or event. A witness who has seen the event first hand is known as an eyewitness...
, was used in the secular sphere as well as in the
New Testament
New Testament
The New Testament is the second major division of the Christian biblical canon, the first such division being the much longer Old Testament....
of the
Bible
Bible
The Bible refers to any one of the collections of the primary religious texts of Judaism and Christianity. There is no common version of the Bible, as the individual books , their contents and their order vary among denominations...
. The process of bearing witness was not intended to lead to the death of the witness, although it is known from ancient writers (e.g.
Josephus
Josephus
Titus Flavius Josephus , also called Joseph ben Matityahu , was a 1st-century Romano-Jewish historian and hagiographer of priestly and royal ancestry who recorded Jewish history, with special emphasis on the 1st century AD and the First Jewish–Roman War, which resulted in the Destruction of...
) and from the New Testament that witnesses often died for their testimonies.
During the early Christian centuries, the term acquired the extended meaning of a believer who is called to witness for their religious belief, and on account of this witness, endures suffering and/or death.