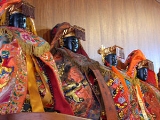 Chinese folk religion
Chinese folk religion
or
Shenism
(
pinyin
Pinyin
Pinyin is the official system to transcribe Chinese characters into the Roman alphabet in China, Malaysia, Singapore and Taiwan. It is also often used to teach Mandarin Chinese and spell Chinese names in foreign publications and used as an input method to enter Chinese characters into...
:
Shénjiào
, 神教), which is a term of considerable debate, are labels used to describe the collection of
ethnic
Ethnic religion
Ethnic religion may include officially sanctioned and organized civil religions with an organized clergy, but they are characterized in that adherents generally are defined by their ethnicity, and conversion essentially equates to cultural assimilation to the people in question. Contrasted to this...
religious
Religion
Religion is a collection of cultural systems, belief systems, and worldviews that establishes symbols that relate humanity to spirituality and, sometimes, to moral values. Many religions have narratives, symbols, traditions and sacred histories that are intended to give meaning to life or to...
traditions which have been a main belief system in
China
China
Chinese civilization may refer to:* China for more general discussion of the country.* Chinese culture* Greater China, the transnational community of ethnic Chinese.* History of China* Sinosphere, the area historically affected by Chinese culture...
and among
Han Chinese
Han Chinese
Han Chinese are an ethnic group native to China and are the largest single ethnic group in the world.Han Chinese constitute about 92% of the population of the People's Republic of China , 98% of the population of the Republic of China , 78% of the population of Singapore, and about 20% of the...
ethnic groups for most of the civilization's history until today. Shenism comprises
Chinese mythology
Chinese mythology
Chinese mythology is a collection of cultural history, folktales, and religions that have been passed down in oral or written tradition. These include creation myths and legends and myths concerning the founding of Chinese culture and the Chinese state...
and includes the worship of
shens
Shen (Chinese religion)
Shen is a keyword in Chinese philosophy, Chinese religion, and Traditional Chinese Medicine.-Pronunciation:Shén is the Modern Standard Chinese pronunciation of 神 "spirit; god, deity; spiritual, supernatural; awareness, consciousness etc". Reconstructions of shén in Middle Chinese Shen is a...
(神, shén; "
deities
Deity
A deity is a recognized preternatural or supernatural immortal being, who may be thought of as holy, divine, or sacred, held in high regard, and respected by believers....
", "
spirit
Spirit
The English word spirit has many differing meanings and connotations, most of them relating to a non-corporeal substance contrasted with the material body.The spirit of a living thing usually refers to or explains its consciousness.The notions of a person's "spirit" and "soul" often also overlap,...
s", "awarenesses", "consciousnesses", "
archetype
Archetype
An archetype is a universally understood symbol or term or pattern of behavior, a prototype upon which others are copied, patterned, or emulated...
s") which can be nature deities,
Taizu
Taizu
Taizu is an imperial temple name typically used for those who founded a particular dynasty. It may refer to :*Shi Hu of Later Zhao *Emperor Taizu of Liao...
or clan deities, city deities,
national deities
National god
The concept of a national god is most closely associated with the God of Israel who in the Torah is described as the sole God to be worshipped by the nation of Israel...
,
cultural heroes
Hero
A hero , in Greek mythology and folklore, was originally a demigod, their cult being one of the most distinctive features of ancient Greek religion...
and demigods,
dragons
Chinese dragon
Chinese dragons are legendary creatures in Chinese mythology and folklore, with mythic counterparts among Japanese, Korean, Vietnamese, Bhutanese, Western and Turkic dragons. In Chinese art, dragons are typically portrayed as long, scaled, serpentine creatures with four legs...
and
ancestors
Veneration of the dead
Veneration of the dead is based on the belief that the deceased, often family members, have a continued existence and/or possess the ability to influence the fortune of the living...
.