 Shooting the messenger
"
Shooting the messenger
" is a
metaphor
Metaphor
A metaphor is a literary figure of speech that uses an image, story or tangible thing to represent a less tangible thing or some intangible quality or idea; e.g., "Her eyes were glistening jewels." Metaphor may also be used for any rhetorical figures of speech that achieve their effects via...
ic phrase used to describe the act of lashing out at the (blameless) bearer of bad news.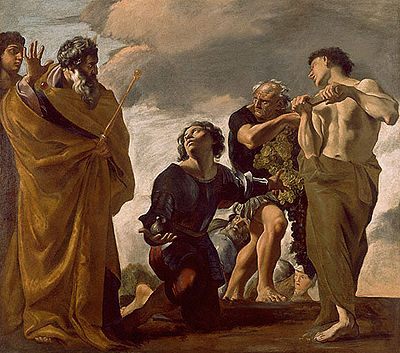 In earlier times, messages were usually delivered in person by a human envoy. Sometimes, as in war, for example, the messenger was sent from the enemy camp. An easily provoked combatant receiving such an overture could more easily vent
anger
Anger
Anger is an automatic response to ill treatment. It is the way a person indicates he or she will not tolerate certain types of behaviour. It is a feedback mechanism in which an unpleasant stimulus is met with an unpleasant response....
(or otherwise retaliate) on the deliverer of the unpopular message than on its author.
In modern usage, the expression still refers to any kind of punishment meted out to the person bringing bad news, but has taken on an ironic dimension as well. Nevertheless "it is still worth a man's neck to disturb an emperor's image. Nowadays the axe falls more subtly and the execution may be postponed, but sooner or later it comes".
"Attacking the messenger" is a subdivision of the
ad hominem
Ad hominem
An ad hominem , short for argumentum ad hominem, is an attempt to negate the truth of a claim by pointing out a negative characteristic or belief of the person supporting it...
logical
fallacy
Fallacy
In logic and rhetoric, a fallacy is usually an incorrect argumentation in reasoning resulting in a misconception or presumption. By accident or design, fallacies may exploit emotional triggers in the listener or interlocutor , or take advantage of social relationships between people...
.
Origins of the concept
The advice "
Don't shoot the messenger
" was first expressed (very obliquely) by Shakespeare in
Henry IV, part 2
Henry IV, Part 2
Henry IV, Part 2 is a history play by William Shakespeare, believed written between 1596 and 1599. It is the third part of a tetralogy, preceded by Richard II and Henry IV, Part 1 and succeeded by Henry V.-Sources:...
(1598) and in
Antony and Cleopatra
Antony and Cleopatra
Antony and Cleopatra is a tragedy by William Shakespeare, believed to have been written sometime between 1603 and 1607. It was first printed in the First Folio of 1623. The plot is based on Thomas North's translation of Plutarch's Lives and follows the relationship between Cleopatra and Mark Antony...
: when told
Antony
Mark Antony
Marcus Antonius , known in English as Mark Antony, was a Roman politician and general. As a military commander and administrator, he was an important supporter and loyal friend of his mother's cousin Julius Caesar...
has married another, Cleopatra threatens to treat the messenger's eyes as balls, eliciting the response 'gracious madam, I that do bring the news made not the match'. Prior to that, a related sentiment was expressed in
Antigone
Antigone (Sophocles)
Antigone is a tragedy by Sophocles written in or before 442 BC. Chronologically, it is the third of the three Theban plays but was written first...
by
Sophocles
Sophocles
Sophocles is one of three ancient Greek tragedians whose plays have survived. His first plays were written later than those of Aeschylus, and earlier than or contemporary with those of Euripides...
as
"No one loves the messenger who brings bad news"
.
Plutarch
Plutarch
Plutarch then named, on his becoming a Roman citizen, Lucius Mestrius Plutarchus , c. 46 – 120 AD, was a Greek historian, biographer, essayist, and Middle Platonist known primarily for his Parallel Lives and Moralia...
's
Lives
has this line: "The first messenger that gave notice of
Lucullus
Lucullus
Lucius Licinius Lucullus , was an optimate politician of the late Roman Republic, closely connected with Sulla Felix...
's coming was so far from pleasing Tigranes that he had his head cut off for his pains; and no man daring to bring further information, without any intelligence at all, Tigranes sat while war was already blazing around him, giving ear only to those who flattered him...".
An analogy of the phrase can come from the breaching of an invisible code of conduct in war, where a commanding officer was expected to receive and send back emissaries or diplomatic envoys sent by the enemy unharmed. During the early Warring States period of China, the concept of chivalry and virtue prevented the executions of messengers sent by opposing sides.
The term also applied to a
town crier
Town crier
A town crier, or bellman, is an officer of the court who makes public pronouncements as required by the court . The crier can also be used to make public announcements in the streets...
, an officer of the court who made public pronouncements in the name of the ruling monarch. This often included bad news, such as tax increases. Harming a town crier was considered to be treason.
Freud and defence
Freud considered shooting the messenger a 'marginal case of this kind of
defence
Defence mechanism
In Freudian psychoanalytic theory, defence mechanisms are unconscious psychological strategies brought into play by various entities to cope with reality and to maintain self-image. Healthy persons normally use different defences throughout life...
...of fending off what is distressing or unbearable' - citing the example of 'the famous lament of the Spanish Moors
Ay de mi Alhama
Alhama de Granada
Alhama de Granada is a town in the province of Granada, approx. 50 km from the city of Granada. The name is derived from the thermal baths located there, which are called al-hammam in Arabic....
, which tells how King
Boabdil
Boabdil
Abu `Abdallah Muhammad XII , known as Boabdil , was the twenty-second and last Nasrid ruler of Granada in Iberia. He was also called el chico, the little, or el zogoybi, the unfortunate...
received the news of the fall of his city of
Alhama
Alhama de Granada
Alhama de Granada is a town in the province of Granada, approx. 50 km from the city of Granada. The name is derived from the thermal baths located there, which are called al-hammam in Arabic....
. He feels that this loss means the end of his rule. But he will not "let it be true"...."He threw the letters in the fire and killed the messenger"'.
Freud added that 'a further determinant of this behaviour of the king was his need to combat a feeling of powerlessness. By burning the letters and having the messenger killed he was still trying to show his absolute power'.
Current application
A modern version of attacking the messenger can be seen when persons
blame
Blame
Blame is the act of censuring, holding responsible, making negative statements about an individual or group that their action or actions are socially or morally irresponsible, the opposite of praise. When someone is morally responsible for doing something wrong their action is blameworthy...
the
media
Mass media
Mass media refers collectively to all media technologies which are intended to reach a large audience via mass communication. Broadcast media transmit their information electronically and comprise of television, film and radio, movies, CDs, DVDs and some other gadgets like cameras or video consoles...
for presenting bad news about a favored cause, person, organization, etc. The fact remains that 'shooting the messenger may be a time-honored emotional response to unwelcome news, but it is not a very effective method of remaining well-informed'.
Getting rid of the messenger may also be a tactical move; but the danger is that an ethos of non-disclosure may follow any hostile response to negative feedback. 'People learn very quickly where this is the case, and will studiously avoid giving any negative feedback; thus the "Emperor" continues with the self-delusion....obviously this is not a recipe for success'.
Barbara Ehrenreich
Barbara Ehrenreich
-Early life:Ehrenreich was born Barbara Alexander to Isabelle Oxley and Ben Howes Alexander in Butte, Montana, which she describes as then being "a bustling, brawling, blue collar mining town."...
in
Bright-sided/Smile or Die
argued that a culture of "thinking positive" so as to 'purge "negative people" from the ranks...[fed into] the
bubble-itis
' of the late Noughties.
Reaction to whistleblowing organization
WikiLeaks
Wikileaks
WikiLeaks is an international self-described not-for-profit organisation that publishes submissions of private, secret, and classified media from anonymous news sources, news leaks, and whistleblowers. Its website, launched in 2006 under The Sunshine Press organisation, claimed a database of more...
led to calls not to shoot the messenger.
Similar phrases
A syntactically similar expression is "Don't shoot the piano player; he's doing the best he can". It originated around 1860 in the Wild West of the United States. During his 1883 tour of the United States,
Oscar Wilde
Oscar Wilde
Oscar Fingal O'Flahertie Wills Wilde was an Irish writer and poet. After writing in different forms throughout the 1880s, he became one of London's most popular playwrights in the early 1890s...
saw this saying on a notice in a
Leadville, Colorado
Leadville, Colorado
Leadville is a Statutory City that is the county seat of, and the only municipality in, Lake County, Colorado, United States. Situated at an elevation of , Leadville is the highest incorporated city and the second highest incorporated municipality in the United States...
, saloon. This phrase (like many witty sayings of that era) is sometimes attributed to
Mark Twain
Mark Twain
Samuel Langhorne Clemens , better known by his pen name Mark Twain, was an American author and humorist...
, but neither Wilde nor Twain ever claimed authorship.
Alternative expressions:
"Killing the messenger"
"Attacking the messenger"
"Blaming the bearer of bad tidings"
See also