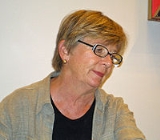 Barbara Ehrenreich
Barbara Ehrenreich
Barbara Ehrenreich (icon; born August 26, 1941,
Butte, Montana
Butte, Montana
Butte is a city in Montana and the county seat of Silver Bow County, United States. In 1977, the city and county governments consolidated to form the sole entity of Butte-Silver Bow. As of the 2010 census, Butte's population was 34,200...
is an American feminist,
democratic socialist
Democratic socialism
Democratic socialism is a description used by various socialist movements and organizations to emphasize the democratic character of their political orientation...
, and
political activist
Activism
Activism consists of intentional efforts to bring about social, political, economic, or environmental change. Activism can take a wide range of forms from writing letters to newspapers or politicians, political campaigning, economic activism such as boycotts or preferentially patronizing...
who describes herself as "a myth buster by trade," and has been called "a veteran muckraker" by the New Yorker. During the 1980s and early 1990s she was a prominent figure in the
Democratic Socialists of America
Democratic Socialists of America
Democratic Socialists of America is a social-democratic organization in the United States and the U.S. affiliate of the Socialist International, an international federation of social-democratic,democratic socialist and labor political parties and organizations.DSA was formed in 1982 by a merger of...
. She is a widely-read and award-winning
columnist
Columnist
A columnist is a journalist who writes for publication in a series, creating an article that usually offers commentary and opinions. Columns appear in newspapers, magazines and other publications, including blogs....
and essayist, and author of 21 books.
Ehrenreich was born Barbara Alexander to Isabelle Oxley and Ben Howes Alexander in Butte, Montana, which she describes as then being "a bustling, brawling, blue collar mining town."
In an interview on CSPAN, she characterized her parents as "strong union people" with two family rules: "never cross a picket line and never vote Republican." In a talk she gave in 1999, Ehrenreich called herself a "fourth-generation atheist."
"As a little girl," she told the New York Times in 1993, "I would go to school and have to decide if my parents were the evil people they were talking about, part of the Red Menace we read about in the Weekly Reader.
I complain to one of my fellow servers that I don't understand how she can go so long without food. "Well, I don't understand how you can go so long without a cigarette," she responds in a tone of reproach. Because work is what you do for others; smoking is what you do for yourself.

Ch. 1: Serving in Florida (p. 31)
In the new version of the law of supply and demand, jobs are so cheap — as measured by the pay — that a worker is encouraged to take on as many of them as she possibly can.

Ch. 2: Scrubbing in Maine (p. 60)