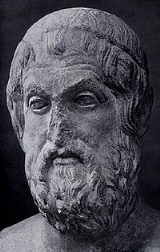 Sophocles
Sophocles
is one of three
ancient Greek
Classical Greece
Classical Greece was a 200 year period in Greek culture lasting from the 5th through 4th centuries BC. This classical period had a powerful influence on the Roman Empire and greatly influenced the foundation of Western civilizations. Much of modern Western politics, artistic thought, such as...
tragedians
Tragedy
Tragedy is a form of art based on human suffering that offers its audience pleasure. While most cultures have developed forms that provoke this paradoxical response, tragedy refers to a specific tradition of drama that has played a unique and important role historically in the self-definition of...
whose plays have survived. His first plays were written later than those of
Aeschylus
Aeschylus
Aeschylus was the first of the three ancient Greek tragedians whose work has survived, the others being Sophocles and Euripides, and is often described as the father of tragedy. His name derives from the Greek word aiskhos , meaning "shame"...
, and earlier than or contemporary with those of
Euripides
Euripides
Euripides was one of the three great tragedians of classical Athens, the other two being Aeschylus and Sophocles. Some ancient scholars attributed ninety-five plays to him but according to the Suda it was ninety-two at most...
. According to the
Suda
Suda
The Suda or Souda is a massive 10th century Byzantine encyclopedia of the ancient Mediterranean world, formerly attributed to an author called Suidas. It is an encyclopedic lexicon, written in Greek, with 30,000 entries, many drawing from ancient sources that have since been lost, and often...
, a 10th century
encyclopedia
Encyclopedia
An encyclopedia is a type of reference work, a compendium holding a summary of information from either all branches of knowledge or a particular branch of knowledge....
, Sophocles wrote 123 plays during the course of his life, but only seven have survived in a complete form:
Ajax
,
Antigone
,
Trachinian Women
,
Oedipus the King
,
Electra
,
Philoctetes
and
Oedipus at Colonus
.
Truly, to tell lies is not honorable; But when the truth entails tremendous ruin, To speak dishonorably is pardonable.

Creusa, fragment 323
Sons are the anchors of a mother's life.

Phaedra, fragment 612
No man loves life like him that's growing old.

Acrisius, fragment 64
When ice appears out of doors, and boys seize it up while it is solid, at first they experience new pleasures. But in the end their pride will not agree to let it go, but their acquisition is not good for them if it stays in their hands. In the same way an identical desire drives lovers to act and not to act.

The loves of Achilles, only surviving fragment, often quoted as "Love is like ice in the hands of children".
Nobly to live, or else nobly to die, Befits proud birth.

Line 480
Of all human ills, greatest is fortune's wayward tyranny.

Line 486
For kindness begets kindness evermore, But he from whose mind fades the memory Of benefits, noble is he no more.

Line 522
Men of ill judgement oft ignore the good That lies within their hands, till they have lost it.

Line 964
Fear? What has a man to do with fear? Chance rules our lives, and the future is all unknown. Best live as we may, from day to day.

Jocasta
I am the child of Fortune, the giver of good, and I shall not be shamed. She is my mother; my sisters are the Seasons; my rising and my falling match with theirs. Born thus, I ask to be no other man than that I am.

Oedipus