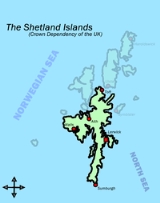 Shetland Mainland
The
Mainland
is the main
island
Island
An island or isle is any piece of sub-continental land that is surrounded by water. Very small islands such as emergent land features on atolls can be called islets, cays or keys. An island in a river or lake may be called an eyot , or holm...
of Shetland,
Scotland
Scotland
Scotland is a country that is part of the United Kingdom. Occupying the northern third of the island of Great Britain, it shares a border with England to the south and is bounded by the North Sea to the east, the Atlantic Ocean to the north and west, and the North Channel and Irish Sea to the...
. The island contains Shetland's only
burgh
Burgh
A burgh was an autonomous corporate entity in Scotland and Northern England, usually a town. This type of administrative division existed from the 12th century, when King David I created the first royal burghs. Burgh status was broadly analogous to borough status, found in the rest of the United...
,
Lerwick
Lerwick
Lerwick is the capital and main port of the Shetland Islands, Scotland, located more than 100 miles off the north coast of mainland Scotland on the east coast of the Shetland Mainland...
, and is the centre of Shetland's
ferry
Ferry
A ferry is a form of transportation, usually a boat, but sometimes a ship, used to carry primarily passengers, and sometimes vehicles and cargo as well, across a body of water. Most ferries operate on regular, frequent, return services...
and air connections.
It has an area of 374 square miles (968.7 km²), making it the third largest Scottish island and the fifth largest of the
British Isles
British Isles
The British Isles are a group of islands off the northwest coast of continental Europe that include the islands of Great Britain and Ireland and over six thousand smaller isles. There are two sovereign states located on the islands: the United Kingdom of Great Britain and Northern Ireland and...
after
Great Britain
Great Britain
Great Britain or Britain is an island situated to the northwest of Continental Europe. It is the ninth largest island in the world, and the largest European island, as well as the largest of the British Isles...
,
Ireland
Ireland
Ireland is an island to the northwest of continental Europe. It is the third-largest island in Europe and the twentieth-largest island on Earth...
,
Lewis and Harris
Lewis and Harris
Lewis and Harris in the Outer Hebrides make up the largest island in Scotland. This is the largest single island of the British Isles after Great Britain and Ireland.-Geography:...
and
Skye
Skye
Skye or the Isle of Skye is the largest and most northerly island in the Inner Hebrides of Scotland. The island's peninsulas radiate out from a mountainous centre dominated by the Cuillin hills...
.
The mainland can be broadly divided into four sections.