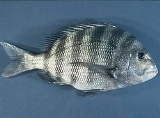 Sheepshead (fish)
See also: California sheephead

California sheephead

The California sheephead is a wrasse native to the eastern Pacific Ocean. Its range is from Monterey Bay, California to the Gulf of California, Mexico.- Description :...


(Semicossyphus pulcher) and Freshwater drum

Freshwater Drum

-Introduction:The freshwater drum, Aplodinotus grunniens, is a fish endemic to North and Central America. It is the only species in the genus Aplodinotus. The Freshwater drum is a member of the family Sciaenidae, and is the only member of the species that inhabits freshwater for its entire life...


(Aplodinotus grunniens).
The
sheepshead
,
Archosargus probatocephalus
, is a marine
fish
Fish
Fish are a paraphyletic group of organisms that consist of all gill-bearing aquatic vertebrate animals that lack limbs with digits. Included in this definition are the living hagfish, lampreys, and cartilaginous and bony fish, as well as various extinct related groups...
that grows to 30 in (760 mm), but commonly reaches 10 to 20 in. It is deep and compressed in body shape, with 5 to 6 dark bars on the side of the body over a gray background. It has sharp dorsal spines. Its diet consists of
oyster
Oyster
The word oyster is used as a common name for a number of distinct groups of bivalve molluscs which live in marine or brackish habitats. The valves are highly calcified....
s,
clam
Clam
The word "clam" can be applied to freshwater mussels, and other freshwater bivalves, as well as marine bivalves.In the United States, "clam" can be used in several different ways: one, as a general term covering all bivalve molluscs...
s, and other bivalves, and
barnacle
Barnacle
A barnacle is a type of arthropod belonging to infraclass Cirripedia in the subphylum Crustacea, and is hence related to crabs and lobsters. Barnacles are exclusively marine, and tend to live in shallow and tidal waters, typically in erosive settings. They are sessile suspension feeders, and have...
s,
fiddler crab
Fiddler crab
A fiddler crab, sometimes known as a calling crab, may be any of approximately 100 species of semi-terrestrial marine crabs which make up the genus Uca. As members of the family Ocypodidae, fiddler crabs are most closely related to the ghost crabs of the genus Ocypode. This entire group is composed...
s, and other
crustacean
Crustacean
Crustaceans form a very large group of arthropods, usually treated as a subphylum, which includes such familiar animals as crabs, lobsters, crayfish, shrimp, krill and barnacles. The 50,000 described species range in size from Stygotantulus stocki at , to the Japanese spider crab with a leg span...
s. It has a hard
mouth
Mouth
The mouth is the first portion of the alimentary canal that receives food andsaliva. The oral mucosa is the mucous membrane epithelium lining the inside of the mouth....
, with several rows of stubby
teeth
Tooth
Teeth are small, calcified, whitish structures found in the jaws of many vertebrates that are used to break down food. Some animals, particularly carnivores, also use teeth for hunting or for defensive purposes. The roots of teeth are embedded in the Mandible bone or the Maxillary bone and are...
, which help crush prey.
Fishing
Although the Sheepshead Bay section of
Brooklyn
Brooklyn
Brooklyn is the most populous of New York City's five boroughs, with nearly 2.6 million residents, and the second-largest in area. Since 1896, Brooklyn has had the same boundaries as Kings County, which is now the most populous county in New York State and the second-most densely populated...
, in
New York City
New York City
New York is the most populous city in the United States and the center of the New York Metropolitan Area, one of the most populous metropolitan areas in the world. New York exerts a significant impact upon global commerce, finance, media, art, fashion, research, technology, education, and...
, was named after the fish, it is almost entirely a southern species: its range extends from the Mid-Atlantic to
Texas
Texas
Texas is the second largest U.S. state by both area and population, and the largest state by area in the contiguous United States.The name, based on the Caddo word "Tejas" meaning "friends" or "allies", was applied by the Spanish to the Caddo themselves and to the region of their settlement in...
. As sheepshead feed on bivalves & crustaceans, successful baits include
shrimp
Shrimp
Shrimp are swimming, decapod crustaceans classified in the infraorder Caridea, found widely around the world in both fresh and salt water. Adult shrimp are filter feeding benthic animals living close to the bottom. They can live in schools and can swim rapidly backwards. Shrimp are an important...
,
sand fleas
Emerita (genus)
Emerita is a small genus of decapod crustaceans, known as mole crabs. These are small animals that burrow in the sand in the wash zone and use their antennae for filter feeding.-Description:...
(molecrabs),
clam
Clam
The word "clam" can be applied to freshwater mussels, and other freshwater bivalves, as well as marine bivalves.In the United States, "clam" can be used in several different ways: one, as a general term covering all bivalve molluscs...
s, fiddler crabs, and
mussel
Mussel
The common name mussel is used for members of several families of clams or bivalvia mollusca, from saltwater and freshwater habitats. These groups have in common a shell whose outline is elongated and asymmetrical compared with other edible clams, which are often more or less rounded or oval.The...
s. Sheepshead have a knack for stealing bait, so a small hook is necessary. Locating sheepshead in a boat is not difficult: fishermen look for rocky bottoms or places with obstructions, and they try around
jetties
Jetty
A jetty is any of a variety of structures used in river, dock, and maritime works that are generally carried out in pairs from river banks, or in continuation of river channels at their outlets into deep water; or out into docks, and outside their entrances; or for forming basins along the...
and the pilings of
bridge
Bridge
A bridge is a structure built to span physical obstacles such as a body of water, valley, or road, for the purpose of providing passage over the obstacle...
s &
pier
Pier
A pier is a raised structure, including bridge and building supports and walkways, over water, typically supported by widely spread piles or pillars...
s. The average weight of a sheepshead is 3 to 4 pounds, but some individuals reach the range of 10 to 15 pounds. They are edible.