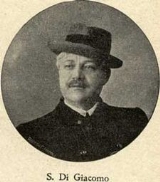 Salvatore Di Giacomo
Salvatore Di Giacomo
was a Neapolitan
poet
Poet
A poet is a person who writes poetry. A poet's work can be literal, meaning that his work is derived from a specific event, or metaphorical, meaning that his work can take on many meanings and forms. Poets have existed since antiquity, in nearly all languages, and have produced works that vary...
,
songwriter
Songwriter
A songwriter is an individual who writes both the lyrics and music to a song. Someone who solely writes lyrics may be called a lyricist, and someone who only writes music may be called a composer...
and
playwright
Playwright
A playwright, also called a dramatist, is a person who writes plays.The term is not a variant spelling of "playwrite", but something quite distinct: the word wright is an archaic English term for a craftsman or builder...
.
Di Giacomo is credited as being one of those responsible for renewing Neapolitan dialect poetry at the beginning of the 20th century. The language of Salvatore Di Giacomo is, however, not the everyday
Neapolitan language
Neapolitan language
Neapolitan is the language of the city and region of Naples , and Campania. On October 14, 2008 a law by the Region of Campania stated that the Neapolitan language had to be protected....
of his contemporaries, it has a distinct 18th-century flavour to it, archaisms that recall the golden age of Neapolitan culture, the period between 1750-1800, when Neapolitan was the language of the best-loved form of musical entertainment in
Italy
Italy
Italy , officially the Italian Republic languages]] under the European Charter for Regional or Minority Languages. In each of these, Italy's official name is as follows:;;;;;;;;), is a unitary parliamentary republic in South-Central Europe. To the north it borders France, Switzerland, Austria and...
, the Neapolitan
comic opera
Comic opera
Comic opera denotes a sung dramatic work of a light or comic nature, usually with a happy ending.Forms of comic opera first developed in late 17th-century Italy. By the 1730s, a new operatic genre, opera buffa, emerged as an alternative to opera seria...
, and was even the language of the
Bourbon
House of Bourbon
The House of Bourbon is a European royal house, a branch of the Capetian dynasty . Bourbon kings first ruled Navarre and France in the 16th century. By the 18th century, members of the Bourbon dynasty also held thrones in Spain, Naples, Sicily, and Parma...
court of
Naples
Naples
Naples is a city in Southern Italy, situated on the country's west coast by the Gulf of Naples. Lying between two notable volcanic regions, Mount Vesuvius and the Phlegraean Fields, it is the capital of the region of Campania and of the province of Naples...
, itself
Early career
Di Giacomo was born in
Naples
Naples
Naples is a city in Southern Italy, situated on the country's west coast by the Gulf of Naples. Lying between two notable volcanic regions, Mount Vesuvius and the Phlegraean Fields, it is the capital of the region of Campania and of the province of Naples...
.
He studied
medicine
Medicine
Medicine is the science and art of healing. It encompasses a variety of health care practices evolved to maintain and restore health by the prevention and treatment of illness....
briefly, largely to satisfy his father's wishes, but gave it up for the life of a poet. He then founded a literary journal, Il Fantasio, in 1880, and, like many young writers, had a varied
apprenticeship
Apprenticeship
Apprenticeship is a system of training a new generation of practitioners of a skill. Apprentices or protégés build their careers from apprenticeships...
, working in a print shop, as a
journalist
Journalist
A journalist collects and distributes news and other information. A journalist's work is referred to as journalism.A reporter is a type of journalist who researchs, writes, and reports on information to be presented in mass media, including print media , electronic media , and digital media A...
and publishing some of his early verse in the Neapolitan daily, il Mattino. He even wrote a series of youthful stories à la E.T.A. Hoffman and
Edgar Allan Poe
Edgar Allan Poe
Edgar Allan Poe was an American author, poet, editor and literary critic, considered part of the American Romantic Movement. Best known for his tales of mystery and the macabre, Poe was one of the earliest American practitioners of the short story and is considered the inventor of the detective...
set in an imaginary
German
Germany
Germany , officially the Federal Republic of Germany , is a federal parliamentary republic in Europe. The country consists of 16 states while the capital and largest city is Berlin. Germany covers an area of 357,021 km2 and has a largely temperate seasonal climate...
town
Town
A town is a human settlement larger than a village but smaller than a city. The size a settlement must be in order to be called a "town" varies considerably in different parts of the world, so that, for example, many American "small towns" seem to British people to be no more than villages, while...
inhabited by sinister students and mad
doctors
Physician
A physician is a health care provider who practices the profession of medicine, which is concerned with promoting, maintaining or restoring human health through the study, diagnosis, and treatment of disease, injury and other physical and mental impairments...
.
He had a lifelong love of libraries as well as literary and historical research, founding, in the course of his career, the Lucchese section of the National
library
Library
In a traditional sense, a library is a large collection of books, and can refer to the place in which the collection is housed. Today, the term can refer to any collection, including digital sources, resources, and services...
in Naples and holding the position of assistant
librarian
Librarian
A librarian is an information professional trained in library and information science, which is the organization and management of information services or materials for those with information needs...
at the library of the
San Pietro a Maiella music conservatory
Music Conservatories of Naples
The Music Conservatory of Naples is a music institution in Naples, southern Italy. It is currently located in the complex of San Pietro a Majella.-San Pietro a Majella:...
. He was, with
Benedetto Croce
Benedetto Croce
Benedetto Croce was an Italian idealist philosopher, and occasionally also politician. He wrote on numerous topics, including philosophy, history, methodology of history writing and aesthetics, and was a prominent liberal, although he opposed laissez-faire free trade...
, one of the founders of the literary journal, Napoli Nobilissima. He received a critical boost in 1903 when Croce published a defense of dialect poetry. Di Giacomo published no anthology of his own collected poems until 1907, when he was 47 years old.
Plays and lyrics
Di Giacomo's plays, such as A San Francesco and Assunta Spina, are bitter stories about turn-of-the-century life in the Naples of the
Risanamento
Risanamento
Risanamento is a name given to the large scale re-planning of Italian cities following unification. Particular examples are the Risanamento of Florence and Naples....
(the massive, decades-long urban renewal of the city that displaced tens of thousands of persons), workers whose health is ruined by their labors, prostitution, betrayal, prison, crime, etc. As a song lyricist, he wrote easily and abundantly for the famous Neapolitan song festival of
Piedigrotta
Piedigrotta
Piedigrotta Literally, "at the foot of the grotto". A section of the Mergellina quarter of Naples, Italy, so-called for the presence of the Church of the Madonna of Piedigrotta near the entrance to an ancient Roman tunnel...
, a fact that still leads some critics to dismiss him as a lightweight.
Use of language
Di Giacomo seemingly viewed standard language as necessary for modern commerce and politics, but almost by definition devoid of the life that people bring to the language they speak, the vernacular turn of phrase that exists only at a particular place in a particular time for a particular people. He closed his own essay on Neapolitan dialect poetry, written in 1900, with this passionate quote from
Dante
DANTE
Delivery of Advanced Network Technology to Europe is a not-for-profit organisation that plans, builds and operates the international networks that interconnect the various national research and education networks in Europe and surrounding regions...
: "With the gifts God gives us from Heaven, we shall try to renew the language of the common people."
Sources
This entry is an abridgement of an
article
on another website and has been placed here by the author and copyright owner of that article.