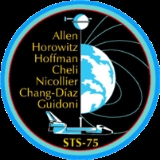 STS-76
STS-76
was
NASA
NASA
The National Aeronautics and Space Administration is the agency of the United States government that is responsible for the nation's civilian space program and for aeronautics and aerospace research...
's 76th
Space Shuttle
Space Shuttle
The Space Shuttle was a manned orbital rocket and spacecraft system operated by NASA on 135 missions from 1981 to 2011. The system combined rocket launch, orbital spacecraft, and re-entry spaceplane with modular add-ons...
mission, and the 16th mission for
Atlantis
Space Shuttle Atlantis
The Space Shuttle Atlantis is a retired Space Shuttle orbiter in the Space Shuttle fleet belonging to the National Aeronautics and Space Administration , the spaceflight and space exploration agency of the United States...
. STS-76 launched on 22 March 1996 at 3:13 am
EST (UTC −5)
Eastern Time Zone
The Eastern Time Zone of the United States and Canada is a time zone that falls mostly along the east coast of North America. Its UTC time offset is −5 hrs during standard time and −4 hrs during daylight saving time...
from
Kennedy Space Center
Kennedy Space Center
The John F. Kennedy Space Center is the NASA installation that has been the launch site for every United States human space flight since 1968. Although such flights are currently on hiatus, KSC continues to manage and operate unmanned rocket launch facilities for America's civilian space program...
launch pad 39B. STS-76 lasted over 9 days, traveled about 3800000 miles (6,115,492 km) while orbiting Earth an estimated 145 times, and landing at 5:28 am
PST (UTC −8)
Pacific Time Zone
The Pacific Time Zone observes standard time by subtracting eight hours from Coordinated Universal Time . The clock time in this zone is based on the mean solar time of the 120th meridian west of the Greenwich Observatory. During daylight saving time, its time offset is UTC-7.In the United States...
on 31 March 1996 at
Edwards Air Force Base
Edwards Air Force Base
Edwards Air Force Base is a United States Air Force base located on the border of Kern County, Los Angeles County, and San Bernardino County, California, in the Antelope Valley. It is southwest of the central business district of North Edwards, California and due east of Rosamond.It is named in...
runway 22.
The flight was the third Shuttle mission to dock with the
Russia
Russia
Russia or , officially known as both Russia and the Russian Federation , is a country in northern Eurasia. It is a federal semi-presidential republic, comprising 83 federal subjects...
n Space Station Mir, as part of the
Shuttle-Mir Program
Shuttle-Mir Program
The Shuttle–Mir Program was a collaborative space program between Russia and the United States, which involved American Space Shuttles visiting the Russian space station Mir, Russian cosmonauts flying on the shuttle and an American astronaut flying aboard a Soyuz spacecraft to engage in...
, carrying astronaut Shanon Lucid to the orbital laboratory to replace NASA astronaut Norm Thagard. STS-76 also carried a
SPACEHAB
SPACEHAB
Astrotech Corporation , formerly Spacehab Inc., is an aerospace company headquartered in Austin, Texas which provides commercial space products and services to NASA, the U.S. Department of Defense, international space agencies, and global commercial customers...
single module along with Lucid, and on flight day 6 Linda Godwin and Michael Clifford performed the first U.S. spacewalk around two docked spacecraft.
Crew
Mission parameters
Mass

Mass

Mass can be defined as a quantitive measure of the resistance an object has to change in its velocity.In physics, mass commonly refers to any of the following three properties of matter, which have been shown experimentally to be equivalent:...


:

Orbiter Liftoff: 111740 kilograms (246,344.5 lb)
Orbiter Landing: 95396 kilograms (210,312.2 lb)
Payload: 6753 kilograms (14,887.8 lb)

Perigee

Perigee

Perigee is the point at which an object makes its closest approach to the Earth.. Often the term is used in a broader sense to define the point in an orbit where the orbiting body is closest to the body it orbits. The opposite is the apogee, the farthest or highest point.The Greek prefix "peri"...


: 389 kilometres (241.7 mi)
Apogee: 411 kilometres (255.4 mi)
Inclination

Inclination

Inclination in general is the angle between a reference plane and another plane or axis of direction.-Orbits:The inclination is one of the six orbital parameters describing the shape and orientation of a celestial orbit...


: 51.6°
Period

Orbital period

The orbital period is the time taken for a given object to make one complete orbit about another object.When mentioned without further qualification in astronomy this refers to the sidereal period of an astronomical object, which is calculated with respect to the stars.There are several kinds of...


: 92.5 min
3rd Mir docking mission
Docked: 24 March 1996, 02:34:05 UTC
Undocked: 29 March 1996, 01:08:03 UTC
Time Docked: 4 days, 22 h, 33 min, 58 s
Space walks
Godwin and Clifford – EVA 1
EVA 1 Start: 27 March 1996 – 06:34 UTC
EVA 1 End: 27 – 12 March:36 UTC
Duration: 6 hours, 02 minutes
Mission highlights
Third linkup between U.S. Space Shuttle and Russian Space Station
Mir
Mir
Mir was a space station operated in low Earth orbit from 1986 to 2001, at first by the Soviet Union and then by Russia. Assembled in orbit from 1986 to 1996, Mir was the first modular space station and had a greater mass than that of any previous spacecraft, holding the record for the...
highlighted by transfer of veteran astronaut
Shannon Lucid
Shannon Lucid
Shannon Matilda Wells Lucid is an American biochemist and a NASA astronaut. At one time, she held the record for the longest duration stay in space by an American, as well as by a woman...
to Mir to become first American woman to live on station. Her approximately four-and-a-half month stay also eclipsed long-duration U.S. spaceflight record set by first American to live on Mir, Norm Thagard. Lucid was succeeded by astronaut John Blaha during
STS-79
STS-79
STS-79 was a Space Shuttle Atlantis mission to the Mir space station. It was the first shuttle mission to dock with Mir once it was fully assembled.-Crew:-Mission parameters:*Mass:**Spacehab-Double Module **Orbiter Docking System...
in August, giving her distinction of membership in four different flight crews—two U.S. and two Russian—and her stay on Mir kicked off continuous U.S. presence in space for the next two years.
Payload bay configuration included Orbiter Docking System in forward area and
SPACEHAB
SPACEHAB
Astrotech Corporation , formerly Spacehab Inc., is an aerospace company headquartered in Austin, Texas which provides commercial space products and services to NASA, the U.S. Department of Defense, international space agencies, and global commercial customers...
single module toward the aft. STS-76 marked first flight of SPACEHAB pressurized module to support Shuttle-Mir dockings; single module primarily served as stowage area for large supply of equipment slated for transfer to space station, but also carried
European Space Agency
European Space Agency
The European Space Agency , established in 1975, is an intergovernmental organisation dedicated to the exploration of space, currently with 18 member states...
's Biorack experiment rack for on-orbit research.
Atlantis hooked up with Mir on flight day three, following same R-bar approach employed on
STS-74
STS-74
STS-74 was a Space Shuttle Atlantis mission to the Mir space station. It was the fourth mission of the US/Russian Shuttle-Mir Program, and it carried out the second docking of a space shuttle to Mir. Atlantis lifted off for the mission on 12 November 1995 from Kennedy Space Center launch pad 39A,...
. Actual connection between Orbiter Docking System and Docking Module attached to Kristall module docking port occurred at 9:34 pm EST, 24 March. Hatches opened a little less than two hours later. Awaiting Atlantis' arrival were Mir 21 Commander
Yuri Onufrienko
Yuri Onufrienko
Col. Yuri Ivanovich Onufriyenko is a Russian cosmonaut. He is a veteran of two extended spaceflights, aboard the space station Mir in 1996 and aboard the International Space Station in 2001-2002.- Personal :...
and Flight Engineer Yuri Usachev, who were launched to Mir on 21 Feb.. In July, they were joined by Mir 22 Commander Gennady Manakov, Flight Engineer
Pavel Vinogradov
and
CNES
CNES
The is the French government space agency . Established under President Charles de Gaulle in 1961, its headquarters are located in central Paris and it is under the supervision of the French Ministries of Defence and Research...
astronaut
Claudie Andre-Deshays
Claudie Haigneré
Claudie Haigneré is a French doctor, politician, and former astronaut with the Centre National d'Études Spatiales and the European Space Agency ....
. After two-week stay, Andre-Deshays would return to Earth with Onufrienko and Usachev while Manakov and Vinogradov remained on board with Lucid.
During five days of docked operations, about 1,500 pounds (680 kilograms) of water and two tons of scientific equipment, logistical material and resupply items transferred to Mir; experiment samples and miscellaneous equipment brought over to orbiter. In Biorack, 11 separate scientific investigations were conducted. Study topics included effect of microgravity and cosmic radiation on plants, tissues, cells, bacteria and insects and effects of microgravity on bone loss. Also transferred to station were Mir Glovebox Stowage (MGBX) equipment to replenish glovebox already on station; Queen's University Experiment in Liquid Diffusion (QUELD) flown in orbiter middeck locker; and High Temperature Liquid Phase Sintering (LPS) experiment.
On flight day six, Godwin and Clifford conducted first U.S. extravehicular activity (EVA) around two mated spacecraft. During six-hour, two-minute, 28-second EVA, they attached four
Mir Environmental Effects Payload
Mir Environmental Effects Payload
The Mir Environmental Effects Payload was a set of four experiments installed on the Russian space station Mir from 1996 to 1997 to study the effects of space debris impacts and exposure to the space environment on a variety of materials...
(MEEP) experiments to station's Docking Module. Experiments designed to characterize environment around Mir over an 18-month period. Godwin and Clifford wore
Simplified Aid for EVA Rescue
Simplified Aid for EVA Rescue
Simplified Aid for EVA Rescue is a small, self-contained, propulsive backpack system used to provide free-flying mobility for a Space Shuttle or International Space Station crewmember during extra-vehicular activity...
(SAFER) propulsive devices first flight-tested during
STS-64
STS-64
STS-64 was a Space Shuttle Discovery mission to perform multiple experiment packages. It was launched from Kennedy Space Center, Florida, on 9 September 1994.-Crew:-Mission parameters:*Mass: payload*Perigee: *Apogee:...
.
Other payloads:
Shuttle Amateur Radio Experiment
Shuttle Amateur Radio Experiment
The Shuttle Amateur Radio Experiment , later called the Space Amateur Radio Experiment, was a program that promoted and supported the use of amateur radio by astronauts in low earth orbit aboard the United States Space Shuttle to communicate with other amateur radio stations around the world...
(SAREX); KidSat, a project that gives middle school students opportunity to participate in space exploration; and Trapped Ions in Space (TRIS), a Naval Research Laboratory experiment flown in Get Away Special canister in cargo bay.
See also
Space science

Space science

The term space science may mean:* The study of issues specifically related to space travel and space exploration, including space medicine.* Science performed in outer space ....



Space shuttle

Space Shuttle

The Space Shuttle was a manned orbital rocket and spacecraft system operated by NASA on 135 missions from 1981 to 2011. The system combined rocket launch, orbital spacecraft, and re-entry spaceplane with modular add-ons...



List of human spaceflights chronologically
External links