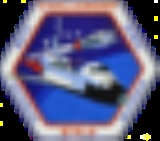 STS-7
STS-7
was a
NASA
NASA
The National Aeronautics and Space Administration is the agency of the United States government that is responsible for the nation's civilian space program and for aeronautics and aerospace research...
Space Shuttle
Space Shuttle
The Space Shuttle was a manned orbital rocket and spacecraft system operated by NASA on 135 missions from 1981 to 2011. The system combined rocket launch, orbital spacecraft, and re-entry spaceplane with modular add-ons...
mission, during which
Space Shuttle Challenger
Space Shuttle Challenger
Space Shuttle Challenger was NASA's second Space Shuttle orbiter to be put into service, Columbia having been the first. The shuttle was built by Rockwell International's Space Transportation Systems Division in Downey, California...
deployed several
satellite
Satellite
In the context of spaceflight, a satellite is an object which has been placed into orbit by human endeavour. Such objects are sometimes called artificial satellites to distinguish them from natural satellites such as the Moon....
s into orbit. The shuttle launched from
Kennedy Space Center
Kennedy Space Center
The John F. Kennedy Space Center is the NASA installation that has been the launch site for every United States human space flight since 1968. Although such flights are currently on hiatus, KSC continues to manage and operate unmanned rocket launch facilities for America's civilian space program...
on 18 June 1983, and landed at
Edwards Air Force Base
Edwards Air Force Base
Edwards Air Force Base is a United States Air Force base located on the border of Kern County, Los Angeles County, and San Bernardino County, California, in the Antelope Valley. It is southwest of the central business district of North Edwards, California and due east of Rosamond.It is named in...
on 24 June. STS-7 was the seventh shuttle mission, and was
Challenger
'
s second mission. It was also the first
American
United States
The United States of America is a federal constitutional republic comprising fifty states and a federal district...
spaceflight involving a female
astronaut
Astronaut
An astronaut or cosmonaut is a person trained by a human spaceflight program to command, pilot, or serve as a crew member of a spacecraft....
.
Crew
Mission parameters
Mass

Mass

Mass can be defined as a quantitive measure of the resistance an object has to change in its velocity.In physics, mass commonly refers to any of the following three properties of matter, which have been shown experimentally to be equivalent:...


:

Orbiter Liftoff: 113025 kilograms (249,177.5 lb)
Orbiter Landing: 92550 kilograms (204,037.8 lb)
Payload: 16839 kilograms (37,123.6 lb)

Perigee

Perigee

Perigee is the point at which an object makes its closest approach to the Earth.. Often the term is used in a broader sense to define the point in an orbit where the orbiting body is closest to the body it orbits. The opposite is the apogee, the farthest or highest point.The Greek prefix "peri"...


: 299 kilometres (185.8 mi)
Apogee: 307 kilometres (190.8 mi)
Inclination

Inclination

Inclination in general is the angle between a reference plane and another plane or axis of direction.-Orbits:The inclination is one of the six orbital parameters describing the shape and orientation of a celestial orbit...


: 28.3°
Period

Orbital period

The orbital period is the time taken for a given object to make one complete orbit about another object.When mentioned without further qualification in astronomy this refers to the sidereal period of an astronomical object, which is calculated with respect to the stars.There are several kinds of...


: 90.6 min
Mission summary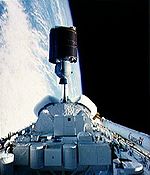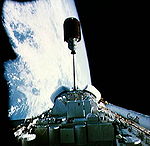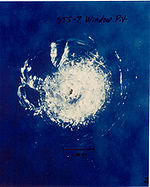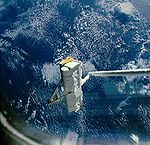 Challenger
's second flight began at 7:33 am EDT, 18 June 1983, with an on-time liftoff. It was the first spaceflight of an American woman (
Sally K. Ride
Sally Ride
Sally Kristen Ride is an American physicist and a former NASA astronaut. Ride joined NASA in 1978, and in 1983 became the first American woman—and then-youngest American, at 32—to enter space...
), the largest crew to fly in a single spacecraft up to that time (five people), and the first flight that included members of NASA's Group 8 astronaut class selected in 1978 to fly the Space Shuttle.
The crew of STS-7 included Robert L. Crippen, commander, making his second Shuttle flight; Frederick H. Hauck, pilot; Ride,
John M. Fabian
John M. Fabian
John McCreary Fabian is a former NASA Astronaut and Air Force officer who flew two space shuttle missions and on the development of the shuttle's robotic arm. He later led the Air Force's space operations....
and
Norman Thagard
Norman Thagard
Norman Earl Thagard is an American scientist and former NASA astronaut. He is the first American to ride to space on board a Russian vehicle, and can be considered the first American cosmonaut...
, all mission specialists. Thagard conducted medical tests of the
Space Adaptation Syndrome
Space adaptation syndrome
Space adaptation syndrome or space sickness is a condition experienced by around half of space travelers during adaptation to weightlessness. It is related to motion sickness, as the vestibular system adapts to weightlessness.- Cause and remedy :...
, a bout of
nausea
Nausea
Nausea , is a sensation of unease and discomfort in the upper stomach with an involuntary urge to vomit. It often, but not always, precedes vomiting...
frequently experienced by astronauts during the early phase of a space flight.
Two
communications satellite
Communications satellite
A communications satellite is an artificial satellite stationed in space for the purpose of telecommunications...
s – Anik C-2 for Telesat of
Canada
Canada
Canada is a North American country consisting of ten provinces and three territories. Located in the northern part of the continent, it extends from the Atlantic Ocean in the east to the Pacific Ocean in the west, and northward into the Arctic Ocean...
, and Palapa B-l for
Indonesia
Indonesia
Indonesia , officially the Republic of Indonesia , is a country in Southeast Asia and Oceania. Indonesia is an archipelago comprising approximately 13,000 islands. It has 33 provinces with over 238 million people, and is the world's fourth most populous country. Indonesia is a republic, with an...
– were successfully deployed during the first two days of the mission. The mission also carried the first Shuttle Pallet Satellite (SPAS-l) built by Messerschmitt-Bolkow-Blohm, a
West German
West Germany
West Germany is the common English, but not official, name for the Federal Republic of Germany or FRG in the period between its creation in May 1949 to German reunification on 3 October 1990....
aerospace firm. SPAS-l was unique in that it was designed to operate in the payload bay or be deployed by the RMS as a free-flying satellite. It carried 10 experiments to study formation of metal alloys in microgravity, the operation of heat pipes, instruments for remote sensing observations, and a mass spectrometer to identify various gases in the payload bay. It was deployed by the RMS and flew alongside and over
Challenger
for several hours, performing various maneuvers, while a U.S.-supplied camera took pictures from the SPAS-1 of the orbiter. The RMS later grappled the pallet and returned it to the payload bay.
STS-7 also carried seven
GAS
Getaway Special
Getaway Special was a NASA program that offered interested individuals, or groups, opportunities to fly small experiments aboard the Space Shuttle...
canisters, which contained a wide variety of experiments, as well as the OSTA-2 payload, a joint U.S.-West German scientific pallet payload. Finally, the orbiter's
Ku-band
Ku band
The Kμ band is a portion of the electromagnetic spectrum in the microwave range of frequencies. This symbol refers to —in other words, the band directly below the K-band...
antenna was able to relay data through the Tracking and Data Relay Satellite to a ground terminal for the first time.
STS-7 was scheduled to make the first Shuttle landing at
Kennedy Space Center
Kennedy Space Center
The John F. Kennedy Space Center is the NASA installation that has been the launch site for every United States human space flight since 1968. Although such flights are currently on hiatus, KSC continues to manage and operate unmanned rocket launch facilities for America's civilian space program...
's then-new Shuttle Landing Facility. However, unacceptable weather forced a change to Runway 23 at Edwards AFB. The landing took place on 24 June 1983, at 6:57 am PDT. The mission lasted 6 days, 2 hours, 23 minutes, and 59 seconds, and covered about 2.2 million miles during 97 orbits of the Earth.
Challenger
was returned to KSC on 29 June.
Incidents
While
Challenger
was on-orbit, one of its windows was damaged by
space debris
Space debris
Space debris, also known as orbital debris, space junk, and space waste, is the collection of objects in orbit around Earth that were created by humans but no longer serve any useful purpose. These objects consist of everything from spent rocket stages and defunct satellites to erosion, explosion...
.
Mission insignia
The seven white stars in the black field of the mission patch, as well as the arm extending from the shuttle in the shape of a 7, indicate the flight's numerical designation in the Space Transportation System's mission sequence. The five-armed symbol on the right side illustrates the four male/one female crew.
Wake-up calls
NASA began a tradition of playing music to astronauts during the Gemini program, and first used music to wake up a flight crew during
Apollo 15
Apollo 15
Apollo 15 was the ninth manned mission in the American Apollo space program, the fourth to land on the Moon and the eighth successful manned mission. It was the first of what were termed "J missions", long duration stays on the Moon with a greater focus on science than had been possible on previous...
. Each track is specially chosen, often by the astronauts' families, and usually has a special meaning to an individual member of the crew, or is applicable to their daily activities.
Flight Day
Song
Artist/Composer
Played for
Day 2
"University of Texas Fight Song"
University of Texas Band
Bob Crippen
Day 3
"Tufts Tonia's Day"
the Tufts University Beelzebubs
Rick Hauck
Day 4
"When You're Smiling

When You're Smiling

"When You're Smiling" is a song by Larry Shay, Mark Fisher, and Joe Goodwin , and made famous by Louis Armstrong, who recorded it at least three times, in 1929, 1932, and 1956...


"
Day 5
"Washington State University Cougar Fight Song"
Washington State University Band
John Fabian
Day 6
"Stanford Hymn"
Leland Stanford Junior University Marching Band
Sally Ride

Sally Ride

Sally Kristen Ride is an American physicist and a former NASA astronaut. Ride joined NASA in 1978, and in 1983 became the first American woman—and then-youngest American, at 32—to enter space...



Day 7
"Florida State University Fight Song"
Florida State University Marching Chiefs.
Norm Thagard
See also
Spaceflight

Spaceflight

Spaceflight is the act of travelling into or through outer space. Spaceflight can occur with spacecraft which may, or may not, have humans on board. Examples of human spaceflight include the Russian Soyuz program, the U.S. Space shuttle program, as well as the ongoing International Space Station...



Space Shuttle program

Space Shuttle program

NASA's Space Shuttle program, officially called Space Transportation System , was the United States government's manned launch vehicle program from 1981 to 2011...



Space Shuttle Challenger

Space Shuttle Challenger

Space Shuttle Challenger was NASA's second Space Shuttle orbiter to be put into service, Columbia having been the first. The shuttle was built by Rockwell International's Space Transportation Systems Division in Downey, California...



List of human spaceflights chronologically
External links