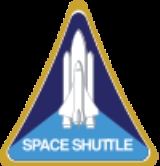 Space Shuttle program
NASA
NASA
The National Aeronautics and Space Administration is the agency of the United States government that is responsible for the nation's civilian space program and for aeronautics and aerospace research...
's
Space Shuttle program
, officially called
Space Transportation System
(
STS
), was the United States government's
manned
Human spaceflight
Human spaceflight is spaceflight with humans on the spacecraft. When a spacecraft is manned, it can be piloted directly, as opposed to machine or robotic space probes and remotely-controlled satellites....
launch vehicle
Launch vehicle
In spaceflight, a launch vehicle or carrier rocket is a rocket used to carry a payload from the Earth's surface into outer space. A launch system includes the launch vehicle, the launch pad and other infrastructure....
program from 1981 to 2011. The winged
Space Shuttle orbiter
Space Shuttle Orbiter
The Space Shuttle orbiter was the orbital spacecraft of the Space Shuttle program operated by NASA, the space agency of the United States. The orbiter was a reusable winged "space-plane", a mixture of rockets, spacecraft, and aircraft...
was launched vertically, usually carrying four to seven
astronaut
Astronaut
An astronaut or cosmonaut is a person trained by a human spaceflight program to command, pilot, or serve as a crew member of a spacecraft....
s (although eight have been carried) and up to 50,000
lb
Pound (mass)
The pound or pound-mass is a unit of mass used in the Imperial, United States customary and other systems of measurement...
(22,700 kg) of payload into
low Earth orbit
Low Earth orbit
A low Earth orbit is generally defined as an orbit within the locus extending from the Earth's surface up to an altitude of 2,000 km...
(LEO). When its mission was complete, the
shuttle
Space Shuttle
The Space Shuttle was a manned orbital rocket and spacecraft system operated by NASA on 135 missions from 1981 to 2011. The system combined rocket launch, orbital spacecraft, and re-entry spaceplane with modular add-ons...
could independently move itself out of orbit using its
Maneuvering System
Space Shuttle Orbital Maneuvering System
The Space Shuttle Orbital Maneuvering System, or OMS , is a system of rocket engines designed and manufactured by Aerojet for use on the space shuttle orbiter for orbital injection and modifying its orbit. It consists of two "packs" at the back of the Shuttle, the large lumps on either side of the...
(it oriented itself appropriately and fired its main OMS engines, thus slowing it down) and
re-enter
Atmospheric reentry
Atmospheric entry is the movement of human-made or natural objects as they enter the atmosphere of a celestial body from outer space—in the case of Earth from an altitude above the Kármán Line,...
the
Earth
Earth
Earth is the third planet from the Sun, and the densest and fifth-largest of the eight planets in the Solar System. It is also the largest of the Solar System's four terrestrial planets...
's atmosphere.