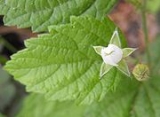 Rubus leucodermis
Rubus leucodermis
is a species of
Rubus
Rubus
Rubus is a large genus of flowering plants in the rose family, Rosaceae, subfamily Rosoideae. Raspberries, blackberries, and dewberries are common, widely distributed members of the genus. Most of these plants have woody stems with prickles like roses; spines, bristles, and gland-tipped hairs are...
native to western
North America
North America
North America is a continent wholly within the Northern Hemisphere and almost wholly within the Western Hemisphere. It is also considered a northern subcontinent of the Americas...
, from
British Columbia
British Columbia
British Columbia is the westernmost of Canada's provinces and is known for its natural beauty, as reflected in its Latin motto, Splendor sine occasu . Its name was chosen by Queen Victoria in 1858...
,
Canada
Canada
Canada is a North American country consisting of ten provinces and three territories. Located in the northern part of the continent, it extends from the Atlantic Ocean in the east to the Pacific Ocean in the west, and northward into the Arctic Ocean...
south to
California
California
California is a state located on the West Coast of the United States. It is by far the most populous U.S. state, and the third-largest by land area...
,
New Mexico
New Mexico
New Mexico is a state located in the southwest and western regions of the United States. New Mexico is also usually considered one of the Mountain States. With a population density of 16 per square mile, New Mexico is the sixth-most sparsely inhabited U.S...
and
Mexico
Mexico
The United Mexican States , commonly known as Mexico , is a federal constitutional republic in North America. It is bordered on the north by the United States; on the south and west by the Pacific Ocean; on the southeast by Guatemala, Belize, and the Caribbean Sea; and on the east by the Gulf of...
. It is closely related to the eastern Black Raspberry
Rubus occidentalis
Rubus occidentalis
Rubus occidentalis is a species of Rubus native to eastern North America. Its common name black raspberry is shared with the closely related western American species Rubus leucodermis...
.
It is a
deciduous
Deciduous
Deciduous means "falling off at maturity" or "tending to fall off", and is typically used in reference to trees or shrubs that lose their leaves seasonally, and to the shedding of other plant structures such as petals after flowering or fruit when ripe...
shrub
Shrub
A shrub or bush is distinguished from a tree by its multiple stems and shorter height, usually under 5–6 m tall. A large number of plants may become either shrubs or trees, depending on the growing conditions they experience...
growing to 0.5-2 m tall, with
thorny
Thorns, spines, and prickles
In botanical morphology, thorns, spines, and prickles are hard structures with sharp, or at least pointed, ends. In spite of this common feature, they differ in their growth and development on the plant; they are modified versions of different plant organs, stems, stipules, leaf veins, or hairs...
shoots. While the crown is perennial, the canes are
biennial
Biennial plant
A biennial plant is a flowering plant that takes two years to complete its biological lifecycle. In the first year the plant grows leaves, stems, and roots , then it enters a period of dormancy over the colder months. Usually the stem remains very short and the leaves are low to the ground, forming...
, growing vegetatively one year, flowering and fruiting the second and then dying. Like with other dark raspberries, the tips of the 1st year canes (primocanes) often grow downward to the soil in the fall, and take root and form tip layers which become new plants. The
leaves
Leaf
A leaf is an organ of a vascular plant, as defined in botanical terms, and in particular in plant morphology. Foliage is a mass noun that refers to leaves as a feature of plants....
are pinnate, with five leaflets on leaves strong-growing stems in their first year, and three leaflets on leaves on flowering branchlets with white, seldom light purple flowers. The
fruit
Fruit
In broad terms, a fruit is a structure of a plant that contains its seeds.The term has different meanings dependent on context. In non-technical usage, such as food preparation, fruit normally means the fleshy seed-associated structures of certain plants that are sweet and edible in the raw state,...
is 1–1.2 cm diameter, red to reddish-purple at first, turning dark purple to nearly black when ripe. The fruit has high contents of
anthocyanin
Anthocyanin
Anthocyanins are water-soluble vacuolar pigments that may appear red, purple, or blue according to pH...
s and
ellagic acid
Ellagic acid
Ellagic acid is a natural phenol antioxidant found in numerous fruits and vegetables including blackberries, raspberries, strawberries, cranberries, walnuts, pecans, pomegranates, wolfberry and other plant foods...
.
It is a variable species, as well as forming natural hybrids with other species in subgenus
Idaeobatus
. Three
varieties
Variety (biology)
In botanical nomenclature, variety is a taxonomic rank below that of species: as such, it gets a three-part infraspecific name....
are recognized:
Rubus leucodermis var. leucodermis
Rubus leucodermis var. bernardinus Jepson
Rubus leucodermis var. trinitatis Berger
See also
Rubus occidentalis

Rubus occidentalis

Rubus occidentalis is a species of Rubus native to eastern North America. Its common name black raspberry is shared with the closely related western American species Rubus leucodermis...


, the commercial black raspberry
Rubus niveus

Rubus niveus

Rubus niveus is a species of Rubus native to southern Asia, from Afghanistan east through India and China to Taiwan and the Philippines, south to Sri Lanka and Malaysia, and north to Gansu in China.It is a shrub growing to 1–2.5 m tall, the stems whitish tomentose at first, becoming glabrous green...


and Rubus coreanus

Rubus coreanus

Rubus coreanus is a species of raspberry native to Korea, Japan, and China. It produces edible berries that are fermented into bokbunja ju, a Korean fruit wine...


, related Asian species