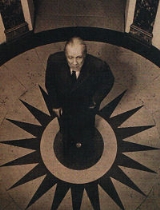 Jorge Luis Borges
Jorge Francisco Isidoro Luis Borges Acevedo
(24 August 1899 – 14 June 1986), known as
Jorge Luis Borges
(ˈxorxe ˈlwis ˈβorxes), was an Argentine writer, essayist, poet and translator born in
Buenos Aires
Buenos Aires
Buenos Aires is the capital and largest city of Argentina, and the second-largest metropolitan area in South America, after São Paulo. It is located on the western shore of the estuary of the Río de la Plata, on the southeastern coast of the South American continent...
. In 1914 his family moved to
Switzerland
Switzerland
Switzerland name of one of the Swiss cantons. ; ; ; or ), in its full name the Swiss Confederation , is a federal republic consisting of 26 cantons, with Bern as the seat of the federal authorities. The country is situated in Western Europe,Or Central Europe depending on the definition....
where he attended school, receiving his baccalauréat from the Collège de Genève in 1918. The family travelled widely in Europe, including stays in
Spain
Spain
Spain , officially the Kingdom of Spain languages]] under the European Charter for Regional or Minority Languages. In each of these, Spain's official name is as follows:;;;;;;), is a country and member state of the European Union located in southwestern Europe on the Iberian Peninsula...
. On his return to Argentina in 1921, Borges began publishing his poems and essays in surrealist literary journals.
If the pages of this book contain some successful verse, the reader must excuse me the discourtesy of having usurped it first. Our nothingness differs little; it is a trivial and chance circumstance that you should be the reader of these exercises and I their author.

"To the Reader" ["A quien leyere"], preface to Fervor of Buenos Aires [Fervor de Buenos Aires] (1923)
That one individual should awaken in another memories that belong to still a third is an obvious paradox.

Evaristo Carriego (1930) Ch. 2
Reading ... is an activity subsequent to writing: more resigned, more civil, more intellectual.

Universal History of Infamy [Historia universal de la infamia] (1935) Preface
Mir Bahadur Ali is, as we have seen, incapable of evading the most vulgar of art's temptations: that of being a genius.

"The Approach to Al-Mu'tasim" (1935)
The universe (which others call the Library) is composed of an indefinite and perhaps infinite number of hexagonal galleries, with vast air shafts between, surrounded by very low railings.

"The Library of Babel" ["La Biblioteca de Babel"] (1941) First lines