 Pan frying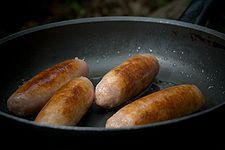 Pan frying
is a form of
frying
Frying
Frying is the cooking of food in oil or another fat, a technique that originated in ancient Egypt around 2500 BC. Chemically, oils and fats are the same, differing only in melting point, but the distinction is only made when needed. In commerce, many fats are called oils by custom, e.g...
characterized by the use of minimal
cooking oil
Cooking oil
Cooking oil is purified fat of plant origin, which is usually liquid at room temperature ....
or
fat
Fat
Fats consist of a wide group of compounds that are generally soluble in organic solvents and generally insoluble in water. Chemically, fats are triglycerides, triesters of glycerol and any of several fatty acids. Fats may be either solid or liquid at room temperature, depending on their structure...
(compared to
shallow frying
Shallow frying
Shallow frying is an oil-based cooking technique. It is typically used to prepare portion-sized cuts of meat and fish, and patties such as fritters. Shallow frying can also be used to cook vegetables. Shallow-fried foods are often battered. It is a high-heat process, promoting browning and, in...
or
deep frying
Deep frying
Deep frying is a cooking method in which food is submerged in hot oil or fat. This is normally performed with a deep fryer or chip pan; industrially, a pressure fryer or vacuum fryer may be used....
); typically using just enough oil to lubricate the pan (although, in the case of a greasy food such as bacon, no oil or fats may be needed). As a form of frying, pan frying relies on oil as the heat transfer medium and on correct temperature to retain the moisture in the food. The exposed topside allows, unlike deep frying, some moisture loss and contact with the pan bottom creates greater browning on the contact surface. Because of the partial coverage, the food must be flipped at least once to cook both sides.
Benefits and drawbacks
The advantages of using less oil are practical: less oil is needed on hand and time spent heating the oil is much shorter. The chief disadvantage of using less oil is that it is more difficult to keep the oil at an even temperature. The moisture loss and increased browning can be beneficial or detrimental depending on the item cooked and its preparation and should be taken into account if there is a choice to be made between pan frying and deep frying. Especially when high-temperature frying with lots of oil, it may be advisable to use a
splatter guard
Splatter guard
A splatter guard is a device placed over a frying pan to prevent hot oil from splashing out of the pan, which often happens when pan frying at a high temperature. This has two main purposes: droplets of hot oil can cause dangerous burns if they land on the skin, and, if they land elsewhere, can...
.
Techniques
Generally, a shallower cooking vessel is used for pan frying than deep frying. Using a deep pan with a small amount of oil, butter or bacon grease does reduce spatter but the increased moisture around the cooking food is generally detrimental to the preparation. A denser cooking vessel -- the pan should
feel
heavy for its size -- is necessarily better than a less dense pan since that mass will improve temperature regulation. An electric skillet can be used analogously to an electric deep fryer and many of these devices have a thermostat to keep the liquid (in this case, oil) at the desired temperature.