 Risotto
Risotto
is a class of
Italian
Italian cuisine
Italian cuisine has developed through centuries of social and political changes, with roots as far back as the 4th century BCE. Italian cuisine in itself takes heavy influences, including Etruscan, ancient Greek, ancient Roman, Byzantine, Jewish and Arab cuisines...
dishes of
rice
Rice
Rice is the seed of the monocot plants Oryza sativa or Oryza glaberrima . As a cereal grain, it is the most important staple food for a large part of the world's human population, especially in East Asia, Southeast Asia, South Asia, the Middle East, and the West Indies...
cooked in
broth
Broth
Broth is a liquid food preparation, typically consisting of either water or an already flavored stock, in which bones, meat, fish, cereal grains, or vegetables have been simmered. Broth is used as a basis for other edible liquids such as soup, gravy, or sauce. It can be eaten alone or with garnish...
to a creamy consistency. The broth may be meat-, fish-, or vegetable-based; many kinds include Parmesan cheese, butter, and onion. It is one of the most common ways of
cooking
Cooking
Cooking is the process of preparing food by use of heat. Cooking techniques and ingredients vary widely across the world, reflecting unique environmental, economic, and cultural traditions. Cooks themselves also vary widely in skill and training...
rice in
Italy
Italy
Italy , officially the Italian Republic languages]] under the European Charter for Regional or Minority Languages. In each of these, Italy's official name is as follows:;;;;;;;;), is a unitary parliamentary republic in South-Central Europe. To the north it borders France, Switzerland, Austria and...
.
Risotto is normally a
primo
(first course), served on its own before the main course, but
risotto alla milanese
, ɾiˈzɔtːo alːa milaˈneːze, is often served together with ossobuco alla milanese.
Rice varieties
Asaf high-
starch
Starch
Starch or amylum is a carbohydrate consisting of a large number of glucose units joined together by glycosidic bonds. This polysaccharide is produced by all green plants as an energy store...
(
amylopectin
Amylopectin
Amylopectin is a soluble polysaccharide and highly branched polymer of glucose found in plants. It is one of the two components of starch, the other being amylose.Glucose units are linked in a linear way with α glycosidic bonds...
), low-
amylose
Amylose
Amylose is a linear polymer made up of D-glucose units.This polysaccharide is one of the two components of starch, making up approximately 2-30% of the structure...
round medium- or short- grain
rice
Rice
Rice is the seed of the monocot plants Oryza sativa or Oryza glaberrima . As a cereal grain, it is the most important staple food for a large part of the world's human population, especially in East Asia, Southeast Asia, South Asia, the Middle East, and the West Indies...
is usually used to make risotto. Such rices have the ability to absorb liquids and to release starch and so they are stickier than the long grain varieties.
The principal varieties used in Italy are
Arborio
Arborio rice
Arborio rice is an Italian short-grain rice. It is named after the town of Arborio, in the Po Valley, where it is grown. When cooked, the rounded grains are firm, creamy, and chewy, due to its higher amylopectin starch content thus it has a starchy taste but blends well with other flavours...
, Baldo,
Carnaroli
Carnaroli
Carnaroli is a medium-grained rice native to the Vercelli province of northern Italy. Carnaroli is traditionally used for making risotto, differing from the more common arborio rice due to its higher starch content and firmer texture, as well as having a longer grain...
, Padano, Roma, and Vialone Nano. Carnaroli and Vialone Nano are considered to be the best (and most expensive) varieties, with different users preferring one over the other. They have slightly different properties. For example, Carnaroli is less likely than Vialone Nano to get overcooked, but the latter, being smaller, cooks faster and absorbs condiments better. Other varieties like Roma, Baldo, Ribe and Originario may be used but will not have the creaminess of the traditional dish. These varieties are considered better for soups and other non-risotto rice dishes and for making sweet rice desserts. Rice designations of Superfino, Semifino and Fino refer to the size and shape (specifically the length and the narrowness) of the grains, and not the quality.
Basic preparation
There are many different risotto recipes with different ingredients, but they are all based on rice of an appropriate variety cooked in a standard procedure.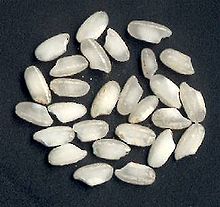 The rice is first cooked briefly in a
soffritto
Mirepoix (cuisine)
A mirepoix is a combination of celery , onions, and carrots. Mirepoix, either raw, roasted or sautéed with butter, is the flavor base for a wide number of dishes, such as stocks, soups, stews and sauces...
of onion or garlic and butter or olive oil to coat each grain in a film of fat, this is called
tostatura
; white or red
wine
Wine
Wine is an alcoholic beverage, made of fermented fruit juice, usually from grapes. The natural chemical balance of grapes lets them ferment without the addition of sugars, acids, enzymes, or other nutrients. Grape wine is produced by fermenting crushed grapes using various types of yeast. Yeast...
is added and has to be absorbed by the grains. When it has evaporated, the heat is raised to medium high and very hot
stock
Stock (food)
Stock is a flavoured water preparation. It forms the basis of many dishes, particularly soups and sauces.- Preparation :Stock is made by simmering various ingredients in water, including some or all of the following...
is gradually added in small amounts while stirring gently, almost constantly: stirring loosens the starch molecules from the outside of the rice grains into the surrounding liquid, creating a smooth creamy-textured liquid. At that point it is taken off the heat for the
mantecatura
when diced cold butter and finely grated Parmigiano-Reggiano cheese are vigorously stirred in to make the texture as creamy and smooth as possible. It may be removed from the heat a few minutes earlier, and left to cook with its residual heat. Seafood risotti generally do not include cheese.
Properly cooked risotto is rich and creamy but still with some resistance or bite:
al dente
Al dente
In cooking, the Italian expression al dente describes pasta and rice or beansthat have been cooked so as to be firm but not hard. "Al dente" also describes vegetables that are cooked to the "tender crisp" phase - still offering resistance to the bite, but cooked through...
, and with separate grains. The traditional texture is fairly fluid, or
all'onda
("wavy, or flowing in waves"). It is served on flat dishes and it should easily spread out but not have excess watery liquid around the perimeter. It must be eaten at once as it continues to cook in its own heat and can become too dry with the grains too soft.
Variations
Risotto can be made using many kinds of vegetable, meat, fish, seafood and legumes, and different types of wine and cheese may be used. There is even, exceptionally, an Italian strawberry risotto.
Many variations have their own names:
Outside Italy, dishes made in a similar way to true risotto but with different grains or cereals are sometimes called "risotto": "
farro
Farro
Farro is a food product consisting of the grains of certain wheat species in whole form. The exact definition is debated. It is sold dried and is prepared by cooking in water until soft, but still crunchy . It may be eaten plain, though it is often used as an ingredient in dishes such as salads and...
risotto", "
barley
Barley
Barley is a major cereal grain, a member of the grass family. It serves as a major animal fodder, as a base malt for beer and certain distilled beverages, and as a component of various health foods...
risotto".
External links