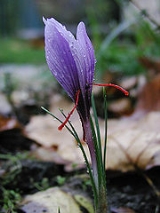 Saffron
Saffron
is a spice derived from the flower of
Crocus sativus
, commonly known as the
saffron crocus
.
Crocus
Crocus
Crocus is a genus in the iris family comprising about 80 species of perennials growing from corms. Many are cultivated for their flowers appearing in autumn, winter, or spring...
is a genus in the family
Iridaceae
Iridaceae
The Iris family or Iridaceae is a family of perennial, herbaceous and bulbous plants included in the monocot order Asparagales, taking its name from the genus Iris. Almost worldwide in distribution and one of the most important families in horticulture, it includes more than 2000 species...
. Each saffron crocus grows to 20 – and bears up to four flowers, each with three vivid crimson
stigma
Stigma (botany)
The stigma is the receptive tip of a carpel, or of several fused carpels, in the gynoecium of a flower. The stigma receives pollen at pollination and it is on the stigma that the pollen grain germinates. The stigma is adapted to catch and trap pollen with various hairs, flaps, or sculpturings...
s, which are each the distal end of a carpel. Together with the styles, or stalks that connect the stigmas to their host plant, the dried stigmas are used mainly in various cuisines as a seasoning and colouring agent.