 Richard Colt Hoare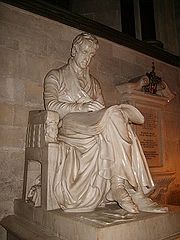 Sir Richard Colt Hoare, 2nd Baronet
FRS (9 December 1758 – 19 May 1838) was an
English
English people
The English are a nation and ethnic group native to England, who speak English. The English identity is of early mediaeval origin, when they were known in Old English as the Anglecynn. England is now a country of the United Kingdom, and the majority of English people in England are British Citizens...
antiquarian
Antiquarian
An antiquarian or antiquary is an aficionado or student of antiquities or things of the past. More specifically, the term is used for those who study history with particular attention to ancient objects of art or science, archaeological and historic sites, or historic archives and manuscripts...
, archaeologist, artist, and traveller of the 18th and 19th centuries, the first major figure in the detailed study of the history of his home county,
Wiltshire
Wiltshire
Wiltshire is a ceremonial county in South West England. It is landlocked and borders the counties of Dorset, Somerset, Hampshire, Gloucestershire, Oxfordshire and Berkshire. It contains the unitary authority of Swindon and covers...
.
Career
Hoare was descended from
Sir Richard Hoare
Richard Hoare
Sir Richard Hoare was the founder of C. Hoare & Co, one of the United Kingdom's oldest private banks.-Career:Having been raised near Smithfield Market in London, Richard Hoare began his working life apprenticed to a goldsmith. He was granted the Freedom of the Goldsmiths' Company on 5 July 1672....
,
Lord Mayor of London
Lord Mayor of London
The Right Honourable Lord Mayor of London is the legal title for the Mayor of the City of London Corporation. The Lord Mayor of London is to be distinguished from the Mayor of London; the former is an officer only of the City of London, while the Mayor of London is the Mayor of Greater London and...
, the founder of the family banking business,
C. Hoare & Co
C. Hoare & Co
C. Hoare & Co. is England's oldest privately owned banking house. Founded in 1672 by Sir Richard Hoare, C. Hoare & Co. remains family owned and is currently managed by the 11th generation of Hoare's direct descendants....
, and was educated at Preparatory school at Wandsworth, Seminary school at Greenford, and taught the
Classics by the Rev.d Joseph Eyre.
In 1785 he inherited the large
Stourhead
Stourhead
Stourhead is a 2,650 acre estate at the source of the River Stour near Mere, Wiltshire, England. The estate includes a Palladian mansion, the village of Stourton, gardens, farmland, and woodland...
estate from his grandfather,
Henry Hoare II
Henry Hoare
Henry Hoare II , known as Henry the Magnificent, was an English banker and garden owner-designer.-Career:Born the son of Henry Hoare I and educated at Westminster School, Henry Hoare dominated the Hoare family through his wealth and personal charisma. Henry was a partner for nearly 60 years in C...
, which enabled him to pursue his interests including the archaeological studies for which he had already shown an inclination. In 1783 he had married Hester, daughter of
William Lyttelton, 1st Baron Lyttelton
William Lyttelton, 1st Baron Lyttelton
William Henry Lyttelton, 1st Baron Lyttelton was the youngest son of Sir Thomas Lyttelton, 4th Baronet.As the youngest son, he did not expect to inherit the family estates and served in various government appointments. He became governor of colonial South Carolina in 1755, Governor of Jamaica in...
. After her death in 1785, following the birth of their second child, who also died, he toured
France
France
The French Republic , The French Republic , The French Republic , (commonly known as France , is a unitary semi-presidential republic in Western Europe with several overseas territories and islands located on other continents and in the Indian, Pacific, and Atlantic oceans. Metropolitan France...
,
Italy
Italy
Italy , officially the Italian Republic languages]] under the European Charter for Regional or Minority Languages. In each of these, Italy's official name is as follows:;;;;;;;;), is a unitary parliamentary republic in South-Central Europe. To the north it borders France, Switzerland, Austria and...
and
Switzerland
Switzerland
Switzerland name of one of the Swiss cantons. ; ; ; or ), in its full name the Swiss Confederation , is a federal republic consisting of 26 cantons, with Bern as the seat of the federal authorities. The country is situated in Western Europe,Or Central Europe depending on the definition....
. He succeeded to the baronetcy in 1787, and in 1788 made a second
continental tour
Grand Tour
The Grand Tour was the traditional trip of Europe undertaken by mainly upper-class European young men of means. The custom flourished from about 1660 until the advent of large-scale rail transit in the 1840s, and was associated with a standard itinerary. It served as an educational rite of passage...
, the record of his travels appearing in 1815 and 1819 under the titles
Recollections Abroad
and
A Classical Tour through Italy and Sicily
. He took numerous views during his travels in the form of sketches from which he later produced mainly sepia wash drawings, along with a smaller number of watercolours. His tutor, John 'Warwick' Smith, and the painter
Francis Nicholson
Francis Nicholson (painter)
Sir Francis Nicholson was a British artist. He worked in watercolour and oil, and is mainly known as a landscape artist.-Career:...
were also commissioned to produce coloured reductions from some of his continental sketches. Bound in volumes, many of these were dispersed in the Stourhead sales of the 1880s.
A journey through
Wales
Wales
Wales is a country that is part of the United Kingdom and the island of Great Britain, bordered by England to its east and the Atlantic Ocean and Irish Sea to its west. It has a population of three million, and a total area of 20,779 km²...
was followed by a translation of the
Itinerarium Cambriae
and of the
Descriptio Cambriae
of Gerald of Wales, with Hoare adding notes and a life of Gerald to his translation. This work was first published in 1804, and was subsequently revised by Thomas Wright (1810–1877) in 1863. Hoare's further
Tour in Ireland
was published in 1807.
Hoare was elected a Fellow of the Royal Society in 1792 and was also a Fellow of the
Society of Antiquaries of London
Society of Antiquaries of London
The Society of Antiquaries of London is a learned society "charged by its Royal Charter of 1751 with 'the encouragement, advancement and furtherance of the study and knowledge of the antiquities and history of this and other countries'." It is based at Burlington House, Piccadilly, London , and is...
. He was appointed
High Sheriff of Wiltshire
High Sheriff of Wiltshire
This is a list of High Sheriffs of Wiltshire.Until the 14th century the shrievalty was held ex officio by the castellans of Old Sarum.-To 1400:*1066: Edric*1067-1070: Philippe de Buckland*1085: Aiulphus the Sheriff*1070–1105: Edward of Salisbury...
for 1805.
He died at Stourhead,
Wiltshire
Wiltshire
Wiltshire is a ceremonial county in South West England. It is landlocked and borders the counties of Dorset, Somerset, Hampshire, Gloucestershire, Oxfordshire and Berkshire. It contains the unitary authority of Swindon and covers...
, in 1838. His
mausoleum
Mausoleum
A mausoleum is an external free-standing building constructed as a monument enclosing the interment space or burial chamber of a deceased person or persons. A monument without the interment is a cenotaph. A mausoleum may be considered a type of tomb or the tomb may be considered to be within the...
is at St Peter's Church,
Stourton, Wiltshire
Stourton, Wiltshire
Stourton is a village in Wiltshire, England, at . The village is close to the county boundary with Somerset and about south of the Somerset market town of Frome.Stourton is part of the Stourhead estate, now in the ownership of the National Trust....
.
Contributions to archaeology
The first recorded excavations at
Stonehenge
Stonehenge
Stonehenge is a prehistoric monument located in the English county of Wiltshire, about west of Amesbury and north of Salisbury. One of the most famous sites in the world, Stonehenge is composed of a circular setting of large standing stones set within earthworks...
were done by
William Cunnington
William Cunnington
William Cunnington was a pioneering English antiquarian and archaeologist of the late eighteenth and early nineteenth century. His work centred on excavating the barrows of Salisbury Plain. The first recorded excavations at Stonehenge were done by William Cunnington & Richard Colt Hoare in 1798...
& Richard Colt Hoare in 1798 and again in 1810. They dug around a fallen
Trilithon
Trilithon
A trilithon is a structure consisting of two large vertical stones supporting a third stone set horizontally across the top . It is commonly used in the context of megalithic monuments...
and a fallen slaughter stone and they discovered that it had once stood up. Colt Hoare excavated 379
barrow
Tumulus
A tumulus is a mound of earth and stones raised over a grave or graves. Tumuli are also known as barrows, burial mounds, Hügelgrab or kurgans, and can be found throughout much of the world. A tumulus composed largely or entirely of stones is usually referred to as a cairn...
s on
Salisbury Plain
Salisbury Plain
Salisbury Plain is a chalk plateau in central southern England covering . It is part of the Southern England Chalk Formation and largely lies within the county of Wiltshire, with a little in Hampshire. The plain is famous for its rich archaeology, including Stonehenge, one of England's best known...
as well as identifying many other sites in the area, publishing and classifying his findings. However as the
three-age system
Three-age system
The three-age system in archaeology and physical anthropology is the periodization of human prehistory into three consecutive time periods, named for their respective tool-making technologies:* The Stone Age* The Bronze Age* The Iron Age-Origin:...
had not yet been introduced he was unable to date his finds and therefore at a disadvantage when trying to interpret them. His two-volume book
The Ancient History of Wiltshire
outlined his findings.
Hoare's most important work was his
Ancient History of North and South Wiltshire
(1812–1819); he also sponsored and contributed significantly to the 11 volumes of the
History of Modern Wiltshire
(1822–1844).