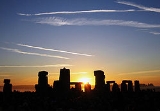 Salisbury Plain
Salisbury Plain
is a
chalk
Chalk
Chalk is a soft, white, porous sedimentary rock, a form of limestone composed of the mineral calcite. Calcite is calcium carbonate or CaCO3. It forms under reasonably deep marine conditions from the gradual accumulation of minute calcite plates shed from micro-organisms called coccolithophores....
plateau
Plateau
In geology and earth science, a plateau , also called a high plain or tableland, is an area of highland, usually consisting of relatively flat terrain. A highly eroded plateau is called a dissected plateau...
in central southern
England
England
England is a country that is part of the United Kingdom. It shares land borders with Scotland to the north and Wales to the west; the Irish Sea is to the north west, the Celtic Sea to the south west, with the North Sea to the east and the English Channel to the south separating it from continental...
covering 300 square miles (777 km²). It is part of the
Southern England Chalk Formation
Southern England Chalk Formation
The Chalk Formation of Southern England is a system of chalk downland in the south of England. The formation is perhaps best known for Salisbury Plain, the location of Stonehenge, the Isle of Wight and the twin ridgeways of the North Downs and South Downs....
and largely lies within the county of
Wiltshire
Wiltshire
Wiltshire is a ceremonial county in South West England. It is landlocked and borders the counties of Dorset, Somerset, Hampshire, Gloucestershire, Oxfordshire and Berkshire. It contains the unitary authority of Swindon and covers...
, with a little in
Hampshire
Hampshire
Hampshire is a county on the southern coast of England in the United Kingdom. The county town of Hampshire is Winchester, a historic cathedral city that was once the capital of England. Hampshire is notable for housing the original birthplaces of the Royal Navy, British Army, and Royal Air Force...
. The plain is famous for its rich
archaeology
Archaeology
Archaeology, or archeology , is the study of human society, primarily through the recovery and analysis of the material culture and environmental data that they have left behind, which includes artifacts, architecture, biofacts and cultural landscapes...
, including
Stonehenge
Stonehenge
Stonehenge is a prehistoric monument located in the English county of Wiltshire, about west of Amesbury and north of Salisbury. One of the most famous sites in the world, Stonehenge is composed of a circular setting of large standing stones set within earthworks...
, one of England's best known landmarks. Largely as a result of the establishment of the Army Training Estate Salisbury Plain (ATE SP), the plain is sparsely populated and is the largest remaining area of
calcareous grassland
Calcareous grassland
Calcareous grassland is an ecosystem associated with thin basic soil, such as that on chalk and limestone downland. Plants on calcareous grassland are typically short and hardy, and include grasses and herbs such as clover...
in north-west Europe.