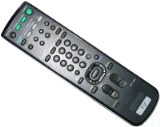 Remote control
A
remote control
is a component of an
electronics
Electronics
Electronics is the branch of science, engineering and technology that deals with electrical circuits involving active electrical components such as vacuum tubes, transistors, diodes and integrated circuits, and associated passive interconnection technologies...
device, most commonly a
television set
Television set
A television set is a device that combines a tuner, display, and speakers for the purpose of viewing television. Television sets became a popular consumer product after the Second World War, using vacuum tubes and cathode ray tube displays...
, used for operating the television device
wireless
Wireless
Wireless telecommunications is the transfer of information between two or more points that are not physically connected. Distances can be short, such as a few meters for television remote control, or as far as thousands or even millions of kilometers for deep-space radio communications...
ly from a short
line-of-sight
Line-of-sight propagation
Line-of-sight propagation refers to electro-magnetic radiation or acoustic wave propagation. Electromagnetic transmission includes light emissions traveling in a straight line...
distance.
The
remote control
is usually contracted to
remote
. It is known by many other names as well, such as
converter
,
clicker
, "The box"
didge
,
flipper
,
the tuner
,
the changer
, or
the button
. Commonly, remote controls are
Consumer IR
Consumer IR
Consumer IR, consumer infrared, or CIR, refers to a wide variety of devices employing the infrared electromagnetic spectrum for wireless communications. Most commonly found in television remote controls, infrared ports are equally ubiquitous in consumer electronics, such as PDAs, laptops, and...
devices used to issue commands from a distance to
television
Television
Television is a telecommunication medium for transmitting and receiving moving images that can be monochrome or colored, with accompanying sound...
s or other
consumer electronics
Consumer electronics
Consumer electronics are electronic equipment intended for everyday use, most often in entertainment, communications and office productivity. Radio broadcasting in the early 20th century brought the first major consumer product, the broadcast receiver...
such as
stereo
Stereophonic sound
The term Stereophonic, commonly called stereo, sound refers to any method of sound reproduction in which an attempt is made to create an illusion of directionality and audible perspective...
systems,
DVD
DVD
A DVD is an optical disc storage media format, invented and developed by Philips, Sony, Toshiba, and Panasonic in 1995. DVDs offer higher storage capacity than Compact Discs while having the same dimensions....
players and dimmers. Remote controls for these devices are usually small wireless handheld objects with an array of buttons for adjusting various settings such as
television channel
Television channel
A television channel is a physical or virtual channel over which a television station or television network is distributed. For example, in North America, "channel 2" refers to the broadcast or cable band of 54 to 60 MHz, with carrier frequencies of 55.25 MHz for NTSC analog video and...
, track number, and
volume
Volume
Volume is the quantity of three-dimensional space enclosed by some closed boundary, for example, the space that a substance or shape occupies or contains....
. In fact, for the majority of modern devices with this kind of control, the remote contains all the function controls while the controlled device itself only has a handful of essential primary controls. Most of these remotes communicate to their respective devices via
infrared
Infrared
Infrared light is electromagnetic radiation with a wavelength longer than that of visible light, measured from the nominal edge of visible red light at 0.74 micrometres , and extending conventionally to 300 µm...
(IR) signals and a few via
radio signals
Radio control
Radio control is the use of radio signals to remotely control a device. The term is used frequently to refer to the control of model vehicles from a hand-held radio transmitter...
. Earlier remote controls in the 1970s used
ultrasonic
Ultrasonics
Ultrasonics is a term meaning the application of ultrasound. It is often used in industry as a shorthand term for any equipment employing ultrasonic principles....
tones. Television IR signals can be mimicked by a universal remote, which is able to emulate the functionality of most major brand television remote controls.
History
One of the earliest examples of remote control was developed in 1898 by
Nikola Tesla
Nikola Tesla
Nikola Tesla was a Serbian-American inventor, mechanical engineer, and electrical engineer...
, and described in his patent, , named
Method of an Apparatus for Controlling Mechanism of Moving Vehicle or Vehicles
. In 1898, he demonstrated a radio-controlled boat to the public during an electrical exhibition at
Madison Square Garden
Madison Square Garden
Madison Square Garden, often abbreviated as MSG and known colloquially as The Garden, is a multi-purpose indoor arena in the New York City borough of Manhattan and located at 8th Avenue, between 31st and 33rd Streets, situated on top of Pennsylvania Station.Opened on February 11, 1968, it is the...
. Tesla called his boat a "teleautomaton".
In 1903, Leonardo Torres Quevedo presented the
Telekino
at the Paris Academy of Science, accompanied by a brief, and making an experimental demonstration. In the same time he obtained a patent in France, Spain, Great Britain, and the
United States
United States
The United States of America is a federal constitutional republic comprising fifty states and a federal district...
. The
Telekino
consisted of a
robot
Robot
A robot is a mechanical or virtual intelligent agent that can perform tasks automatically or with guidance, typically by remote control. In practice a robot is usually an electro-mechanical machine that is guided by computer and electronic programming. Robots can be autonomous, semi-autonomous or...
that executed commands transmitted by electromagnetic waves. It constituted the world's first apparatus for radio control and was a pioneer in the field of remote control. In 1906, in the presence of the king and before a great crowd, Torres successfully demonstrated the invention in the
port of Bilbao
Port of Bilbao
The Port of Bilbao is located on the Bilbao Abra bay, and along the Estuary of Bilbao, in Biscay . The main facilities are in the Santurtzi and Zierbena municipalities, approximately 15 km west of Bilbao...
, guiding a boat from the shore. Later, he would try to apply the
Telekino
to projectiles and torpedoes, but had to abandon the project for lack of financing.
The first remote-controlled model aeroplane flew in 1932, and the use of remote control technology for military purposes was worked intensively during the Second World War, one result of this being the German Wasserfall missile.
By the late 1930s, several radio manufacturers offered remote controls for some of their higher-end models. Most of these were connected to the set being controlled by wires, but the
Philco
Philco
Philco, the Philadelphia Storage Battery Company , was a pioneer in early battery, radio, and television production as well as former employer of Philo Farnsworth, inventor of cathode ray tube television...
Mystery Control (1939) was a battery-operated low-frequency radio transmitter, thus making it the first wireless remote control for a consumer electronics device.
Television remote controls

The first remote intended to control a television was developed by Zenith Radio Corporation in 1950. The remote, called "Lazy Bones", was connected to the
television
Television
Television is a telecommunication medium for transmitting and receiving moving images that can be monochrome or colored, with accompanying sound...
by a wire. A wireless remote control, the "Flashmatic", was developed in 1955. It worked by shining a beam of light onto a
photoelectric cell
Solar cell
A solar cell is a solid state electrical device that converts the energy of light directly into electricity by the photovoltaic effect....
, but the cell did not distinguish between light from the remote and light from other sources. The Flashmatic also had to be pointed very precisely at the receiver in order to work.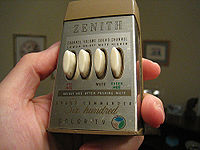 In 1956,
Robert Adler
Robert Adler
Robert Adler was an Austrian-born American inventor who held numerous patents.-Achievements:Adler was born in Vienna in 1913. He earned a Ph.D. in Physics from the University of Vienna in 1937.Following Austria's annexation by Nazi Germany in 1939, Dr. Adler, a Jew, left the country...
developed "Zenith Space Command", a wireless remote. It was mechanical and used ultrasound to change the channel and volume. When the user pushed a button on the remote control, it clicked and struck a bar, hence the term "clicker". Each bar emitted a different frequency and circuits in the television detected this sound. The invention of the
transistor
Transistor
A transistor is a semiconductor device used to amplify and switch electronic signals and power. It is composed of a semiconductor material with at least three terminals for connection to an external circuit. A voltage or current applied to one pair of the transistor's terminals changes the current...
made possible cheaper electronic remotes that contained a
piezoelectric
Piezoelectricity
Piezoelectricity is the charge which accumulates in certain solid materials in response to applied mechanical stress. The word piezoelectricity means electricity resulting from pressure...
crystal that was fed by an
oscillating
Oscillation
Oscillation is the repetitive variation, typically in time, of some measure about a central value or between two or more different states. Familiar examples include a swinging pendulum and AC power. The term vibration is sometimes used more narrowly to mean a mechanical oscillation but sometimes...
electric current at a
frequency
Frequency
Frequency is the number of occurrences of a repeating event per unit time. It is also referred to as temporal frequency.The period is the duration of one cycle in a repeating event, so the period is the reciprocal of the frequency...
near or above the upper threshold of
human hearing
Hearing (sense)
Hearing is the ability to perceive sound by detecting vibrations through an organ such as the ear. It is one of the traditional five senses...
, though still audible to
dog
Dog
The domestic dog is a domesticated form of the gray wolf, a member of the Canidae family of the order Carnivora. The term is used for both feral and pet varieties. The dog may have been the first animal to be domesticated, and has been the most widely kept working, hunting, and companion animal in...
s. The receiver contained a
microphone
Microphone
A microphone is an acoustic-to-electric transducer or sensor that converts sound into an electrical signal. In 1877, Emile Berliner invented the first microphone used as a telephone voice transmitter...
attached to a circuit that was tuned to the same frequency. Some problems with this method were that the receiver could be triggered accidentally by naturally occurring noises, and some people could hear the piercing ultrasonic signals. There was an incident in which a toy
xylophone
Xylophone
The xylophone is a musical instrument in the percussion family that consists of wooden bars struck by mallets...
changed the channels on such sets because some of the
overtone
Overtone
An overtone is any frequency higher than the fundamental frequency of a sound. The fundamental and the overtones together are called partials. Harmonics are partials whose frequencies are whole number multiples of the fundamental These overlapping terms are variously used when discussing the...
s from the xylophone matched the remote's ultrasonic frequency.
The impetus for a more complex type of television remote control came in the late 1970s, with the development of the
Ceefax
Ceefax
Ceefax is the BBC's teletext information service transmitted via the analogue signal, started in 1974 and will run until April 2012 for Pages from Ceefax, while the actual interactive service will run until 24 October 2012, in-line with the digital switchover.-History:During the late 60s, engineer...
teletext
Teletext
Teletext is a television information retrieval service developed in the United Kingdom in the early 1970s. It offers a range of text-based information, typically including national, international and sporting news, weather and TV schedules...
service by the
BBC
BBC
The British Broadcasting Corporation is a British public service broadcaster. Its headquarters is at Broadcasting House in the City of Westminster, London. It is the largest broadcaster in the world, with about 23,000 staff...
. Most commercial remote controls at that time had a limited number of functions, sometimes as few as three: next channel, previous channel, and volume/off. This type of control did not meet the needs of teletext sets, where pages were identified with three-digit numbers. A remote control to select teletext pages would need buttons for each numeral from zero to nine, as well as other control functions, such as switching from text to picture, and the normal television controls of volume, channel, brightness, colour intensity, etc. Early teletext sets used wired remote controls to select pages, but the continuous use of the remote control required for teletext quickly indicated the need for a wireless device. So BBC engineers began talks with one or two television manufacturers, which led to early prototypes in around 1977–1978 that could control many more functions.
ITT
ITT Corporation
ITT Corporation is a global diversified manufacturing company based in the United States. ITT participates in global markets including water and fluids management, defense and security, and motion and flow control...
was one of the companies and later gave its name to the ITT protocol of infrared communication.
In 1980, a Canadian company, Viewstar, Inc., was formed by engineer Paul Hrivnak and started producing a cable TV converter with an infrared remote control. The product was sold through Philips for approximately $190
CAD
Canadian dollar
The Canadian dollar is the currency of Canada. As of 2007, the Canadian dollar is the 7th most traded currency in the world. It is abbreviated with the dollar sign $, or C$ to distinguish it from other dollar-denominated currencies...
. At the time the most popular remote control was the Starcom of Jerrold (a division of General Instruments) which used 40-kHz sound to change channels. The Viewstar converter was an immediate success, the millionth converter being sold on March 21, 1985, with 1.6 million sold by 1989.
In 2006,
Hillcrest Labs
Hillcrest Labs
Hillcrest Labs invented Freespace motion-control technology and the first motion-controlled remote for television. Freespace allows users to control images on a screen by using natural motions, allowing for a new way of interacting with television content...
introduced the Loop pointer, a remote control that used Hillcrest's Freespace motion control technology to allow users to control their televisions with natural gestures. The Loop had just four buttons and a scroll wheel. Freespace-enabled remote controls use radio waves to communicate with a USB antenna connected to a computer that is also connected to the television, so they do not need to be pointed at the PC, or even have a direct line of sight.
Effect of the early television remote control
The remote allowed audiences, for the first time, to interact with their TV without touching it. They no longer watched programs just because they did not want to get up to change the channel. They could also
channel surf
Channel surfing
Channel surfing is the practice of quickly scanning through different television channels or radio frequencies in order to find something interesting to watch or listen to. Modern viewers, who may have cable or satellite services beaming down dozens if not hundreds or thousands of channels, are...
during commercials, or turn the sound off.
The invention of the remote control has led to several changes in television programming. One was the creation of split screen credits. According to James Gleick, an NBC research team discovered that when the credits started rolling after a program, 25% of its viewers would change the channel before it was over. Because of this, the NBC 2000 unit invented the "squeeze and tease" which squeezed the credits onto one third of the screen while the final minutes of the broadcast aired simultaneously.
The remote control also led to an adjustment in commercial airings. Networks began to feel that they could not afford to have commercials between programs because it would detract viewers from staying tuned in to their channel. Programmers decided to place commercials in the middle of programs to make the transition to the next show direct.
With networks keeping in mind that people were equipped with remotes, 30-second advertisement spots were cut into segments of eight seconds or less. MTV was made up of this high-speed and broken cutting style, which aired music videos that were around three-minutes and each shot no more than two or three seconds. But MTV felt that even these three-minute segments were too long, so they created an animated series called
Beavis and Butthead
, to keep their viewer's attention. In the show, they would show segments of music videos and then switch back to the characters and offer dialogue and action while the music video played in the background.
Beavis and Butthead
was purposefully stagnant, with slow dialogue, dependence on reaction shots, and emphasis on animation and pacing, with the last fraction of a second of sound track is overlaid with the first fraction of a second of the visual track for the next scene.
Other remote controls
In the 1980s
Steve Wozniak
Steve Wozniak
Stephen Gary "Woz" Wozniak is an American computer engineer and programmer who founded Apple Computer, Co. with Steve Jobs and Ronald Wayne...
of Apple, started a company named
CL 9
CL 9
CL 9 was a universal remote control company started by Steve Wozniak, the inventor of the Apple I and Apple II computers. The company was in business for three years, from 1985 to 1988, coming out with the 6502-based CL 9 CORE remote control in 1987, the first universal programmable remote...
. The purpose of this company was to create a remote control that could operate multiple electronic devices. The CORE unit (Controller Of Remote Equipment) was introduced in the fall of 1987. The advantage to this remote controller was that it could "learn" remote signals from different devices. It had the ability to perform specific or multiple functions at various times with its built-in clock. It was the first remote control that could be linked to a computer and loaded with updated software code as needed.
The CORE unit never made a huge impact on the market. It was much too cumbersome for the average user to program, but it received rave reviews from those who could. These obstacles eventually led to the demise of CL 9, but two of its employees continued the business under the name Celadon. This was one of the first computer-controlled learning remote controls on the market.
The proliferation of remote controls
By the early 2000s, the number of consumer electronic devices in most homes greatly increased, along with the number of remotes to control those devices. According to the
Consumer Electronics Association
Consumer Electronics Association
The Consumer Electronics Association is a standards and trade organization for the consumer electronics industry in the United States. The Consumer Electronics Association is the preeminent trade association promoting growth in the $173 billion U.S...
, an average American home has four remotes. To operate a
home theater
Home cinema
Home cinema, also commonly called home theater, are home entertainment set-ups that seek to reproduce a movie theater experience and mood with the help of video and audio equipment in a private home....
as many as five or six remotes may be required, including one for cable or satellite receiver, VCR or
digital video recorder
Digital video recorder
A digital video recorder , sometimes referred to by the merchandising term personal video recorder , is a consumer electronics device or application software that records video in a digital format to a disk drive, USB flash drive, SD memory card or other local or networked mass storage device...
(DVR/PVR),
DVD player
DVD player
A DVD player is a device that plays discs produced under both the DVD-Video and DVD-Audio technical standards, two different and incompatible standards. These devices were invented in 1997 and continue to thrive...
,
TV
Television
Television is a telecommunication medium for transmitting and receiving moving images that can be monochrome or colored, with accompanying sound...
and
audio amplifier
Audio amplifier
An audio amplifier is an electronic amplifier that amplifies low-power audio signals to a level suitable for driving loudspeakers and is the final stage in a typical audio playback chain.The preceding stages in such a chain are low power audio amplifiers which perform tasks like pre-amplification,...
. Several of these remotes may need to be used sequentially but, as there are no accepted interface guidelines, the process is increasingly cumbersome.
Many specialists, including
Jakob Nielsen
Jakob Nielsen (usability consultant)
Jakob Nielsen is a leading web usability consultant. He holds a Ph.D. in human–computer interaction from the Technical University of Denmark in Copenhagen.-Early life and background:...
, a renowned usability specialist and
Robert Adler
Robert Adler
Robert Adler was an Austrian-born American inventor who held numerous patents.-Achievements:Adler was born in Vienna in 1913. He earned a Ph.D. in Physics from the University of Vienna in 1937.Following Austria's annexation by Nazi Germany in 1939, Dr. Adler, a Jew, left the country...
, the inventor of the modern remote, note how confusing, unwieldy and frustrating the multiplying remotes have become. Because of this proliferation of remote controls,
universal remote
Universal Remote
A universal remote is a remote control that can be programmed to operate various brands of one or more types of consumer electronics devices. Low-end universal remotes can only control a set number of devices determined by their manufacturer, while mid- and high-end universal remotes allow the...
controls that manage multiple devices are becoming increasingly popular.
Remote control applications on mobile devices
In the late 2000s-early 2010s, a number of
smartphone
Smartphone
A smartphone is a high-end mobile phone built on a mobile computing platform, with more advanced computing ability and connectivity than a contemporary feature phone. The first smartphones were devices that mainly combined the functions of a personal digital assistant and a mobile phone or camera...
and
portable media player
Portable media player
A portable media player or digital audio player, is a consumer electronics device that is capable of storing and playing digital media such as audio, images, video, documents, etc. the data is typically stored on a hard drive, microdrive, or flash memory. In contrast, analog portable audio...
platforms were provided with installable software applications which allow for the remote controlling of
media centers
Home cinema
Home cinema, also commonly called home theater, are home entertainment set-ups that seek to reproduce a movie theater experience and mood with the help of video and audio equipment in a private home....
and media players on
home theater PC
Home theater PC
A Home Theater PC or Media Center appliance is a convergence device that combines some or all the capabilities of a personal computer with a software application that supports video, photo, music playback, and sometimes video recording functionality...
s and general-purpose personal computers over
Wi-Fi
Wi-Fi
Wi-Fi or Wifi, is a mechanism for wirelessly connecting electronic devices. A device enabled with Wi-Fi, such as a personal computer, video game console, smartphone, or digital audio player, can connect to the Internet via a wireless network access point. An access point has a range of about 20...
, such as iTunes Remote on iOS. In comparison to the user interfaces of physically buttoned dedicated remote control devices, the user interfaces of these remote control applications are designed to take advantage of the dynamic graphics offered by usually
touchscreen
Touchscreen
A touchscreen is an electronic visual display that can detect the presence and location of a touch within the display area. The term generally refers to touching the display of the device with a finger or hand. Touchscreens can also sense other passive objects, such as a stylus...
ed handheld devices, making for larger virtual buttons and
virtual keyboard
Virtual keyboard
A virtual keyboard is a software component that allows a user to enter characters. A virtual keyboard can usually be operated with multiple input devices, which may include a touchscreen, an actual keyboard and a computer mouse.- Types :...
s.
Most developers of remote control applications for handhelds usually architect the software for usage with specific media player or media center applications (i.e., iTunes Remote for iTunes and iTunes-based software from Apple, Boxee remote for
Boxee
BOXEE
Boxee is a cross-platform freeware HTPC software application with a 10-foot user interface and social networking features designed for the living-room TV...
, DVR Remote for
TiVo
TiVo
TiVo is a digital video recorder developed and marketed by TiVo, Inc. and introduced in 1999. TiVo provides an on-screen guide of scheduled broadcast programming television programs, whose features include "Season Pass" schedules which record every new episode of a series, and "WishList"...
, VLC Remote for
VLC
VLC media player
VLC media player is a free and open source media player and multimedia framework written by the VideoLAN project.VLC is a portable multimedia player, encoder, and streamer supporting many audio and video codecs and file formats as well as DVDs, VCDs, and various streaming protocols. It is able to...
, etc.).
The opto components, circuits and mathematics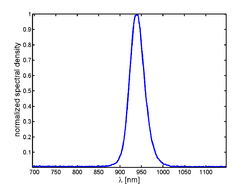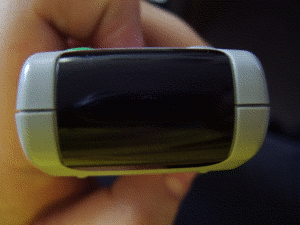 Most remote controls for electronic appliances use a near
infrared
Infrared
Infrared light is electromagnetic radiation with a wavelength longer than that of visible light, measured from the nominal edge of visible red light at 0.74 micrometres , and extending conventionally to 300 µm...
diode
LEd
LEd is a TeX/LaTeX editing software working under Microsoft Windows. It is a freeware product....
to emit a beam of light that reaches the device. A 940
nm
Nanometre
A nanometre is a unit of length in the metric system, equal to one billionth of a metre. The name combines the SI prefix nano- with the parent unit name metre .The nanometre is often used to express dimensions on the atomic scale: the diameter...
wavelength LED is typical. This infrared light is invisible to the human eye, but picked up by sensors on the receiving device. Video cameras see the diode as if it produces visible purple light.
With a single channel (single-function, one-button) remote control the presence of a carrier signal can be used to trigger a function. For multi-channel (normal multi-function) remote controls more sophisticated procedures are necessary: one consists of modulating the carrier with signals of different frequency. After the demodulation of the received signal, the appropriate frequency filters are applied to separate the respective signals. Nowadays digital procedures are more commonly used. One can often hear the signals being modulated on the infrared carrier by operating a remote control in very close proximity to an AM radio not tuned to a station.
Consumer electronics infrared protocols
Different manufacturers of infrared remote controls use different protocols to transmit the infrared commands. The
RC-5
RC-5
The RC-5 protocol was developed by Philips in the late 1980s as a semi-proprietary consumer IR remote control communication protocol for consumer electronics. However, it was also adopted by most European manufacturers, as well as many US manufacturers of specialty audio and video equipment...
protocol
Communications protocol
A communications protocol is a system of digital message formats and rules for exchanging those messages in or between computing systems and in telecommunications...
that has its origins within Philips, uses, for instance, a total of 14 bits for each button press. The bit pattern is modulated onto a
carrier frequency
Carrier wave
In telecommunications, a carrier wave or carrier is a waveform that is modulated with an input signal for the purpose of conveying information. This carrier wave is usually a much higher frequency than the input signal...
that, again, can be different for different manufacturers and standards, in the case of RC-5, a 36 kHz carrier is being used. Other consumer infrared protocols are, for instance, the different SIRCS versions used by Sony, the RC-6 from Philips, the
Ruwido
Ruwido
Ruwido is an Austrian based broadcast electronics company that manufactures input devices for television, specialising in universal remote controls, set-top boxes, IPTV platforms and keyboards that use multi-touch navigation and infrared technology to operate digital television and digital media...
R-Step, or the NEC TC101 protocol.
Infrared, line of sight and operating angle
Since infrared (IR) remote controls use light, they require line of sight to operate the destination device. The signal can, however, be reflected by mirrors, just like any other light source.
If operation is required where no line of sight is possible, for instance when controlling equipment in another room or installed in a cabinet, many brands of IR extenders are available for this on the market. Most of these have an IR receiver, picking up the IR signal and relaying it via radio waves to the remote part, which has an IR transmitter mimicking the original IR control.
Infrared receivers also tend to have a more or less limited operating angle, which mainly depends on the optical characteristics of the phototransistor. However, it's easy to increase the operating angle using a matte transparent object in front of the receiver.
Radio Remote Control Systems
Radio remote control (RF Remote Control) is a way to control distance objects using a variety of radio signals transmitted by the remote control device. By using radio remote control system, you can control a variety of mechanical or electronic devices to complete various operations, such as closing circuit, move handle, start motor, etc. As a complementary method to infrared remote control type, the radio remote control is widely used in garage door remote control, electric gate remote control, automatic barrier remote control, burglar alarm, industrial remote control and wireless home alarm systems.
A radio remote control system commonly has two parts: transmit and receive.
Transmitter part is generally divided into two types, namely, rf remote control and transmitter module, by the way of using, the rf remote control can be used independently as a whole while the transmitter module is used as a component in the circuit, the advantage of using transmitter model is it can be seamlessly connected with application circuit, and it's size is small, but users must have a knowledge of circuit to use the transmitter module, the rf remote control is much more easy to use at this point.
Receiver part also is generally divided into two types, namely, the super-regenerative receiver and the superheterodyne receiver, super-regenerative receiver is actually working like the regeneration of under intermittent oscillation detection circuit. While Superheterodyne type is working like the one in radio receiver. Superheterodyne receiver features stability, high sensitivity and the anti-interference ability is relatively good, while super-regenerative receiver features a small package and the price is also cheaper.
Industry
Remote control is used for controlling substations, pump storage power stations and
HVDC
High-voltage direct current
A high-voltage, direct current electric power transmission system uses direct current for the bulk transmission of electrical power, in contrast with the more common alternating current systems. For long-distance transmission, HVDC systems may be less expensive and suffer lower electrical losses...
-plants. For these systems often PLC-systems working in the longwave range are used.
Military
Only in the military field of use of remote controls can you find the jammers and the countermeasures against the jammers.
Jammers are used to disable or sabotage the enemy's use of remote controls. IED jamming systems,
Radio jamming
Radio jamming
Radio jamming is the transmission of radio signals that disrupt communications by decreasing the signal to noise ratio. Unintentional jamming occurs when an operator transmits on a busy frequency without first checking whether it is in use, or without being able to hear stations using the frequency...
,
Electronic warfare
Electronic warfare
Electronic warfare refers to any action involving the use of the electromagnetic spectrum or directed energy to control the spectrum, attack an enemy, or impede enemy assaults via the spectrum. The purpose of electronic warfare is to deny the opponent the advantage of, and ensure friendly...
The distances for military remote controls also tend to be much longer, up to intercontinental distance satellite linked remote controls used by the U.S. for their unmanned airplanes (drones) in Afghanistan, Iraq and Pakistan.
Remote controls are used by insurgents in Iraq and Afghanistan to attack coalition and government troops with roadside IEDs (
Improvised explosive device
Improvised explosive device
An improvised explosive device , also known as a roadside bomb, is a homemade bomb constructed and deployed in ways other than in conventional military action...
,
Explosively formed penetrator
Explosively Formed Penetrator
An explosively formed penetrator , also known as an explosively formed projectile, a self-forging warhead, or a self-forging fragment, is a special type of shaped charge designed to penetrate armour effectively at standoff distances...
).
The resistance in Iraq is reported in the media to use modified TV remote controls to detonate the bombs.
Military history
In
World War I
World War I
World War I , which was predominantly called the World War or the Great War from its occurrence until 1939, and the First World War or World War I thereafter, was a major war centred in Europe that began on 28 July 1914 and lasted until 11 November 1918...
, the Imperial German Navy employed FL-boats (Fernlenkboote) against coastal shipping. These were driven by internal combustion engines, and controlled remotely from a shore station through several miles of wire wound on a spool on the boat. An aircraft was used to signal directions to the shore station. EMBs carried a high explosive charge in the bow and traveled at speeds of thirty knots.
The Soviet
Red Army
Red Army
The Workers' and Peasants' Red Army started out as the Soviet Union's revolutionary communist combat groups during the Russian Civil War of 1918-1922. It grew into the national army of the Soviet Union. By the 1930s the Red Army was among the largest armies in history.The "Red Army" name refers to...
used remotely controlled
teletank
Teletank
Teletanks were a series of wireless remotely controlled unmanned robotic tanks produced in the Soviet Union in the 1930s and early 1940s. They saw their first combat use in the Winter war, at the start of World War II. A teletank is controlled by radio from a control tank at a distance of...
s during 1930s in the
Winter War
Winter War
The Winter War was a military conflict between the Soviet Union and Finland. It began with a Soviet offensive on 30 November 1939 – three months after the start of World War II and the Soviet invasion of Poland – and ended on 13 March 1940 with the Moscow Peace Treaty...
against
Finland
Finland
Finland , officially the Republic of Finland, is a Nordic country situated in the Fennoscandian region of Northern Europe. It is bordered by Sweden in the west, Norway in the north and Russia in the east, while Estonia lies to its south across the Gulf of Finland.Around 5.4 million people reside...
and the early stages of
World War II
World War II
World War II, or the Second World War , was a global conflict lasting from 1939 to 1945, involving most of the world's nations—including all of the great powers—eventually forming two opposing military alliances: the Allies and the Axis...
. A teletank is controlled by radio from a control tank at a distance of 500–1,500 meters, the two constituting a
telemechanical group
. The Red Army fielded at least two teletank battalions at the beginning of the Great Patriotic War. There were also remotely controlled cutters and experimental remotely controlled planes in the Red Army.
Space
Remote control technology is also used in space travel, for instance the Soviet
Lunokhod
Lunokhod programme
Lunokhod was a series of Soviet robotic lunar rovers designed to land on the Moon between 1969 and 1977. The 1969 Lunokhod 1A was destroyed during launch, the 1970 Lunokhod 1 and the 1973 Lunokhod 2 landed on the moon and the 1977 Lunokhod was never launched...
vehicles were remote-controlled from the ground. Direct remote control of space vehicles at greater distances from the earth is not practical due to increasing signal delay times.
Video games
Video game consoles had not used wireless controllers until recently, mainly because of the difficulty involved in playing the game while keeping the infrared transmitter pointed at the console. Early wireless controllers were cumbersome and when powered on alkaline batteries, lasted only a few hours before they needed replacement. Some wireless controllers were produced by third parties, in most cases using a radio link instead of infrared. Even these were very inconsistent, and in some cases, had transmission delays, making them virtually useless. The first official wireless controller made by a first party manufacturer was the
WaveBird
WaveBird
The WaveBird Wireless Controller is a radio frequency based wireless controller manufactured for the Nintendo GameCube video game console. Its name is a reference to Dolphin, the GameCube's codename during development...
for
Nintendo Gamecube
Nintendo GameCube
The , officially abbreviated to NGC in Japan and GCN in other regions, is a sixth generation video game console released by Nintendo on September 15, 2001 in Japan, November 18, 2001 in North America, May 3, 2002 in Europe, and May 17, 2002 in Australia...
. The Wavebird changed the face of wireless technology in video game consoles. In the
current generation
History of video game consoles (seventh generation)
In the history of video games, the seventh generation of consoles is the current generation , and includes consoles released since late by Nintendo, Microsoft, and Sony...
of gaming consoles, wireless controllers have become the standard.
PC control
Existing infrared remote controls can be used to control
PC
Personal computer
A personal computer is any general-purpose computer whose size, capabilities, and original sales price make it useful for individuals, and which is intended to be operated directly by an end-user with no intervening computer operator...
applications. Any application that supports shortcut keys can be controlled via IR remote controls from other home devices (TV, VCR, AC, ...). This is widely used with multimedia applications for PC based Home Theatre systems. For this to work, you need a device that decodes IR remote control data signals and a PC application that communicates to this device connected to PC. Connection can be made via serial port, USB port or motherboard IrDA connector. Such devices are commercially available or it can be home made using low cost microcontrollers.
LIRC
(Linux IR Remote control) and Win-LIRC (for Windows) software are developed for the purpose of controlling PC using TV remote and can be also used for homebrew remote with lesser modification. They support almost all TV remotes.
Photography
Remote controls are used in photography, in particular to take long-exposure shots.
Standby power
To be turned on by a wireless remote, the controlled appliance must always be partly on, consuming
standby power
Standby power
Standby power, also called vampire power, vampire draw, phantom load, or leaking electricity , refers to the electric power consumed by electronic and electrical appliances while they are switched off Standby power, also called vampire power, vampire draw, phantom load, or leaking electricity...
.
Alternatives
Hand-
gesture recognition
Gesture recognition
Gesture recognition is a topic in computer science and language technology with the goal of interpreting human gestures via mathematical algorithms. Gestures can originate from any bodily motion or state but commonly originate from the face or hand. Current focuses in the field include emotion...
is an alternative to remote controls for television sets.
External links