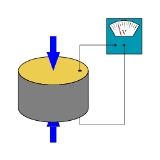 Piezoelectricity
Piezoelectricity
is the charge which accumulates in certain solid materials (notably
crystal
Crystal
A crystal or crystalline solid is a solid material whose constituent atoms, molecules, or ions are arranged in an orderly repeating pattern extending in all three spatial dimensions. The scientific study of crystals and crystal formation is known as crystallography...
s, certain
ceramic
Ceramic
A ceramic is an inorganic, nonmetallic solid prepared by the action of heat and subsequent cooling. Ceramic materials may have a crystalline or partly crystalline structure, or may be amorphous...
s, and biological matter such as bone,
DNA
DNA
Deoxyribonucleic acid is a nucleic acid that contains the genetic instructions used in the development and functioning of all known living organisms . The DNA segments that carry this genetic information are called genes, but other DNA sequences have structural purposes, or are involved in...
and various
protein
Protein
Proteins are biochemical compounds consisting of one or more polypeptides typically folded into a globular or fibrous form, facilitating a biological function. A polypeptide is a single linear polymer chain of amino acids bonded together by peptide bonds between the carboxyl and amino groups of...
s) in response to applied mechanical
stress
Stress (physics)
In continuum mechanics, stress is a measure of the internal forces acting within a deformable body. Quantitatively, it is a measure of the average force per unit area of a surface within the body on which internal forces act. These internal forces are a reaction to external forces applied on the body...
. The word
piezoelectricity
means electricity resulting from pressure. It is derived from the
Greek
Greek language
Greek is an independent branch of the Indo-European family of languages. Native to the southern Balkans, it has the longest documented history of any Indo-European language, spanning 34 centuries of written records. Its writing system has been the Greek alphabet for the majority of its history;...
piezo
or
piezein
(πιέζειν), which means to squeeze or press, and
electric
or
electron
, which stands for
amber
Amber
Amber is fossilized tree resin , which has been appreciated for its color and natural beauty since Neolithic times. Amber is used as an ingredient in perfumes, as a healing agent in folk medicine, and as jewelry. There are five classes of amber, defined on the basis of their chemical constituents...
, an ancient source of electric charge.