 Ralph Samuelson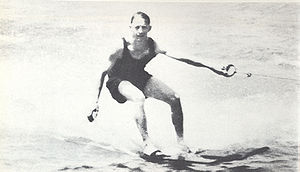 Ralph Wilford Samuelson
(July 3, 1904–August 28, 1977) was the inventor of water skiing, which he first performed in the summer of 1922 in Lake City, Minnesota, just before his 19th birthday. Samuelson was already skilled at aquaplaning—standing on a board while being pulled by a powerboat—but he hoped to create something like snow skiing on the water.
Lake Pepin
Lake Pepin
Lake Pepin is a naturally occurring lake, and the widest naturally occurring part of the Mississippi River, located approximately 60 miles downstream from Saint Paul, Minnesota. It is a widening of the river on the border between Minnesota and Wisconsin. The formation of the lake was caused by the...
, a wide portion of the
Mississippi River
Mississippi River
The Mississippi River is the largest river system in North America. Flowing entirely in the United States, this river rises in western Minnesota and meanders slowly southwards for to the Mississippi River Delta at the Gulf of Mexico. With its many tributaries, the Mississippi's watershed drains...
between
Minnesota
Minnesota
Minnesota is a U.S. state located in the Midwestern United States. The twelfth largest state of the U.S., it is the twenty-first most populous, with 5.3 million residents. Minnesota was carved out of the eastern half of the Minnesota Territory and admitted to the Union as the thirty-second state...
and
Wisconsin
Wisconsin
Wisconsin is a U.S. state located in the north-central United States and is part of the Midwest. It is bordered by Minnesota to the west, Iowa to the southwest, Illinois to the south, Lake Michigan to the east, Michigan to the northeast, and Lake Superior to the north. Wisconsin's capital is...
, was the venue for his experiments.
Patent
Samuelson did not patent his invention, nor was his work sufficiently publicized at the time to prevent U.S. Patent 1,559,390 for water skis from being subsequently issued, on October 27, 1925, to prolific inventor Fred Waller of Huntington, New York. Waller marketed his product as "Dolphin Akwa-Skees." Waller later invented the Cinerama wide-screen motion picture system, and in 1952's "This is Cinerama," the first feature film released in the panoramic format, water skiing at Cypress Gardens, Florida, was a prominently-featured subject. Famed journalist Lowell Thomas was an early investor in Cinerama, and in his introduction to the book "Water Skiing" (1958, Prentice-Hall), by Dick Pope, Sr., creator of Cypress Gardens, Thomas described the connection between Waller and water skiing's prominence as a subject in the motion picture. In several instances in the book, Pope reiterates—erroneously, we now know—that Waller was the first to invent water skis.
Early attempts
Samuelson's early attempts included using staves from
wood
Wood
Wood is a hard, fibrous tissue found in many trees. It has been used for hundreds of thousands of years for both fuel and as a construction material. It is an organic material, a natural composite of cellulose fibers embedded in a matrix of lignin which resists compression...
en
barrel
Barrel
A barrel or cask is a hollow cylindrical container, traditionally made of vertical wooden staves and bound by wooden or metal hoops. Traditionally, the barrel was a standard size of measure referring to a set capacity or weight of a given commodity. A small barrel is called a keg.For example, a...
s and snow skis before he created new skis made of
pine
Pine
Pines are trees in the genus Pinus ,in the family Pinaceae. They make up the monotypic subfamily Pinoideae. There are about 115 species of pine, although different authorities accept between 105 and 125 species.-Etymology:...
boards 8 feet (2.4 m) long and 9 inches wide (240 × 23 cm). He bent up the front tips after softening the wood by boiling them in his mother's
copper
Copper
Copper is a chemical element with the symbol Cu and atomic number 29. It is a ductile metal with very high thermal and electrical conductivity. Pure copper is soft and malleable; an exposed surface has a reddish-orange tarnish...
kettle
Kettle
A kettle, sometimes called a tea kettle or teakettle, is a small kitchen appliance used for boiling water. Kettles can be heated either by placing on a stove, or by their own electric heating element.- Stovetop kettles :...
. Gaining confidence on the water, he began jumping
wake
Wake
A wake is the region of recirculating flow immediately behind a moving or stationary solid body, caused by the flow of surrounding fluid around the body.-Fluid dynamics:...
s, but broke the original skis (the remains of which were believed to be found on a beach on Pepin) in one landing. His slightly-modified second pair still exists; today they are at the Lake City Chamber of Commerce, in Lake City, Minnesota.
Samuelson first succeeded on June 28 by starting off wearing skis while standing on top of an aquaplane board, and then slipping one foot and then the other into the water.
Ski Jumping
He attracted a lot of attention locally in the following days and weeks. On July 8, 1925, Samuelson went on to perform the first ski jump on water. He fell flat in his first attempt, but soon greased the launch platform with
lard
Lard
Lard is pig fat in both its rendered and unrendered forms. Lard was commonly used in many cuisines as a cooking fat or shortening, or as a spread similar to butter. Its use in contemporary cuisine has diminished because of health concerns posed by its saturated-fat content and its often negative...
and succeeded on the second try. Also that year, he became the first speed skier as he found himself racing across the water at 80 mi/h, pulled by a Curtiss
flying boat
Flying boat
A flying boat is a fixed-winged seaplane with a hull, allowing it to land on water. It differs from a float plane as it uses a purpose-designed fuselage which can float, granting the aircraft buoyancy. Flying boats may be stabilized by under-wing floats or by wing-like projections from the fuselage...
that flew just above the waves.
Later years
In his later years, Samuelson moved to
Pine Island, Minnesota
Pine Island, Minnesota
Pine Island is a city in Goodhue and Olmsted counties in the U.S. state of Minnesota. The population was 3,263 at the 2010 census. Most of Pine Island is in Goodhue County, but a small part extends into Olmsted County, making it part of the Rochester metropolitan area.The community has a strong...
where he was a
turkey
Turkey (bird)
A turkey is a large bird in the genus Meleagris. One species, Meleagris gallopavo, commonly known as the Wild Turkey, is native to the forests of North America. The domestic turkey is a descendant of this species...
farmer. He was a guest of honor at a water skiing 50th anniversary in 1972, and was inducted into the Water Ski Hall of Fame on January 22, 1977. When he returned to Minnesota, he began to suffer the effects of
cancer
Cancer
Cancer , known medically as a malignant neoplasm, is a large group of different diseases, all involving unregulated cell growth. In cancer, cells divide and grow uncontrollably, forming malignant tumors, and invade nearby parts of the body. The cancer may also spread to more distant parts of the...
, and died in Pine Island on August 28, 1977.