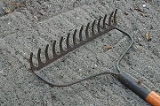 Rake (tool)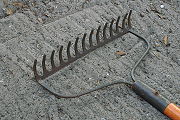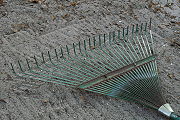 A
rake
is a
broom
Broom
A broom is a cleaning tool consisting of stiff fibers attached to, and roughly parallel to, a cylindrical handle, the broomstick. It is thus a variety of brush with a long handle. It is commonly used in combination with a dustpan....
for outside; an
horticultural
Horticulture
Horticulture is the industry and science of plant cultivation including the process of preparing soil for the planting of seeds, tubers, or cuttings. Horticulturists work and conduct research in the disciplines of plant propagation and cultivation, crop production, plant breeding and genetic...
implement consisting of a toothed bar fixed transversely to a handle, and used to collect
leaves
Leaf
A leaf is an organ of a vascular plant, as defined in botanical terms, and in particular in plant morphology. Foliage is a mass noun that refers to leaves as a feature of plants....
,
hay
Hay
Hay is grass, legumes or other herbaceous plants that have been cut, dried, and stored for use as animal fodder, particularly for grazing livestock such as cattle, horses, goats, and sheep. Hay is also fed to pets such as rabbits and guinea pigs...
,
grass
Grass
Grasses, or more technically graminoids, are monocotyledonous, usually herbaceous plants with narrow leaves growing from the base. They include the "true grasses", of the Poaceae family, as well as the sedges and the rushes . The true grasses include cereals, bamboo and the grasses of lawns ...
, etc., and, in
gardening
Gardening
Gardening is the practice of growing and cultivating plants. Ornamental plants are normally grown for their flowers, foliage, or overall appearance; useful plants are grown for consumption , for their dyes, or for medicinal or cosmetic use...
, for loosening the soil, light weeding and levelling, removing dead grass from lawns, and generally for purposes performed in agriculture by the
harrow
Harrow (tool)
In agriculture, a harrow is an implement for breaking up and smoothing out the surface of the soil. In this way it is distinct in its effect from the plough, which is used for deeper tillage. Harrowing is often carried out on fields to follow the rough finish left by ploughing operations...
.
Large "mechanized" versions of rakes are used in
farming
Agriculture
Agriculture is the cultivation of animals, plants, fungi and other life forms for food, fiber, and other products used to sustain life. Agriculture was the key implement in the rise of sedentary human civilization, whereby farming of domesticated species created food surpluses that nurtured the...
. They are usually called
hay rake
Hay rake
A hay rake is an agricultural rake used to collect cut hay or straw into windrows for later collection . It is also designed to fluff up the hay and turn it over so that it may dry. It is also used in the evening to protect the hay of the dew...
s, and are built in many different forms (star-wheel rakes, rotary rakes etc.).
Types of rakes
Modern hand-rakes usually have
steel
Steel
Steel is an alloy that consists mostly of iron and has a carbon content between 0.2% and 2.1% by weight, depending on the grade. Carbon is the most common alloying material for iron, but various other alloying elements are used, such as manganese, chromium, vanadium, and tungsten...
,
plastic
Plastic
A plastic material is any of a wide range of synthetic or semi-synthetic organic solids used in the manufacture of industrial products. Plastics are typically polymers of high molecular mass, and may contain other substances to improve performance and/or reduce production costs...
, or
bamboo
Bamboo
Bamboo is a group of perennial evergreens in the true grass family Poaceae, subfamily Bambusoideae, tribe Bambuseae. Giant bamboos are the largest members of the grass family....
teeth or
tines
, though historically they have been made with
wood
Wood
Wood is a hard, fibrous tissue found in many trees. It has been used for hundreds of thousands of years for both fuel and as a construction material. It is an organic material, a natural composite of cellulose fibers embedded in a matrix of lignin which resists compression...
or
iron
Iron
Iron is a chemical element with the symbol Fe and atomic number 26. It is a metal in the first transition series. It is the most common element forming the planet Earth as a whole, forming much of Earth's outer and inner core. It is the fourth most common element in the Earth's crust...
. The handle is often made of wood or metal. Some rakes are two-sided and made with dull blades in the shapes of slight crescents, used for removing dead grass (
thatch
) from lawns. When rakes have longer teeth, they may be arranged in the shape of an old-style folding
fan
Fan (implement)
A hand-held fan is an implement used to induce an airflow for the purpose of cooling or refreshing oneself. Any broad, flat surface waved back-and-forth will create a small airflow and therefore can be considered a rudimentary fan...
.
Cultural associations
If the rake lies in the ground teeth up, as shown on the top picture, and someone accidentally steps on the teeth, the rake's handle can swing rapidly upwards, colliding with the victim's face. This is often seen in slapstick comedy and
cartoon
Cartoon
A cartoon is a form of two-dimensional illustrated visual art. While the specific definition has changed over time, modern usage refers to a typically non-realistic or semi-realistic drawing or painting intended for satire, caricature, or humor, or to the artistic style of such works...
s, such as
Tom and Jerry
Tom and Jerry
Tom and Jerry are the cat and mouse cartoon characters that were evolved starting in 1939.Tom and Jerry also may refer to:Cartoon works featuring the cat and mouse so named:* The Tom and Jerry Show...
and
The Simpsons
The Simpsons
The Simpsons is an American animated sitcom created by Matt Groening for the Fox Broadcasting Company. The series is a satirical parody of a middle class American lifestyle epitomized by its family of the same name, which consists of Homer, Marge, Bart, Lisa and Maggie...
episode "
Cape Feare
Cape Feare
"Cape Feare" is the second episode of the fifth season of American animated television series The Simpsons. It originally aired on the Fox network in the United States on October 7, 1993, and has since been featured on DVD and VHS releases...
", where in a series of rakes become what
Sideshow Bob
Sideshow Bob
Robert Underdunk Terwilliger, better known as Sideshow Bob, is a recurring character in the animated television series The Simpsons. He is voiced by Kelsey Grammer and first appeared briefly in the episode "The Telltale Head". Bob is a self-proclaimed genius who is a graduate of Yale, a member of...
describes as his "arch-nemesis". There is a
Russian
Russian culture
Russian culture is associated with the country of Russia and, sometimes, specifically with ethnic Russians. It has a rich history and can boast a long tradition of excellence in every aspect of the arts, especially when it comes to literature and philosophy, classical music and ballet, architecture...
saying
Saying
A saying is something that is said, notable in one respect or another, to be "a pithy expression of wisdom or truth."There are a number of specific types of saying:...
"to trip twice on the same rake" (наступить дважды на одни и те же грабли), which means "to repeat the same silly mistake".
External links