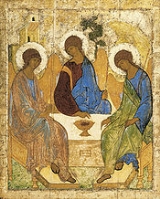 Russian culture
Russian culture
is associated with the country of
Russia
Russia
Russia or , officially known as both Russia and the Russian Federation , is a country in northern Eurasia. It is a federal semi-presidential republic, comprising 83 federal subjects...
and, sometimes, specifically with ethnic
Russians
Russians
The Russian people are an East Slavic ethnic group native to Russia, speaking the Russian language and primarily living in Russia and neighboring countries....
. It has a rich history and can boast a long tradition of excellence in every aspect of the arts, especially when it comes to
literature
Russian literature
Russian literature refers to the literature of Russia or its émigrés, and to the Russian-language literature of several independent nations once a part of what was historically Russia or the Soviet Union...
and
philosophy
Russian philosophy
Russian philosophy includes a variety of philosophical movements. Authors who developed them are listed below sorted by movement.While most authors listed below are primarily philosophers, also included here are some Russian fiction writers, like Tolstoy and Dostoyevsky, who are also known as...
,
classical music
and
ballet
Russian ballet
Russian ballet is a form of ballet characteristic of or originating from Russia. In the early 19th century, the theaters were opened up to anyone who could afford a ticket. There was a seating section called a rayok, or 'paradise gallery', that consisted of simple wooden benches...
,
architecture
Russian architecture
Russian architecture follows a tradition whose roots were established in the Eastern Slavic state of Kievan Rus'. After the fall of Kiev, Russian architectural history continued in the principalities of Vladimir-Suzdal, Novgorod, the succeeding states of the Tsardom of Russia, the Russian Empire,...
and
painting
, cinema and animation, which all had considerable influence on the world culture.