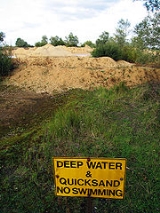 Quicksand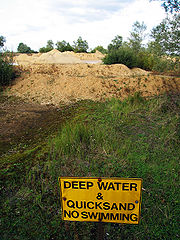 Quicksand
is a
colloid
Colloid
A colloid is a substance microscopically dispersed evenly throughout another substance.A colloidal system consists of two separate phases: a dispersed phase and a continuous phase . A colloidal system may be solid, liquid, or gaseous.Many familiar substances are colloids, as shown in the chart below...
hydrogel consisting of fine granular matter (such as
sand
Sand
Sand is a naturally occurring granular material composed of finely divided rock and mineral particles.The composition of sand is highly variable, depending on the local rock sources and conditions, but the most common constituent of sand in inland continental settings and non-tropical coastal...
or
silt
Silt
Silt is granular material of a size somewhere between sand and clay whose mineral origin is quartz and feldspar. Silt may occur as a soil or as suspended sediment in a surface water body...
),
clay
Clay
Clay is a general term including many combinations of one or more clay minerals with traces of metal oxides and organic matter. Geologic clay deposits are mostly composed of phyllosilicate minerals containing variable amounts of water trapped in the mineral structure.- Formation :Clay minerals...
, and
water
Water
Water is a chemical substance with the chemical formula H2O. A water molecule contains one oxygen and two hydrogen atoms connected by covalent bonds. Water is a liquid at ambient conditions, but it often co-exists on Earth with its solid state, ice, and gaseous state . Water also exists in a...
.
Water circulation underground can focus in an area with the optimal mixture of fine sands and other materials such as clay. The water moves up and then down slowly in a convection-like manner throughout a column of sand, and the sand remains a generally solid mass. The water lubricates the sand particles and renders them unable to support significant weight. Since water does not usually go up to the surface of the sand, the sand on top appears solid and can support leaves and other small debris, making quicksand difficult to distinguish from the surrounding environment.
Properties
Quicksand is a
non-Newtonian fluid
Non-Newtonian fluid
A non-Newtonian fluid is a fluid whose flow properties differ in any way from those of Newtonian fluids. Most commonly the viscosity of non-Newtonian fluids is not independent of shear rate or shear rate history...
: when undisturbed, it often appears to be
solid
Phase (matter)
In the physical sciences, a phase is a region of space , throughout which all physical properties of a material are essentially uniform. Examples of physical properties include density, index of refraction, and chemical composition...
("
gel
Gel
A gel is a solid, jelly-like material that can have properties ranging from soft and weak to hard and tough. Gels are defined as a substantially dilute cross-linked system, which exhibits no flow when in the steady-state...
" form), but a minor (less than 1%) change in the
stress
Stress (physics)
In continuum mechanics, stress is a measure of the internal forces acting within a deformable body. Quantitatively, it is a measure of the average force per unit area of a surface within the body on which internal forces act. These internal forces are a reaction to external forces applied on the body...
on the quicksand will cause a sudden decrease in its
viscosity
Viscosity
Viscosity is a measure of the resistance of a fluid which is being deformed by either shear or tensile stress. In everyday terms , viscosity is "thickness" or "internal friction". Thus, water is "thin", having a lower viscosity, while honey is "thick", having a higher viscosity...
("
sol
Sol (colloid)
A sol is a colloidal suspension of very small solid particles in a continuous liquid medium. They are quite stable and show the Tyndall effect. Examples include blood, pigmented ink, and paint....
" form). After an initial disturbance — such as a person attempting to walk on it — the water and sand in the quicksand separate and dense regions of sand
sediment
Sediment
Sediment is naturally occurring material that is broken down by processes of weathering and erosion, and is subsequently transported by the action of fluids such as wind, water, or ice, and/or by the force of gravity acting on the particle itself....
form; it is because of the formation of these high
volume fraction
regions that the viscosity of the quicksand seems to increase suddenly. Someone stepping on it will start to sink. To move within the quicksand, a person or object must apply sufficient
pressure
Pressure
Pressure is the force per unit area applied in a direction perpendicular to the surface of an object. Gauge pressure is the pressure relative to the local atmospheric or ambient pressure.- Definition :...
on the compacted sand to re-introduce enough water to
liquefy
Liquefaction
Liquefaction may refer to:* Liquefaction, the general process of becoming liquid* Soil liquefaction, the process by which sediments become suspended* Liquefaction of gases in physics, chemistry, and thermal engineering* Liquefactive necrosis in pathology...
it. The
force
Force
In physics, a force is any influence that causes an object to undergo a change in speed, a change in direction, or a change in shape. In other words, a force is that which can cause an object with mass to change its velocity , i.e., to accelerate, or which can cause a flexible object to deform...
s required to do this are quite large: to remove a foot from quicksand at a speed of .01 m/s would require the same amount of force as "that needed to lift a medium-sized car."
Because of the higher
density
Density
The mass density or density of a material is defined as its mass per unit volume. The symbol most often used for density is ρ . In some cases , density is also defined as its weight per unit volume; although, this quantity is more properly called specific weight...
of the quicksand, it would be impossible for a human or animal to completely sink in the quicksand, though natural hazards present around the quicksand would lead people to believe that quicksand is dangerous. In actuality the quicksand is harmless on its own, but because it greatly impedes human locomotion, the quicksand would allow harsher elements like solar radiation,
dehydration
Dehydration
In physiology and medicine, dehydration is defined as the excessive loss of body fluid. It is literally the removal of water from an object; however, in physiological terms, it entails a deficiency of fluid within an organism...
,
hypothermia
Hypothermia
Hypothermia is a condition in which core temperature drops below the required temperature for normal metabolism and body functions which is defined as . Body temperature is usually maintained near a constant level of through biologic homeostasis or thermoregulation...
or tides to harm a trapped person. The way to escape is to wiggle the legs.
Prevalence
Quicksand may be found inland (on riverbanks, near
lake
Lake
A lake is a body of relatively still fresh or salt water of considerable size, localized in a basin, that is surrounded by land. Lakes are inland and not part of the ocean and therefore are distinct from lagoons, and are larger and deeper than ponds. Lakes can be contrasted with rivers or streams,...
s, or in
marsh
Marsh
In geography, a marsh, or morass, is a type of wetland that is subject to frequent or continuous flood. Typically the water is shallow and features grasses, rushes, reeds, typhas, sedges, other herbaceous plants, and moss....
es), or near the coast.
In fiction
People falling into (and, unrealistically, being submerged in) quicksand or a similar substance is a
trope
Trope (literature)
A literary trope is the usage of figurative language in literature, or a figure of speech in which words are used in a sense different from their literal meaning...
of adventure fiction, notably movies. According to
Slate
Slate (magazine)
Slate is a US-based English language online current affairs and culture magazine created in 1996 by former New Republic editor Michael Kinsley, initially under the ownership of Microsoft as part of MSN. On 21 December 2004 it was purchased by the Washington Post Company...
, this gimmick had its heyday in the 1960s, when almost 3% of all films showed someone sinking in mud, sand, or clay, but it has since gradually fallen out of use. The proliferation of quicksand scenes in movies has given rise to an
internet subculture
Cyberculture
Cyberculture is the culture that has emerged, or is emerging, from the use of computer networks for communication, entertainment and business. It is also the study of various social phenomena associated with the Internet and other new forms of network communication, such as online communities,...
scene dedicated to the topic.
External links