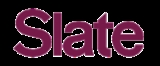 Slate (magazine)
Slate
is a US-based English language online current affairs and culture magazine created in 1996 by former
New Republic
The New Republic
The magazine has also published two articles concerning income inequality, largely criticizing conservative economists for their attempts to deny the existence or negative effect increasing income inequality is having on the United States...
editor
Michael Kinsley
Michael Kinsley
Michael Kinsley is an American political journalist, commentator, television host, and pundit. Primarily active in print media as both a writer and editor, he also became known to television audiences as a co-host on Crossfire...
, initially under the ownership of
Microsoft
Microsoft
Microsoft Corporation is an American public multinational corporation headquartered in Redmond, Washington, USA that develops, manufactures, licenses, and supports a wide range of products and services predominantly related to computing through its various product divisions...
as part of
MSN
MSN
MSN is a collection of Internet sites and services provided by Microsoft. The Microsoft Network debuted as an online service and Internet service provider on August 24, 1995, to coincide with the release of the Windows 95 operating system.The range of services offered by MSN has changed since its...
. On 21 December 2004 it was purchased by the
Washington Post Company
Washington Post Company
The Washington Post Company is an American education and media company, best known for owning the newspaper for which it is named, The Washington Post. The Company also owns Kaplan, Inc., a leading international provider of educational and career services for individuals, schools and businesses...
. Since 4 June 2008
Slate
has been managed by
The Slate Group
The Slate Group
The Slate Group is an online publishing entity established in June 2008 by The Washington Post Company. Among the publications overseen by The Slate Group are Slate, Slate V, The Root, The Big Money, and ForeignPolicy.com....
, an online publishing entity created by the Washington Post Company to develop and manage web-only magazines.
A French version
(slate.fr)
was launched in February 2009 by a group of four journalists, including
Jean-Marie Colombani
Jean-Marie Colombani
Jean-Marie Colombani is a French journalist, and was the editor of the daily newspaper Le Monde from 1994 until 2007.-Biography:...
, Eric Leser, and economist
Jacques Attali
Jacques Attali
Jacques Attali is a French economist, writer and senior civil servant.Former adviser to President François Mitterrand and first president of the European Bank for Reconstruction and Development, he founded the non-profit organization PlaNet Finance and was nominated President of the Commission for...
. Between them, the founders hold 50% in the publishing company, while the Slate Group holds 15%.
Since June 2008,
David Plotz
David Plotz
David Plotz is an American journalist. A writer with Slate since its inception in 1996, Plotz was designated as the online magazine's editor in June 2008, succeeding Jacob Weisberg.-Early life and career:...
has served as the editor of
Slate
. He had been the deputy editor to
Jacob Weisberg
Jacob Weisberg
Jacob Weisberg is an American political journalist, serving as editor-in-chief of Slate Group, a division of The Washington Post Company. Weisberg is also a Newsweek columnist. He served as the editor of Slate magazine for six years, until stepping down in June 2008...
,
Slate's
editor from 2002 until his designation as the Chairman and Editor-in-Chief of The Slate Group. The Washington Post Company's John Alderman is
Slate
'
s publisher.
Slate
, which is updated daily, covers politics, arts and culture, sports, and news. It is ad-supported and has been available to read free of charge since 1999.
Background
Slate
features regular and semi-regular columns such as Explainer, Moneybox, Spectator, Transport, and
Dear Prudence
Dear Prudence (advice column)
Dear Prudence is an advice column appearing weekly in the online magazine Slate and syndicated to over 200 newspapers.The column was initiated on 20 December 1997. "Prudence" was a pseudonym, and the author's true identity was not revealed at the time...
. Many of the articles are short (under 2,000 words) and argument-driven. In recent years, the magazine has also begun running long-form journalism. Many of the longer stories are an outgrowth of the "Fresca Fellowships," so-called because editor Plotz likes the soft drink Fresca. "The idea is that every writer and editor on staff has to spend a month or six weeks a year not doing their regular job, but instead working on a long, ambitious project of some sort," Plotz said in an interview.
In March 1998,
Slate
attracted considerable notice by charging a $19.95 annual subscription fee, becoming one of the first sites (outside of pornography and financial news) to attempt a subscription-based business model. The scheme did not work; in February 1999,
Slate
returned to free content, citing both sluggish subscription sales and increased advertising revenue. A similar subscription model would later be implemented by
Slate
'
s independently-owned competitor,
Salon.com
Salon.com
Salon.com, part of Salon Media Group , often just called Salon, is an online liberal magazine, with content updated each weekday. Salon was founded by David Talbot and launched on November 20, 1995. It was the internet's first online-only commercial publication. The magazine focuses on U.S...
, in April 2001.
On July 15, 2005,
Slate
began offering a
podcast
Podcast
A podcast is a series of digital media files that are released episodically and often downloaded through web syndication...
, featuring selected stories from the site read by
Slate
editor Andy Bowers. The site now hosts several regular podcast "gabfests," or roundtables, covering various topics. The Political Gabfest was the first, headed by John Dickerson, Emily Bazelon and David Plotz. Later, a Culture Gabfest was added. The sports podcast, Hangup and Listen, is the most recent addition. "Slate's Spoiler Special", reviews movies for people who have already seen them.
On November 30, 2005,
Slate
started a daily feature "Today's Pictures", featuring fifteen to twenty photographs from the archive at
Magnum Photos
Magnum Photos
Magnum Photos is an international photographic cooperative owned by its photographer-members, with offices located in New York, Paris, London and Tokyo...
that share a common theme. The column also features two flash animated "Interactive Essays" a month.
In June 2006, on its tenth anniversary,
Slate
unveiled a redesigned website. In 2007, it introduced "Slate V", an online video magazine with content that relates to or expands upon their written articles.
In 2011,
Slate
was nominated for four digital National Magazine Awards and won the NMA for General Excellence.
Notable contributors and their departments
Anne Applebaum

Anne Applebaum

Anne Elizabeth Applebaum is a journalist and Pulitzer Prize-winning author who has written extensively about communism and the development of civil society in Central and Eastern Europe. She has been an editor at The Economist, and a member of the editorial board of The Washington Post...


(Foreigners)
Emily Bazelon

Emily Bazelon

Emily Bazelon is an American journalist, senior editor for online magazine Slate, and a senior research fellow at Yale Law School. Her work as a writer focuses on law, abortion, and family issues.-Journalism career:...


(Family/Jurisprudence)
John Dickerson (Politics)
Simon Doonan

Simon Doonan

Simon Doonan is the Creative Ambassador-at-Large of the New York City-based clothing store, Barneys.-Biography:Doonan hails from the English town of Reading. He got his first retail job as a summer job working at Heelas, a department store in Reading that belonged to the John Lewis Partnership...


(Doonan)
Stefan Fatsis

Stefan Fatsis

Stefan Fatsis is an author and journalist. He regularly appears as a guest on National Public Radio's All Things Considered daily radio news program and as a panelist on Slate's sports podcast Hang Up and Listen. He is a former staff reporter for The Wall Street Journal.-Biography:Fatsis grew up...


(Hang Up and Listen)
David Greenberg (History Lesson)
Annie Lowrey

Annie Lowrey

Annie Lowrey reports on economics and business for The New York Times. Previously Lowrey covered the economy for Slate. She was also a staff writer for the Washington Independent and served on the editorial staffs of Foreign Policy and The New Yorker. Lowrey joined Slate in 2010 as part of an...


(Moneybox)
Johann Hari

Johann Hari

Johann Hari is an award winning British journalist who has been a columnist at The Independent, the The Huffington Post, and contributed to several other publications. In 2011, Hari was accused of plagiarism; he subsequently was suspended from The Independent and surrendered his 2008 Orwell Prize...


(Books)
Christopher Hitchens

Christopher Hitchens

Christopher Eric Hitchens is an Anglo-American author and journalist whose books, essays, and journalistic career span more than four decades. He has been a columnist and literary critic at The Atlantic, Vanity Fair, Slate, World Affairs, The Nation, Free Inquiry, and became a media fellow at the...


(Fighting Words)
Ann Hulbert (Books editor)
Fred Kaplan

Fred Kaplan

Fred Kaplan is a journalist and contributor to Slate magazine. His "War Stories" column covers international relations and US foreign policy.-Career:...


(War Stories)
Adam Kirsch

Adam Kirsch

Adam Kirsch is an American poet and literary critic.-Early life and education:Kirsch is the son of lawyer, author, and biblical scholar Jonathan Kirsch, and a 1997 graduate of Harvard College.-Career:...


(Books)
Dahlia Lithwick

Dahlia Lithwick

-External links:*...


(Jurisprudence)
Farhad Manjoo

Farhad Manjoo

Farhad Manjoo is an American journalist and author. He has been a staff writer for Slate magazine since 2008 and a regular on-air contributor for National Public Radio since 2009.-Life and career:...


(Technology)
Timothy Noah

Timothy Noah

Timothy Robert Noah is an American journalist. He is a senior editor of The New Republic, where he writes the TRB column and a political blog...


(The Customer)
Meghan O'Rourke

Meghan O'Rourke

Meghan O'Rourke is an American poet, critic, and a contributing writer for the online magazine Slate. She is a graduate of Yale. O'Rourke was formerly a fiction editor at The New Yorker and from 2005-2010 was poetry co-editor at The Paris Review...


(The Highbrow / Grieving)
Troy Patterson (Television)
Robert Pinsky

Robert Pinsky

Robert Pinsky is an American poet, essayist, literary critic, and translator. From 1997 to 2000, he served as Poet Laureate Consultant in Poetry to the Library of Congress. Pinsky is the author of nineteen books, most of which are collections of his own poetry...


(Poetry editor)
David Plotz

David Plotz

David Plotz is an American journalist. A writer with Slate since its inception in 1996, Plotz was designated as the online magazine's editor in June 2008, succeeding Jacob Weisberg.-Early life and career:...


(Editor)
Nina Shen Rastogi (Brow Beat)
Jody Rosen

Jody Rosen

Jody Rosen is an American journalist and author. He is the music critic for the online magazine Slate, and the author of White Christmas: The Story of an American Song....


(Music Box)
Ron Rosenbaum

Ron Rosenbaum

-Life and career:Rosenbaum was born into a Jewish family in New York City, New York and grew up in Bay Shore, New York. He graduated from Yale University in 1968 and won a Carnegie Fellowship to attend Yale's graduate program in English Literature, though he dropped out after taking one course...


(Spectator)
William Saletan

William Saletan

William Saletan is the national correspondent at Slate.com. Saletan gained recognition in the fall of 2004 with nearly daily columns covering the ups and downs of the Presidential race. He currently writes the 'Human Nature' column...


(Human Nature)
Jack Shafer

Jack Shafer

Jack Shafer covers media for Reuters.com Opinion section. Prior to joining Reuters, he edited and wrote the column Press Box for Slate, an online magazine. Before his stay at Slate, Shafer edited two city weeklies, Washington City Paper and SF Weekly...


(Press Box)
Eliot Spitzer

Eliot Spitzer

Eliot Laurence Spitzer is an American lawyer, former Democratic Party politician, and political commentator. He was the co-host of In the Arena, a talk-show and punditry forum broadcast on CNN until CNN cancelled his show in July of 2011...


(The Best Policy)
Mike Steinberger‎ (Drink)
Dana Stevens (critic)

Dana Stevens (critic)

Dana Shawn Stevens is a movie critic at Slate magazine. She is also a regular on the magazine's weekly cultural podcast the Culture Gabfest.-Life and career:Stevens grew up in Scarsdale, New York...


(Surfergirl through 2005/Movies)
Seth Stevenson (Ad Report Card / Well-Traveled)
Tom Vanderbilt

Tom Vanderbilt

Tom Vanderbilt is an American journalist, blogger, and author of the best-selling book, Traffic: Why We Drive the Way We Do .-Personal life:...


(Transport)
David Weigel

David Weigel

David "Dave" Weigel , is an American journalist, currently working for Slate magazine and MSNBC. Weigel began appearing on MSNBC in 2009, accepting a position as a paid contributor in June 2010...


(Politics)
Jacob Weisberg

Jacob Weisberg

Jacob Weisberg is an American political journalist, serving as editor-in-chief of Slate Group, a division of The Washington Post Company. Weisberg is also a Newsweek columnist. He served as the editor of Slate magazine for six years, until stepping down in June 2008...


(The Big Idea)
Jonah Weiner (Culturebox / Music Box)
Tim Wu

Tim Wu

Tim Wu is a professor at Columbia Law School, the former chair of media reform group Free Press, and a writer for Slate Magazine. He is also a former Bernard L. Schwartz and Future Tense fellow at The New America Foundation...


(Technology/Jurisprudence)
Emily Yoffe

Emily Yoffe

Emily Yoffe is a journalist, a regular contributor to Slate magazine and the NPR radio show Day to Day. She has also written for The New York Times, O, The Oprah Magazine, The Washington Post, and many other publications...


(Dear Prudence

Dear Prudence (advice column)

Dear Prudence is an advice column appearing weekly in the online magazine Slate and syndicated to over 200 newspapers.The column was initiated on 20 December 1997. "Prudence" was a pseudonym, and the author's true identity was not revealed at the time...


/Human Guinea-pig)
Other recurring features
Assessment
Books
The Book Club
Culturebox
Dispatches
Drink
Food
Foreigners
Gaming
The Good Word (language)
Shopping
The Movie Club
Science
The TV Club
Past notable contributors
External links