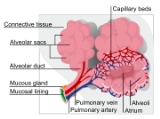 Pulmonary alveolus
An
alveolus
is an anatomical structure that has the form of a hollow cavity. Found in the lung parenchyma, the
pulmonary alveoli
are the dead ends of the
respiratory tree
Respiratory tree
The respiratory tree describes the branching structure of the vertebrate lung. Beginning with the top of the respiratory system, the trachea, the order of branchings is as follows:* trachea** main bronchus:-----***lobar bronchus**** segmental bronchus...
, which outcrop from either
alveolar sacs
or alveolar ducts, which are both sites of gas exchange with the
blood
Blood
Blood is a specialized bodily fluid in animals that delivers necessary substances such as nutrients and oxygen to the cells and transports metabolic waste products away from those same cells....
as well. Alveoli are particular to mammalian lungs. Different structures are involved in gas exchange in other vertebrates. The alveolar membrane is the gas-exchange surface. The blood brings carbon dioxide from the rest of the body for release into the alveoli, and the oxygen in the alveoli is taken up by the blood in the alveolar blood vessels, to be transported to all the cells in the body.
Location
The alveoli are located in the
respiratory zone
Respiratory zone
The respiratory zone is the site of O2 and CO2 exchange with the blood.The respiratory bronchioles and the alveolar ducts are responsible for 10% of the gas exchange. The alveoli are responsible for the other 90%....
of the lungs, at the distal termination of the alveolar ducts and atria. These air sacs are the forming and termination point of the
respiratory tract
Respiratory tract
In humans the respiratory tract is the part of the anatomy involved with the process of respiration.The respiratory tract is divided into 3 segments:*Upper respiratory tract: nose and nasal passages, paranasal sinuses, and throat or pharynx...
. They provide total surface area of about 100 m
2
.
Anatomy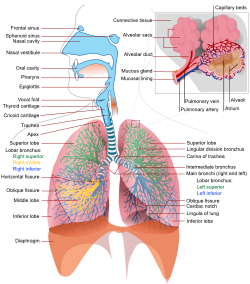 The alveoli contain some
collagen
Collagen
Collagen is a group of naturally occurring proteins found in animals, especially in the flesh and connective tissues of mammals. It is the main component of connective tissue, and is the most abundant protein in mammals, making up about 25% to 35% of the whole-body protein content...
and
elastic fibres
Elastin
Elastin is a protein in connective tissue that is elastic and allows many tissues in the body to resume their shape after stretching or contracting. Elastin helps skin to return to its original position when it is poked or pinched. Elastin is also an important load-bearing tissue in the bodies of...
. The elastic fibers allow the alveoli to stretch as they are filled with air when breathing in. They then spring back during breathing out in order to expel the carbon dioxide-rich air.
A typical pair of human lungs contain about 700 million alveoli, producing 70m² of surface area. Each alveolus is wrapped in a fine mesh of capillaries covering about 70% of its area. An adult alveolus has an average diameter of 200 micrometres, with an increase in diameter during
inhalation
Inhalation
Inhalation is the movement of air from the external environment, through the air ways, and into the alveoli....
.
The alveoli consist of an epithelial layer and extracellular matrix surrounded by capillaries. In some alveolar walls there are pores between alveoli called
Pores of Kohn
Pores of Kohn
The Pores of Kohn are pores between adjacent alveoli, or interalveolar connections. They function as a means of collateral ventilation; that is, if the lung is partially deflated, ventilation can occur to some extent through these pores...
.
Histology
There are three major cell types in the alveolar wall (pneumocytes):
Type I (Squamous Alveolar) cells

Type I pneumocyte

Type I pneumocytes are responsible for gas exchange in the alveoli and cover a majority of the alveolar surface area . While type I pneumocytes account for most of the surface area, they are approximately half as numerous as type II cells, due to differences in size...


that form the structure of an alveolar wall
Type II (Great Alveolar) cells

Type II pneumocyte

Type II pneumocytes also called great alveolar cells or septal cells are granular and roughly cuboidal in shape. Type II pneumocytes are typically found at the alveolar-septal junction...


that secrete pulmonary surfactant

Pulmonary surfactant

Pulmonary surfactant is a surface-active lipoprotein complex formed by type II alveolar cells. The proteins and lipids that surfactant comprises have both a hydrophilic region and a hydrophobic region...


to lower the surface tension of water and allows the membrane to separate, therefore increasing its capability to exchange gases. Surfactant is continuously released by exocytosis. It forms an underlying aqueous protein-containing hypophase and an overlying phospholipid film composed primarily of dipalmitoyl phosphatidylcholine.
Macrophages that destroy foreign material, such as bacteria.
Reinflation of the alveoli following exhalation is made easier by
pulmonary surfactant
Pulmonary surfactant
Pulmonary surfactant is a surface-active lipoprotein complex formed by type II alveolar cells. The proteins and lipids that surfactant comprises have both a hydrophilic region and a hydrophobic region...
, which is a phospholipid and protein mixture that reduces surface tension in the thin fluid coating within all alveoli. The fluid coating is produced by the body in order to facilitate the transfer of gases between blood and alveolar air. The surfactant is produced by great alveolar cells (granular pneumonocytes, a
cuboidal epithelia
Cuboidal epithelia
Cuboidal epithelia are epithelial cells having a cube-like shape; that is, their width is approximately equal to their height. They may exist in single layers or multiple layers depending on their location in the body....
), which are the most numerous cells in the alveoli, yet do not cover as much surface area as the squamous alveolar cells (a
squamous epithelium
Squamous epithelium
In anatomy, squamous epithelium is an epithelium characterised by its most superficial layer consisting of flat, scale-like cells called squamous epithelial cells...
).
Great alveolar cells also repair the endotheilium of the alveolus when it becomes damaged. Insufficient
pulmonary surfactant
Pulmonary surfactant
Pulmonary surfactant is a surface-active lipoprotein complex formed by type II alveolar cells. The proteins and lipids that surfactant comprises have both a hydrophilic region and a hydrophobic region...
in the alveoli can contribute to
atelectasis
Atelectasis
Atelectasis is defined as the collapse or closure of alveoli resulting in reduced or absent gas exchange. It may affect part or all of one lung. It is a condition where the alveoli are deflated, as distinct from pulmonary consolidation.It is a very common finding in chest x-rays and other...
(collapse of part or all of the lung). Without pulmonary surfactant, atelectasis is a certainty; however, there are other causes of lung collapse such as trauma (pneumothorax), COPD, and pleuritis.
Diseases
Acute respiratory distress syndrome

Acute respiratory distress syndrome

Acute respiratory distress syndrome , also known as respiratory distress syndrome or adult respiratory distress syndrome is a serious reaction to various forms of injuries to the lung....


(ARDS) is a severe inflammatory disease of the lung. Usually triggered by other pulmonary pathology, the uncontrolled inflammation leads to impaired gas exchange

Gas exchange

Gas exchange is a process in biology where gases contained in an organism and atmosphere transfer or exchange. In human gas-exchange, gases contained in the blood of human bodies exchange with gases contained in the atmosphere. Human gas-exchange occurs in the lungs...


, alveolar flooding and/or collapse, and systemic inflammatory response syndrome

Systemic inflammatory response syndrome

Systemic inflammatory response syndrome is an inflammatory state affecting the whole body, frequently a response of the immune system to infection, but not necessarily so...


. It usually requires mechanical ventilation

Mechanical ventilation

In medicine, mechanical ventilation is a method to mechanically assist or replace spontaneous breathing. This may involve a machine called a ventilator or the breathing may be assisted by a physician, respiratory therapist or other suitable person compressing a bag or set of bellows...


in an intensive care unit setting.
Infant respiratory distress syndrome

Infant respiratory distress syndrome

Infant respiratory distress syndrome , also called neonatal respiratory distress syndrome or respiratory distress syndrome of newborn, previously called hyaline membrane disease, is a syndrome in premature infants caused by developmental insufficiency of surfactant production and structural...


(IRDS) is a syndrome caused by lack of surfactant in the lungs of premature infants.
In asthma

Asthma

Asthma is the common chronic inflammatory disease of the airways characterized by variable and recurring symptoms, reversible airflow obstruction, and bronchospasm. Symptoms include wheezing, coughing, chest tightness, and shortness of breath...


, the bronchiole

Bronchiole

The bronchioles or bronchioli are the first airway branches that no longer contain cartilage or glands in their submucosa. They are branches of the bronchi.The bronchioles terminate by entering the circular sacs called alveoli.- Structure :...


s, or the "bottle-necks" into the sac are restricted, causing the amount of air flow into the lungs to be greatly reduced. It can be triggered by irritants in the air, photochemical smog for example, as well as substances that a person is allergic to.
Emphysema

Emphysema

Emphysema is a long-term, progressive disease of the lungs that primarily causes shortness of breath. In people with emphysema, the tissues necessary to support the physical shape and function of the lungs are destroyed. It is included in a group of diseases called chronic obstructive pulmonary...


is another disease of the lungs, whereby the elastin

Elastin

Elastin is a protein in connective tissue that is elastic and allows many tissues in the body to resume their shape after stretching or contracting. Elastin helps skin to return to its original position when it is poked or pinched. Elastin is also an important load-bearing tissue in the bodies of...


in the walls of the alveoli is broken down by an imbalance between the production of neutrophil elastase (elevated by cigarette smoke) and alpha-1-antitrypsin (the activity varies due to genetics or reaction of a critical methionine residue with toxins including cigarette smoke). The resulting loss of elasticity in the lungs leads to prolonged times for exhalation, which occurs through passive recoil of the expanded lung. This leads to a smaller volume of gas exchanged per breath.
Chronic bronchitis

Chronic bronchitis

Chronic bronchitis is a chronic inflammation of the bronchi in the lungs. It is generally considered one of the two forms of chronic obstructive pulmonary disease...


occurs when an abundance of mucus is produced by the lungs. The production of this substance occurs naturally when the lung tissue is exposed to irritants. In chronic bronchitis, the air passages into the alveoli, the broncholiotes, become clogged with mucus. This causes increased coughing in order to remove the mucus, and is often a result of extended periods of exposure to cigarette smoke.
Cystic fibrosis

Cystic fibrosis

Cystic fibrosis is a recessive genetic disease affecting most critically the lungs, and also the pancreas, liver, and intestine...


is a genetic condition. A mutation of the cystic fibrosis transmembrane conductance regulator gene causes defective CFTR proteins, which are transmembrane proteins that function in Cl- transport in wet epithelia. Because wet epithelium is such a ubiquitous and multipurpose tissue type, CF has myriad deleterious effects, some of the most serious of which are severe respiratory problems. Many of the mechanisms by which CF causes damage or inadequate function in the wet epithelia of other tissues, such as the digestive and reproductive tracts, are well-understood. CF's mechanisms in causing lung disease, however, remain poorly elucidated. One popular hypothesis suggests increased viscosity due to increased salinity of the mucous secreted by glands of the pseudostratified respiratory epithelium, causing difficulty in maintaining normal respiratory tract mucociliary clearance. The frequency of certain specific bacterial infections (Pseudomonas, H. flu, Staph) has prompted two other popular categories of hypotheses: that the high salt content may interfere with defensins and lysosome, and/or may encourage the growth of the several bacterial species typically infecting the ordinarily-sterile lower lungs of CF patients. Regular treatment is usually required--primarily percussive therapy and antibiotics. Promising research into gene therapies is taking place.
Diffuse interstitial fibrosis
Lung cancer

Lung cancer

Lung cancer is a disease characterized by uncontrolled cell growth in tissues of the lung. If left untreated, this growth can spread beyond the lung in a process called metastasis into nearby tissue and, eventually, into other parts of the body. Most cancers that start in lung, known as primary...


is a common form of cancer causing the uncontrolled growth of cells in the lung tissue. Due to the sensitivity of lung tissue, such malignant growth is often hard to treat effectively.
Pneumonia

Pneumonia

Pneumonia is an inflammatory condition of the lung—especially affecting the microscopic air sacs —associated with fever, chest symptoms, and a lack of air space on a chest X-ray. Pneumonia is typically caused by an infection but there are a number of other causes...


is an infection of the lung parenchyma, which can be caused by both virus

Virus

A virus is a small infectious agent that can replicate only inside the living cells of organisms. Viruses infect all types of organisms, from animals and plants to bacteria and archaea...


es and bacteria

Bacteria

Bacteria are a large domain of prokaryotic microorganisms. Typically a few micrometres in length, bacteria have a wide range of shapes, ranging from spheres to rods and spirals...


. Cytokines and fluids are released into the alveolar cavity and/or interstitium in response to infection, causing the effective surface area of gas exchange in the lungs to be reduced. If this happens to such a degree that the patient cannot draw enough oxygen from his or her environment to maintain cellular respiration, then the victim may need supplemental oxygen.
Cavitary pneumonia

Cavitary pneumonia

Cavitary Pneumonia is a disease in which the normal lung architecture is replaced by a cavity. In the healthy lung, oxygen transport occurs at the level of the alveoli which has an average size of 0.1 mm...


is a process in which the alveoli are destroyed and produce a cavity. As the alveoli are destroyed, the surface area for gas exchange to occur becomes reduced. Further changes in blood flow can lead to decline in lung function.
Pulmonary contusion

Pulmonary contusion

A pulmonary contusion is a contusion of the lung, caused by chest trauma. As a result of damage to capillaries, blood and other fluids accumulate in the lung tissue. The excess fluid interferes with gas exchange, potentially leading to inadequate oxygen levels...


is a bruise

Bruise

A bruise, also called a contusion, is a type of relatively minor hematoma of tissue in which capillaries and sometimes venules are damaged by trauma, allowing blood to seep into the surrounding interstitial tissues. Bruises can involve capillaries at the level of skin, subcutaneous tissue, muscle,...


of the lung tissue.
Regenerative ability of the human pulmonary alveolus
The following small extracted statement is from a story (taken on Wednesday, November 2, 2011) from the HarvardScience website, a division of the online
Harvard Gazette
Harvard Gazette
The Harvard Gazette is the official newspaper of Harvard University, and highlights faculty research, administrative staff, students, and events....
. It had been featured on Harvard University's homepage. The news release (no author is given) from
Harvard Medical School
Harvard Medical School
Harvard Medical School is the graduate medical school of Harvard University. It is located in the Longwood Medical Area of the Mission Hill neighborhood of Boston, Massachusetts....
Communications was originally posted on Thursday, October 27, 2011:
"Guided by insights into how
mice
MICE
-Fiction:*Mice , alien species in The Hitchhiker's Guide to the Galaxy*The Mice -Acronyms:* "Meetings, Incentives, Conferencing, Exhibitions", facilities terminology for events...
recover after H1N1 flu, researchers
at Harvard Medical School and Brigham and Women's Hospital,
together with researchers at A*STAR of
Singapore
Singapore
Singapore , officially the Republic of Singapore, is a Southeast Asian city-state off the southern tip of the Malay Peninsula, north of the equator. An island country made up of 63 islands, it is separated from Malaysia by the Straits of Johor to its north and from Indonesia's Riau Islands by the...
, have cloned
three distinct stem cells from the human airways and demonstrated that one
of these cells can form into the lung's alveoli air sac tissue. What's more, the
researchers showed that these same lung stem cells are rapidly deployed in a dynamic process of lung regeneration to combat damage from infection or
chronic disease.
"These findings suggest new cell- and factor-based strategies for enhancing
lung regeneration following acute damage from infection, and even in chronic
conditions such as pulmonary fibrosis," said Frank McKeon, professor of
cellular biology at Harvard Medical School (HMS)."