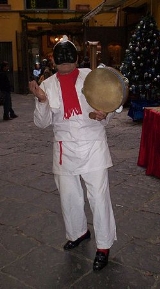 Pulcinella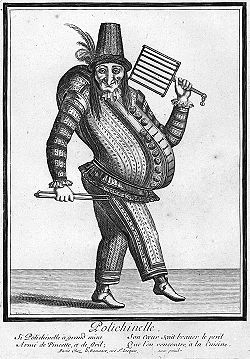 Pulcinella
, pultʃiˈnɛlla; often called
Punch
or
Punchinello
in English,
Polichinelle
in French, is a classical character that originated in the
commedia dell'arte
Commedia dell'arte
Commedia dell'arte is a form of theatre characterized by masked "types" which began in Italy in the 16th century, and was responsible for the advent of the actress and improvised performances based on sketches or scenarios. The closest translation of the name is "comedy of craft"; it is shortened...
of the 17th century and became a stock character in
Neapolitan
Naples
Naples is a city in Southern Italy, situated on the country's west coast by the Gulf of Naples. Lying between two notable volcanic regions, Mount Vesuvius and the Phlegraean Fields, it is the capital of the region of Campania and of the province of Naples...
puppet
Puppet
A puppet is an inanimate object or representational figure animated or manipulated by an entertainer, who is called a puppeteer. It is used in puppetry, a play or a presentation that is a very ancient form of theatre....
ry.
His main characteristic is his extremely long nose, which resembles a beak. This gives him his name, probably from Italian
pulcino
('chick'). According to another version,
Pulcinella
derived from the name of Puccio d'Aniello, a
peasant
Peasant
A peasant is an agricultural worker who generally tend to be poor and homeless-Etymology:The word is derived from 15th century French païsant meaning one from the pays, or countryside, ultimately from the Latin pagus, or outlying administrative district.- Position in society :Peasants typically...
of
Acerra
Acerra
Acerra is a town and comune of Campania, southern Italy, in the Province of Naples, about 20 km northeast of the provincial capital in Naples. It is part of the Agro Acerrano plain.-History:...
, who was portrayed in a famous picture attributed to
Annibale Carracci
Annibale Carracci
Annibale Carracci was an Italian Baroque painter.-Early career:Annibale Carracci was born in Bologna, and in all likelihood first apprenticed within his family...
, and indeed characterized by a long nose. It has also been suggested that the figure is a caricature of a sufferer of
acromegaly
Acromegaly
Acromegaly is a syndrome that results when the anterior pituitary gland produces excess growth hormone after epiphyseal plate closure at puberty...
.
Always dressed in white with a black mask (hence conciliating the opposites of life and death), he stands out thanks to his peculiar voice, whose sharp and vibrant qualities produced with a tool called a
swazzle
Swazzle
A swazzle is a device made of two strips of metal bound around a cotton tape reed. The device is used to produce the distinctive harsh, rasping voice of Punch and is held in the mouth by the Professor in a Punch and Judy show....
contribute intense
tempo
Tempo
In musical terminology, tempo is the speed or pace of a given piece. Tempo is a crucial element of any musical composition, as it can affect the mood and difficulty of a piece.-Measuring tempo:...
of the show.
According to Pierre-Louis Duchartre, his traditional temperament is to be mean, vicious, and crafty: his main mode of defense is to pretend to be too stupid to know what's going on, and his secondary mode is to physically beat people.
Variants
Many regional variants of Pulcinella were developed as the character diffused across Europe. In Germany, Pulcinella came to be known as
Kasper
Kasperle
Kasperle is a famous and traditional puppet character from Austria and Germany. Its roots date to 17th century and was at times so popular that Kasperltheater was synonymous with puppet theater. Kasperltheater includes the following characters: Kasper, Gretel, Seppel, princess, king, witch, robber,...
. In the Netherlands he is known as
Jan Klaassen
. In Denmark he is
Mester Jakel
. Russian composer
Igor Stravinsky
Igor Stravinsky
Igor Fyodorovich Stravinsky ; 6 April 1971) was a Russian, later naturalized French, and then naturalized American composer, pianist, and conductor....
composed two different ballets entitled
Pulcinella
Pulcinella (ballet)
Pulcinella is a ballet by Igor Stravinsky based on an 18th-century play — Pulcinella is a character originating from Commedia dell'arte. The ballet premiered at the Paris Opera on 15 May 1920 under the baton of Ernest Ansermet. The dancer Léonide Massine created both the libretto and choreography,...
and
Petrushka
), inspired by him. In
Romania
Romania
Romania is a country located at the crossroads of Central and Southeastern Europe, on the Lower Danube, within and outside the Carpathian arch, bordering on the Black Sea...
, he is
Vasilache
; in Hungary he is
Vitéz László
, and in France
Polichinelle
, while in the United Kingdom he inspired the character of
Mister Punch
of
Punch and Judy
Punch and Judy
Punch and Judy is a traditional, popular puppet show featuring the characters of Mr. Punch and his wife, Judy. The performance consists of a sequence of short scenes, each depicting an interaction between two characters, most typically the anarchic Punch and one other character...
.
Pulcinella is also the
mascot
Mascot
The term mascot – defined as a term for any person, animal, or object thought to bring luck – colloquially includes anything used to represent a group with a common public identity, such as a school, professional sports team, society, military unit, or brand name...
of the Pulcinella Awards, annual awards for excellence in
animation
Animation
Animation is the rapid display of a sequence of images of 2-D or 3-D artwork or model positions in order to create an illusion of movement. The effect is an optical illusion of motion due to the phenomenon of persistence of vision, and can be created and demonstrated in several ways...
, presented at the Cartoons on the Bay Festival in
Positano
Positano
Positano is a village and comune on the Amalfi Coast , in Campania, Italy. The main part of the city sits in an enclave in the hills leading down to the coast.-History:...
, Italy. Pulcinella often carries around macaroni and a wooden spoon.
External links